Alumna directs Dawn Powell's Prohibition-era play 'Big Night'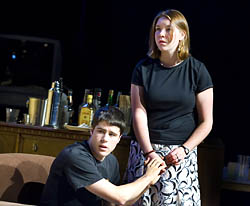 Bates presents the play Big Night, a Depression-era satire by Dawn Powell, in performances at 7:30 p.m. Thursday through Saturday, May 17-19, and 2 p.m. Sunday, May 20, in Gannett Theater, Pettigrew Hall.
Admission is $6 for the general public and $3 for Bates faculty and staff, senior citizens and non-Bates students. For reservations call 207-786-6161 or visit the online box office.
Because of construction, entry to the theater will be through a rear door from the college parking lot adjacent to Lake Andrews, accessed from College Street.
Big Night is one of a handful of plays written by Powell, a keen social observer better known for such wry novels as Dance Night, Turn, Magic Wheel and A Time to Be Born. The play tells a biting tale of people driven by greed — for money, sex, fame — to change partners and try to change their lives.
Directing the all-student Bates cast is Alice Reagan. A New York resident and member of the college's class of 1997, Reagan received the prestigious Princess Grace Award in Directing for the 2006-07 season. Her recent productions include Women of Trachis, part of Target Margin Theater's "On the Greeks" season, and A Small Hole at the New York International Fringe Festival. Reagan was a Dean's Fellow in the MFA theater-directing program at Columbia University, and holds an MA in performance studies from NYU/Tisch School of the Arts.
Reagan selected Big Night, which premiered in 1932, for her Bates residency. "The characters are so bad and good, morally complex, they're just very interesting for actors to dig into," she says. "We're constantly discovering new ideas about the characters and what they want, and that's a great exercise for the actors."
"I'm interested in the 1930s, when America was really becoming America as we know it," she adds. "It was this moment where people started to question the American dream — they wanted it, but it also destroyed people. That's really present in this play."
"And the actors get to wear great clothes and there's great music."
Reagan was invited to direct the production, which is taking place during the college's five-week Short Term, by her mentor, Charles A. Dana Professor of Theater Martin Andrucki, of Lewiston. "I love working with students," she says.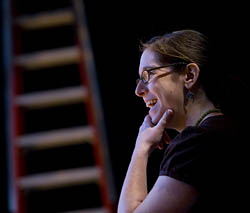 In addition to the skills they'll learn in performing and producing the play, a piece like Big Night also gives young adults another avenue for exploring their attitudes about social issues, Reagan says. For instance, "the way that some of the men in the play talk about women is really problematic," she explains. "Things like, 'You got looks, you don't need brains, baby.' "
"It's an opportunity to actually talk about feminism and relationships between men and women."
The residency is an education for her as well, the director notes. "Not only am I directing but I also end up teaching acting, and it's crucial for a director to know how to do that," she says. "I'm constantly learning how to talk to different actors. Each actor needs a different kind of language, and working with students who are less experienced or younger presents bigger challenges."
"It really gets me back to basics."
Powell first began Big Night in 1928, and it was premiered by the famed Group Theater. But the theater company's extensive reworking of the piece was a critical and popular flop. The Bates troupe will perform Powell's original script with only slight revisions.
View Comments