Bates Modern Dance Company features Buraczeski's 'Swing Concerto'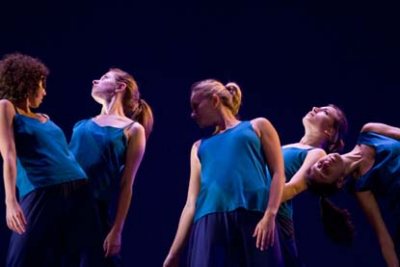 Danny Buraczeski's classic "Swing Concerto" and a work by New York choreographer Peter Kyle are featured in Unearthed, the Bates College Modern Dance Company's annual autumn production, in performances at 5 p.m. Saturday, Dec. 1; 2 p.m. Sunday, Dec. 2; and 7:30 p.m. Monday, Dec. 3.
The performances take place in Schaeffer Theatre, 305 College St. Admission is $6 for the general public and $3 for seniors, organized groups, Bates faculty and staff, and non-Bates students. For more information call 207-786-6161.
Here's the complete Unearthed program:
"Serenade," featuring music by Peter Schickele (aka P.D.Q. Bach) and performed by nine dancers, was created by Kyle for the Bates company.
"When I Was Me" was created by Carol Dilley, assistant professor of dance at Bates and director of the dance program. Erin Pitt, a senior from Duxbury, Mass., performs the piece.
"Swing Concerto" is a 1993 piece for nine dancers by JAZZDANCE founder Danny Buraczeski, who came to Bates to reconstruct the work with Bates Dance Festival students and with the Modern Dance Company. The project was made possible in part by a grant from American Masterpieces: Dance, a program of the National Endowment for the Arts, administered by the New England Foundation for the Arts with Dance/USA.
"Ballad of Arrivals and Departures" is a collaborative piece for 14 performers. Bates artist-in-residence Heather McArdle served as "artistic architect" for the work, which features music by McArdle, Johnny Cash, Roberta Flack and others. The score was constructed by Eric Auner, a senior from Medford, Mass.
Finally, "Silent Invitation" was choreographed and will be performed by Dilley and Maine choreographer Jill Spiewak Eng. Dilley also created video for the piece. The music is by William Matthews, Alice Swanson Esty Professor of Music at Bates.
Dilley is artistic director for the program, and another member of the Bates faculty, Michael Reidy, is design and technical director. Assistant professor of theater Christine McDowell provided costume support. Twenty-two Bates students will perform, and the production crew comprises 10 students.
Buraczeski helped redefine jazz dance in the U.S. After a career on Broadway, appearing in such musicals as "The Act" with Liza Minelli, he formed the company JAZZDANCE by Danny Buraczeski, which has performed in more than 40 states and internationally. His work has been commissioned by the Walker Art Center, the Bates Dance Festival, Jacob's Pillow and the Library of Congress, among others.
Kyle has danced with Nikolais/Louis Dance Company, Mark Morris Dance Group and Erick Hawkins Dance Company. His choreography has been presented internationally, including commissions by Kaatsbaan International Dance Center, Symphony Space, the Dancenow/NYC festival and the Museum of Glass: International Center for Contemporary Art. His residence at Bates was made possible by the Sakolsky-Plavin & Friends of Dance Endowment Fund.
Carol Dilley joined the Bates faculty in 2003. She has been a choreographer, performer and teacher for more than 20 years, based in New York, Barcelona, Seattle, Australia and now Maine. She has performed with many companies and choreographers, directed two companies and founded performance series in Europe and Australia. She works internationally in live performance and, more recently, digital media.
Heather McArdle, artist in residence and a member of Bates' applied dance faculty, has worked with Diavolo Dance Theater and choreographers Bill Young and David Dorfman. She is on faculty at Dance New Amsterdam and teaches in New York and elsewhere. Her work at Bates was made possible by an anonymous gift from the parent of a Bates student.
Based in Portland, Jill Spiewak Eng is a modern-dance choreographer and performer who has also worked in Boston, North Carolina and New York. She has been the artistic director of Jill Eng/Forward and Up Dance Company since 2005, has danced for many other choreographers in the East and has produced several dance concerts.
William Matthews is a composer and conductor with a particular interest in electronic and computer-generated music. His courses include computer music and digital video composition. Matthews and Dilley provided a collaborative dance video installation for the Bates College Museum of Art exhibition "Green Horizons," on display through Dec. 9.
In addition to Erin Pitt, the student performers are seniors Emma Arenstam of Saco; Laura Golitko of Hopkinton, Mass.; Alissa Horowitz of Yorktown Heights, N.Y.; Stephen Lattanzi of Winchester, Mass.; Emily Maistrellis of Annapolis, Md.; Elizabeth Murphy of Fairfield, Conn.; Cameron Seher of Cleveland Heights, Ohio; Sarah Wolff of Riverdale, N.Y.;
Juniors Kelly Griffin of Turners Falls, Mass.; Angela Lorenzo of Berlin, Conn.; Kimberly Russell of Old Lyme, Conn.; sophomores Gina Petracca of Irvine, Calif.; Charlotte Brill of Newton Highlands, Mass.; Annie Carlton of Andover, Mass.; Nicole Kahn of Bellevue, Wash.; Emily Monty of Bedford, N.H.; Kate Reilly of Merrimack, N.H.; Lana Smithner of Waterville; Marlee Weinberg of Tampa, Fla.; and first-year students Joseph Musso of Wallingford, Conn.; and Elizabeth Sweet of San Francisco.
View Comments