Bates' commitment to social change goes where you go, graduates told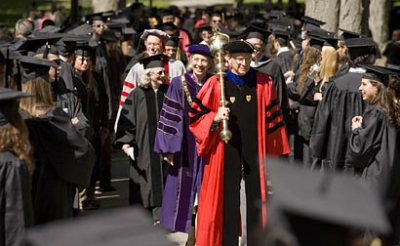 "This college's commitment to service and social change is in its DNA," literary scholar Pauline Yu told the graduating Bates College Class of 2008. "And now it's in yours."
Yu, an expert in East Asian literature and president of the American Council of Learned Societies, was one of four honorary degree recipients at the college's 142nd Commencement on May 25. Also receiving degrees were former Ford Foundation President Susan Berresford, groundbreaking RNA researcher Phillip Sharp, and climate scientist Warren Washington, a pioneer in the use of computer models to better understand climate change.
A sun-drenched Sunday morning found some 440 Bates seniors gathered with families and friends on the college's historic Quad to receive their degrees and the farewell wishes of college faculty and staff.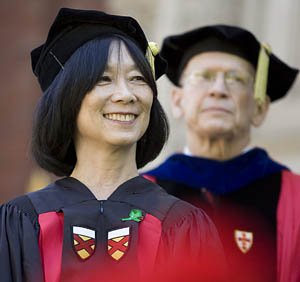 Yu, who received the Doctor of Letters degree and was the last of the four honorands to address the new alumni, built her talk on a simple notion: remembrance. Remember your responsibility to the world and to other people, she said, and to yourselves. Remember how to take pleasure where it can be found, even "in the fact that spring does eventually come to Maine."
Stressing an idea heard repeatedly during the ceremony, Yu also exhorted the graduates to remember how they have benefited from a liberal arts education.
"A friend of mine once observed that one purpose of a liberal arts education is to make your head a more interesting place to live inside," she said, to laughter. "You've seen how humans have grappled with the fundamental questions about existence, whose solutions still elude us. You've engaged in conversations with the intellectual and cultural traditions that have shaped the world we live in today.
"You have the capacity to imagine the experience of others, past and present, here and elsewhere. Cherish that ability; it's what makes life inside your head interesting, and it is also what will make you want to do something about the world outside it."
Berresford, a longtime philanthropic leader who was honored with a Doctor of Humane Letters degree, introduced another theme for the day: the world's hunger for leaders who will advance aid for the suffering, democratic values and opportunity for the wide spectrum of humanity.
She suggested that the graduates ask themselves three questions as they examine their fitness to lead. First, " 'Am I comfortable being different?' Leaders usually strive for something other than the status quo," she explained. "They don't just go along to get along."
Second, " 'Can I thrive in situations of ambiguity?' There are very few reform efforts in which the pathway for decision making and action is utterly clear."
Finally, she wondered if her listeners could manage conflicts in a generous manner. "Leadership usually means you are trying to redistribute authority or power or influence in some way, taking it away from some group and giving it to another," she said. "Can you enjoy that struggle, and can you do it with generosity and sensitivity to those who are losing influence and losing power in the process?"
Sharp, an institute professor at the Massachusetts Institute of Technology and a recipient of Bates' Doctor of Science degree, is a pre-eminent researcher in molecular biology whose discoveries about genetic structure earned him a 1993 Nobel Prize. His brief talk focused on health care, contrasting the field's dramatic technical advances with the persistent lag in providing care to all who need it.
Washington too received a Doctor of Science degree. Senior scientist and head of the Climate Change Research Section at the National Center for Atmospheric Research (NCAR), he has advised five U.S. presidents on the urgent issue of climate change.
He reminded listeners of the progress that has been made in climate change research since he began his career. "It used to be a small set of individuals doing this work, four decades ago," he said. "Now we have large teams of scientists. When we have workshops now, we have something on the order of 400 or 500 young people taking part in building better and better computer climate models."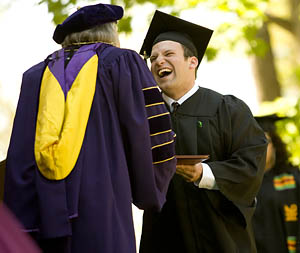 In her opening remarks, Bates President Elaine Tuttle Hansen touched on the emotional power of this pivotal day. Such events, she said, sometimes occasion what poet William Wordsworth, in his long philosophical poem "The Prelude," called "spots of time" — "moments of compressed and heightened awareness that we never forget . . . a kind of healing truth that is truer than fact."
Hansen continued, "Today we may feel, for a fleeting moment, as close as we ever come to grasping the intangible essence of a liberal arts education, catching sight of that something bigger than ourselves that we all belong to, and perceiving in an instant not only all you've accomplished in four years, but also, and more amazingly, how much further you have to go."
Of the 440 seniors that Bates graduated Sunday, 223 are women and 217 are men. Forty-seven graduates come from Maine. Fifteen members of the class come from other countries.
Psychology was the most popular major for members of the class of 2008, with 55 graduates. Second place went to economics, with 53, followed by political science with 52. Twenty-nine women and 27 men took double majors, with French, political science and Spanish being the most popular second majors.
Eighty-four members of the class of 2008 earned bachelor of science degrees, with the remaining 356 earning bachelor of arts degrees.
– Doug Hubley, Office of Communications and Media Relations
View Comments