Federal scholarship to support New Jersey senior's third China visit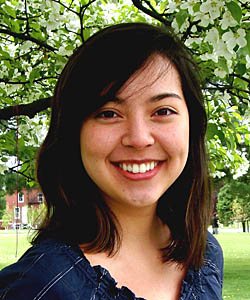 Jiyeon Glass, a Bates College senior from Upper Montclair, N.J., has received a scholarship from the federal government to study Mandarin Chinese this summer in a program in Suzhou, China.
Chinese is one of 11 languages taught through the U.S. State Department's Critical Language Scholarship Program. A double major in east Asian studies and the Chinese language, Glass received a Critical Language Scholarship from the U.S. State Department to attend an intensive 10-week program at Soochow University, located in a city 60 miles from Shanghai.
"I came to Bates with little understanding of the growing influence of east Asia, and China specifically, on the Western world," says Glass. "I never thought of taking a class in Asian studies until discovering four years ago how much the department at Bates had to offer."
"Not only has the diverse array of courses been engaging, but the professors have proven again and again to passionately support their students' interests in all areas of Asian studies."
Glass studied in China during two extended visits, first in a wide-ranging, three-month Bates program in 2006, and again for most of 2008 under the auspices of CET Academic Programs. During the latter stay, in Beijing, she was part of a crowd watching the opening of the 2008 Olympics on huge outdoor video screens.
"It was incredible to experience the liveliness, excitement and pride felt by all Chinese that day," she says. While Glass expects to base her career on her knowledge of Chinese language and culture, perhaps in a Foreign Service position, Glass' interest in China is much more than just occupational.
"China's profound history and its emphasis on the collective have always intrigued me," she explains, "as have the Chinese people I have met over the years — quite possibly the most loyal, earnest, amicable people I know."
"I am beyond grateful to have been given a third opportunity to travel to China for the sole purpose of learning Chinese," she adds. "I refuse to go into this experience with any expectancies or presumptions. I've learned how entirely disparate neighboring provinces, even cities, can be in China, and I'm wholeheartedly ready to experience a new facet of Chinese life."
Another Bates student, Anna Levy of Portland, Maine, also received a Critical Language Scholarship for Chinese study this year.
The State Department's Critical Language Scholarship Program was launched in 2006 to offer intensive overseas study in the critical-need languages of Arabic, Bangla/Bengali, Hindi, Punjabi, Turkish and Urdu. In 2007, Chinese, Korean, Persian and Russian institutes were added, and this year, Azerbaijani will be offered.
The program is part of the National Security Language Initiative, a U.S. government interagency effort to dramatically expand the number of Americans studying and mastering critical-need languages. The program has no government service requirement upon completion.
View Comments