Open Forum: Summer 2010
Letters from the Summer 2010 Magazine
Please Write!
We love letters. Letters may be edited for length (300 words or fewer preferred), style, grammar, clarity, and relevance to College issues and issues discussed in Bates Magazine. E-mail your letter to magazine@bates.edu or postal-mail it to Bates Magazine, Office of Communications and Media Relations, 141 Nichols St., Lewiston ME 04240.
Don't Freeze Out Stevens
Back when Stalin ran the Soviet Union, history there was regularly rewritten or touched up by eliminating from texts or photographs anyone who had fallen into disgrace with the party leadership. Your recent photo essay on the Puddle Jump evokes that sorry revisionist tradition.
It is true that Chris Callahan '78, Scott Copeland '78, and Lars Llorente '78 were three of the Jump's — or the Dip's, as it was first known — inventors. But there was a fourth inventor, Mark Stevens, who would have graduated in 1977 had he been able to persuade himself to attend a class once in a while. But this fact should not be grounds for his erasure from College history.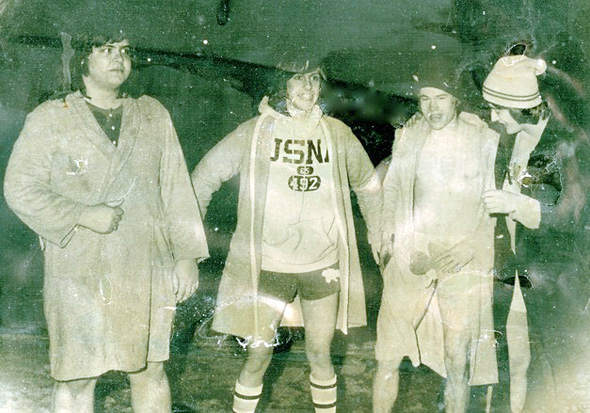 I recall watching those four lunatics laboriously chip away at that thick ice with a small hatchet and a large metal rod, long after the sun had set, from my room in Smith South, where I was reading Thucydides' The Peloponnesian War, written in a time when historians cared about the whole truth.
Gary Grieve-Carlson '77, Annville, Pa.
Chris Callahan '78 confirms that Stevens helped dig the first hole and is, indeed, the Fourth Dipper. Stevens himself notes that he has "certain photographic proof, albeit faded, yellowed, and curled at the edges, that would also corroborate the claim." So, Stevens' role in Dip history is now officially noted. — Editor
Choice in the Matter
As a longtime resident of Sausalito, Calif., in Marin County, I was fascinated by the timely and provocative article "Power by the People" (Spring 2010) about Paul Fenn '88 and his work to create Community Choice Aggregation electricity plans in San Francisco and Marin County. After carefully considering the competing views of the stakeholders, my wife Karen and I opted out of CCA. I thought your readers might be interested in the reasons behind our decision.
To us, reliability of our electric supply is paramount. Our investor-owned utility, Pacific Gas & Electric, is far from a paragon of customer service. Here in Marin County, we have a famously mild climate with no extreme temperatures, snow, tornadoes, nor hurricanes. Nevertheless we have multiple power outages each year during the winter rainy season.
PG&E owns the electric distribution system and will continue to distribute power over its lines for CCA. Obviously, CCA will not improve the reliability of our electric service as long as distribution is handled by PG&E.
The article recognizes that for CCA to succeed, it must "meet or beat" electric rates offered by PG&E. Paul Fenn feels that CCA can perform this task, while an expert at UC–Berkeley's business school is skeptical. We concluded that the expert from UC has the better of the argument.
Marin County is truly a minnow in the bulk purchase of electric power. Its total population is less than 250,000. Some cities and towns have already opted out of CCA and will not purchase its electricity. As a bedroom community with restrictive zoning rules, the county has virtually no industrial power consumers. Thus the mass to influence the market is lacking, and will be unless and until there is widespread adoption of CCA.
We don't think large-scale green infrastructure construction financed by the issuance of municipal bonds will change this dynamic, especially in view of California's debt crisis. One wonders whether CCA bonds would find a market at an affordable interest rate.
San Francisco, on the other hand, may be ripe for CCA since it already owns its own substantial green electric generation facility, the Hetch Hetchy Reservoir near Yosemite National Park and its related system of dams and reservoirs.
We were not pleased with PG&E's use of the notorious California initiative process to attempt to sink CCA. (Nor were we pleased with the way CCA was adopted by Marin County, with no vote at all by the electorate.)
Taking all these things into account, along with existing state law requiring PG&E to purchase an increasing share of its electricity from
green sources, we opted out of CCA — but we wish Paul Fenn and our fellow Bates alumni good luck with this project.
Bob Solomon '60, Sausalito, Calif.
An update on CCA and Paul Fenn's work. — Editor
Peace B with You
My current connection to Bates is that a former roommate of mine has yet to change her mailing address, so I received her Spring Bates Magazine.
I was intrigued by the cover story, "Letter from Kabul," and read with interest the article "Folks Back Home." Like Jared Golden '11, I encourage readers to do their own research and educate themselves holistically about Afghanistan.
I volunteer on the executive council of "Bpeace," the Business Council for Peace, which believes that the road to peace is lined with jobs. Jobs enable children, especially girls, to go to school. We work with men and women entrepreneurs in conflict-affected countries, including Afghanistan, to scale their small and medium-sized enterprises, create significant employment for all, and expand the economic power of women.
More jobs mean less violence. Bpeace.org warmly welcomes interested business professionals and other willing volunteers to work with us.
Mara Grbenick, Brooklyn, N.Y.
Rossi Remembered
I was on my computer, digitizing an old audiocassette tape, when Doug Arnold '69 called to tell me that our classmate Mike Rossi had died unexpectedly. Shock and grief struck me during the call as I asked the usual when-and-how questions. When I hung up, I felt a chill. Mike was on the tape.
Mike, Richard Duffus '69, and I were roommates sophomore year. Together with our friends Doug Arnold and Michael Sklar '69, we formed a singing group that we enjoyed but no one else did. But we did tape-record original songs one afternoon. Mike (piano) and Richard (guitar) were the only true musicians. The rest of us tried to sing.
Mike didn't seem to fit into our group. We wore our hair long and dressed like hippies. We were antiwar and questioned religions and governments. Mike was short-haired, politically conservative, a practicing Catholic, and wore the same green sweatshirt and matching pants for days on end.
Yet we loved Mike's wry sense of humor. He wanted to name our group "The Fussbudget, Yidkin, and Prangrap Railroad." While looking for roommates, he claimed he chose me because I lowered his "ratio of unanswered hellos on campus." Years later he would encounter more ratios as a math teacher at Lewis Mills High School in Burlington, Conn.; and tributes from the Meriden Record-Journal show he was well-liked by students and colleagues.
Doug Arnold says he'll miss Mike's "understated sense of humor and his steady friendship" that never wavered, from the easy intimacy of our campus friendship to how he kept in touch over the years.
Mike's hobbies were target-shooting and photography. Long ago, he inspired me to undertake darkroom processing, which I had found daunting. Two years ago, he accompanied my wife and me while we photographed the famous abandoned Holy Land U.S.A. theme park in Waterbury. He said he wanted "to make sure nothing happened" to us.
Speaking for The Fussbudget, Yidkin, and Prangrap Railroad, I know we'll remember Mike Rossi as long as we can.
Peter Bates '69, Roslindale, Mass.
The obituary for Michael Rossi will appear in the Fall issue. — Editor
Eddie's Steady Influence
The Spring issue mentions briefly Edward Aldrich '35, who helped the Outing Club mark the last section of the Appalachian Trail in Maine ("Happy Outing").
By a very simple act, "Eddie" Aldrich changed my life. He was a very good amateur golfer for whom I had caddied many times, and he also owned a haberdashery store named Edward's Men's Shop, which was frequented by my big brother, Bill, who also provided insurance for Eddie.
One day, Bill was in the shop on business, and Eddie wanted to know where I was going
to attend college. I had applied to only one school, UConn, was admitted, and planned to attend. Eddie told Bill that was not a good idea and that his good friend and classmate Milt Lindholm '35 would be in town the following week.
Eddie arranged for me to be interviewed by Milt in my own home. I was swept off my feet and became one of Milt's longshots.
I met my wife, Beverly Hayne Willsey '55, at Bates, three of our four sons received Bates degrees, and I've enjoyed a modicum of postgraduation involvement at Bates, a lifetime full of memories, and a host of Bates friends — all thanks to a chance encounter with Eddie Aldrich '35.
Lynn Willsey '54, Glastonbury, Conn.
Willsey, a Trustee emeritus, received one of several Bates Best athletics awards in June. — Editor
View Comments