Concert includes video, music, desert tales and 'signseeker-walkabouts'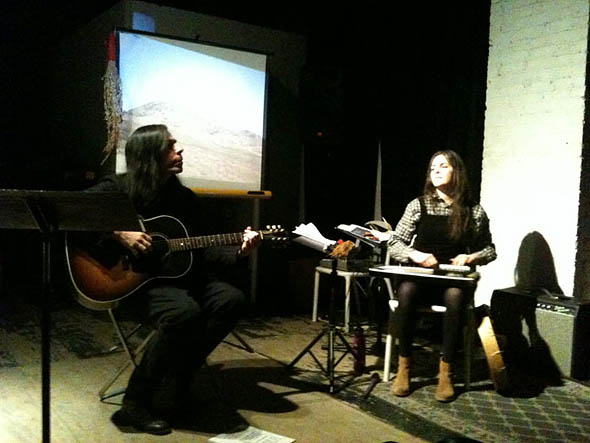 A Native American musician and visual artist, a singer from a self-described fusion-trance-zouk band, a video artist and an avant-garde composer join forces for a multimedia experience at 7:30 p.m. Friday, Oct. 7, in the Olin Arts Center Concert Hall at Bates College, 75 Russell St.
Artist-performer Brad Kahlhamer and vocalist Kelsey Barrett of the Brooklyn-based band Effi Briest offer their program Yondering. They share the evening with video artist Ursula Scherrer and composer-bassist Kato Hideki, who create abstract sound-and-light pieces. All the artists hail from New York City.
The concert is open to the public at no cost. A reception takes place between sets in the Bates College Museum of Art, adjoining the concert hall. For more information, please contact 207-786-6135 or olinarts@bates.edu.
In a related event, Kahlhamer talks about his artwork in the Bates Museum of Art exhibition Tale Spinning at 6 p.m. Wednesday, Oct. 5, at the museum. For more information about that event, call 207-786-6158.
Yondering has been described as "path-minding stories, spirit meandering, signseeker-walkabouts that combine voice, guitar, drums and sound." Kahlhamer and Barrett's performances include visuals, sound effects supporting "grass-fed stories" and desert tales gathered from personal experience.
The pair performed Yondering at The Stone in New York City's East Village, a space dedicated to the experimental and avant-garde, as part of a month of performances curated by Laurie Anderson and Lou Reed.
Scherrer and Hideki's collaborations include 2010's Slash, a video and sound creation described by Scherrer as being "about light within darkness, sound within silence; glimpses of something real which invites the viewers and listeners to use their imagination to fill in the gaps"; and A Dream Within a Dream (2009), a site-specific performance, loosely based on Edgar Allan Poe's poem of that title, that uses ephemeral images and sounds to create a fragile and complex residue of emotions.
Kahlhamer was born to Native American parents in Arizona, adopted by a middle-class German American family and raised in the Midwest unaware of his background. Long active in the Lower Manhattan music scene, he has produced a body of work including a new score, commissioned by the Smithsonian National Museum of the American Indian, for the 1929 silent film Red Skins. A versatile and eclectic artist, he is also a prolific painter who fuses expressionism with comics, street culture and the visionary tradition of Native American art.
Drawing inspiration from the industrial cityscape and spirituality inspired by nature, Barrett has performed since 2006 with Effi Briest, named for an influential German novel. The band, wrote the Village Voice, channels "the best of rhythm-centric '70s post-punk and transmute[s] it into a modern swoon."
The Voice continued, "Their noise sounds precise and measured on the band's debut LP, Rhizomes . . . a dizzy swirl of perfectly 'off' percussion and haunting drones that also masquerades as full-fledged dance music."
Hideki is a Japanese-born musician, composer and sound artist. A co-founder of Death Ambient with Ikue Mori and Fred Frith, he plays with a wide variety of ensembles including the analog synthesizer collective Analogos. As a bassist, he has worked with guitarist Marc Ribot and composer John Zorn, among many others.
Born in Switzerland, Scherrer creates live performances and single-channel videos in addition to video and sound installations. Her work, suggesting moving paintings that leave viewers with their own stories, has been shown in festivals, galleries and museums internationally.
View Comments