Summer Student Work: On Vermont farm, Lubetkin '16 raises awareness of community programs
As a leadership apprentice at "The Farm," a program of the Vermont Youth Conservation Corps, photographer Megan Lubetkin '16 has raised not only produce and livestock, but also awareness of such Farm programs as food shares for families in need and cooking classes for at-risk and refugee youth.
Name: Megan Lubetkin '16
Hometown: Cape Elizabeth, Maine
Major: Undeclared, but probably geology
Internship funding: Bates Environmental Internship, funded by the Feldman Foundation and the Otis Endowment at Bates
1. You served this summer as the de facto communications officer for The Farm at VYCC. But that's not what you originally signed up for, was it?
When I first got here, in April, I was told that we would have a little celebration in about a month and it would be great for The Farm if I could make a video about it. My boss knew that I could make videos as he had seen my YouTube channel. Since then, in addition to my regular duties, I have devoted most of my evenings and weekends to the whole communications piece, including video and photo documentation of various farm programs.
2. What kinds of exposure have you won for The Farm, and what have you learned along the way?
I've gotten all of my videos broadcast on television stations around Vermont, as well as on YouTube, Vimeo and Facebook. But when I think about how to reach more Vermonters, it's been like, "Oh, the video is online. Well, what's the next step? It's on TV, but what's the next step?" I'm always thinking and talking to others about how we can tell more people about what we are doing, because we are such a community-based program and highly reliant on grants and donors.
3. How do you shape your messages about The Farm?
I try to create a message around that the energy The Farm has, with all the different diverse groups of people working there every day and the enormity of the whole program. It's difficult to not get overwhelmed, so I try to keep it fairly light and enjoyable. I want people to walk away knowing how involved we are with the community and feeling that they want to become involved as well.
4. How did you hear about this program?  
Last summer I worked for the Vermont Youth Conservation Corps in the conservation program, on a trail crew. I was living in the woods right near The Farm at VYCC, in Richmond, and while I was on the trail crew, I worked weekends doing some weeding in exchange for fresh produce. So when I was deciding what to do this year, I had The Farm in the back of my mind.
5. Had you done farm work before?
Very little. When I came to Bates, I did some gardening in the Bates College Garden and I co-head that with Michelle Devoe '15. I picked this opportunity because I have a big interest in learning how to farm and grow food. I think everyone should know how to do that.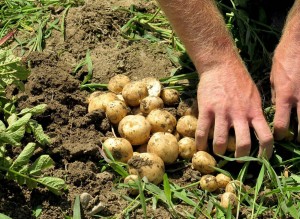 6. As a VYCC agricultural leadership apprentice, you've worked with youth, disadvantaged families and community volunteers. What's an example of the leadership piece?
We're constantly managing the youth on the farm in projects and educational programs, but we also do a ton of volunteer management. We can have 30 volunteers every single day, from all walks of life, all ages, all levels of farm experience. It can certainly be a challenge working with such different people at the same time and on projects that are definitely strenuous and time-sensitive. Managing all that goes on at the farm takes a great deal of leadership, positive attitude and drive.
7. How has your work on The Farm at VYCC expressed the goals of the Bates Environmental Internship?
The whole idea of the Bates Environmental Internship is about working with others and being involved with environmentally minded projects. I think organic farming to feed people who can't afford to buy food, working with diverse groups of people from at-risk youth to refugee kids to Ben & Jerry's volunteers — I mean, the list could go on — but essentially, connecting the community with our very down-to-earth, in-the-dirt project is right in keeping with what the Bates Environmental Internship is all about.
View Comments