'Fransje Killaars: Color at the Center'
"I am fascinated and deeply affected by the power and effect of color," says Amsterdam-based textile artist Killaars.
Fransje Killaars: Color at the Center will present her work to North American audiences through a traveling exhibition that includes a new work commissioned by the Bates College Museum of Art.
Killaars, born in 1959, places color at the center of her practice. Her installations exist in a space that merges painting, fashion, architecture and interior design. Her work is imbued with the handmade and functional aspects of craft. Her installations may combine fabrics from Japan, blankets designed by the artist and hand-woven in India, and draped figures evoking contemporary and historic representations of women.
For the Lewiston exhibition, Killaars will create several installations, including the dazzling "24 Hours" and "Figures" in their first U.S. appearances.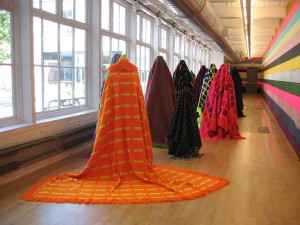 In addition, Bates is partnering with Museum L-A, which chronicles the history of work, industry and community in Lewiston and Auburn, to bring part of the exhibition to downtown Lewiston.
Killaars will create several installations at Museum L-A in a space within the Bates Mill Complex where the popular Bates-brand bedspreads formerly were manufactured. One of the installations will be created out of materials woven in this space. Killaars will be assisted with the installations by a crew of Bates museum interns and local artists.
In 1990, just as Killaars was establishing a strong career as a painter in the Netherlands, she traveled to India, the first of a number of trips there that shaped her practice in profound ways.
"Everything in this chaotic world [India] is colourful," she wrote. In India, "I discovered the power of colour as a part of everyday life."
Fransje Killaars: Color at the Center is curated by Bates College Museum of Art Director Dan Mills and is organized by the Bates museum. The exhibition will travel to the Ewing Gallery of Art and Architecture at the University of Tennessee, and to Galerie Zürcher in New York. The exhibition is accompanied by Fransje Killaars, a profusely illustrated 176-page hardcover book published in 2012 by 010 Publishers in Rotterdam, the Netherlands.
This project is supported in part by the Mondriaan Fund and public funds from the Consulate General of The Netherlands in New York. Killaars' Bates visit is supported by a Bates Learning Associates Program Grant funded by the Christian A. Johnson Endeavor Foundation. Her work is presented courtesy of Galerie de Expeditie, Amsterdam.
The exhibition opens with a 5 p.m. reception on Jan. 26. A shuttle will connect the Bates museum and Museum L-A during the reception. Fransje Killaars: Color at the Center runs through March 22.
---
Learn about the other winter 2013 exhibitions at the Bates College Museum of Art:
---
The museum is located at 75 Russell St. and is open to the public at no cost from 10 a.m. to 5 p.m. Monday through Saturday, and till 7 p.m. Wednesdays during the academic year. For more information, please call 207-786-6158 or visit bates.edu/museum.