Bates Commencement 2012: Press Kit
Bates Commencement 2014: Press Kit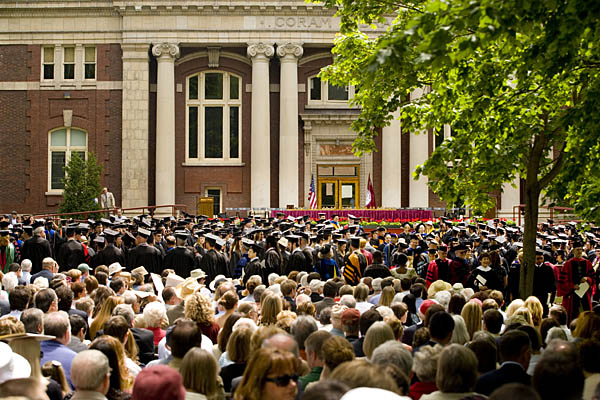 Bates College's 146th Commencement begins at 10 a.m. Sunday, May 27, on the Historic Quad, at Campus Avenue and College Street.
Molecular biologist Bonnie Bassler, actor Robert De Niro and PBS "Newshour" senior correspondent Gwen Ifill will speak and receive honorary degrees during the ceremony that concludes with the graduation of 463 members of the Bates senior class.
The Bates Communications Office makes the following resources available for the use of journalists reporting on the event. (NOTE: Some links won't be active until May 27 or later.) Thanks for your interest in Bates!
Bates Communications
Contact: Roland Adams, Director of Media Relations
Office 207-786-6330 | Cell 603-359-2496 | Email radams@bates.edu
About Commencement 2012
What happened at Bates' 146th Commencement
The class of 2012: Who they are, where they're from, what they studied
Commencement announcement with honorand biographies (April 12, 2012)
Commencement traditions at Bates
Images, Multimedia, Transcriptions
Download high-resolution portraits of the honorands:
Bonnie Bassler
Robert De Niro
Gwen Ifill
Images from Commencement 2012 (a slideshow of Bates staff images to be posted after May 27, 2012)

Video of Bates Commencement 2012. (The full video, with a higher-quality edited version to follow at this URL. Individual speakers' addresses will follow during the week of May 27.)

Honorary degree citations and recipients' remarks:

Bonnie Bassler
Citation
Remarks
Robert De Niro
Citation
Remarks 
2012 Presidential Transition at Bates
Nancy Cable serves as interim president of the college through June 30, 2012. More about Nancy Cable.
Clayton Spencer becomes Bates' eighth president on July 1, 2012. More about Clayton Spencer.
More
Commencement Program (PDF will be posted during the week of May 27)