Stories about "Andrucki"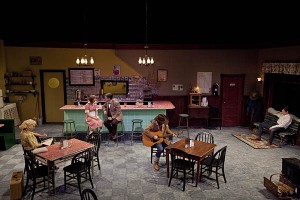 Thursday, November 3, 2011 4:31 pm
A small-town diner in Kansas on a snowy night becomes a hothouse for human relationships in the Bates production of William Inge's comic drama "Bus Stop," directed by Martin Andrucki, Dana Professor of Theater.
Thursday, February 24, 2011 2:21 pm
March is a month for theater classics at Bates College. Elizabeth Castellano, a Bates junior from New Suffolk, N.Y., directs the college's production of David Mamet's Oleanna, a highly charged story of sexual politics in the halls of academe. Meanwhile, the theater department honors French culture and marks the 50th anniversary of its mainstage venue, Schaeffer Theatre, with a production of Molière's 1672 satire The Learned Ladies.
Tuesday, February 23, 2010 2:35 pm
Martin Andrucki, Dana Professor of Theater at Bates College, directs the theater department production of "You Can't Take It With You," the Pulitzer Prize-winning play by George S. Kaufman and Moss Hart. Performances take place at 7:30 p.m. Friday and Saturday, March 5, 6, 12 and 13; and at 2 p.m. Sunday, March 7 and 14, in Schaeffer Theatre, 305 College St.