Stories about "Bates College Scholar-Athlete Society"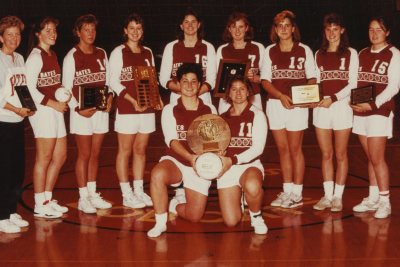 Thursday, November 14, 2019 12:50 pm
Thirty years ago, the Bates volleyball team put together the greatest season in Bates athletics history. This is the story of the undefeated 1989 Bobcats.
Tuesday, May 17, 2005 2:39 pm
Donald "Dee" Rowe, legendary former Worcester Academy and University of Connecticut basketball coach, will deliver the keynote address at the inaugural induction ceremony of the newly created Bates College Scholar-Athlete Society at 5 p.m. Saturday, May 28, at the Mays Center on the Bates College campus. Rowe will also be inducted as the society's first honorary member.