Stories about "Friends of Tubeho"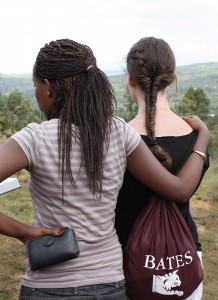 Friday, January 18, 2013 1:45 pm
Teaching genocide is about finding ways to "create connections and dialogues" says Alex Dauge-Roth.
Friday, October 16, 2009 4:19 pm
Berthe Kayitesi, an author and a survivor of the Rwandan genocide of 1994, speaks on her experiences and the rebuilding of communities in post-conflict Rwanda at 7:30 p.m. Wednesday, Oct. 28, in the Muskie Archives at Bates College, 70 Campus Ave. The lecture, titled "Tomorrow My Life: Orphans in Post-Genocide Rwanda," is open to the public and admission is free. It is part of the Civic Forum Series sponsored by the Harward Center for Community Partnerships at Bates.