Adam Swanson – 9/21/17
7:30 PM, OLIN CONCERT HALL
Tickets are $10 and may be purchased at: batesconcerts.eventbrite.com.
This concert is made possible through the generosity of Hank and Sue Schmitt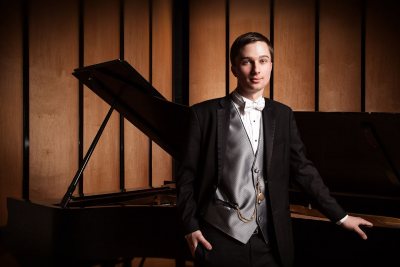 Adam Swanson is one of the world's foremost performers of vintage American popular music, including ragtime, early jazz, the Great American Songbook, and more. He holds a bachelor's in classical piano and a master's in musicology from the Peabody Conservatory of Johns Hopkins University. Although he is only twenty-five years old, Adam has been a featured performer and lecturer at ragtime and jazz festivals across the United States, and he is the only four-time winner of the World Championship Old-Time Piano Playing Contest. Internationally, he has appeared in the Republic of Hungary and has also toured Switzerland. Adam made his New York debut in Carnegie Hall at the age of nineteen, where he performed with multi-platinum-selling artist Michael Feinstein. In 2013, Adam made his first appearance at the Kennedy Center Millennium Stage in Washington, D.C.