Lisa B. Barry '77
Retired Executive
Chevy Chase, MD
Years of Service: 2013–2023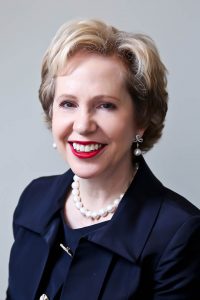 Lisa B. Barry is a retired executive whose career spans 35 years of international government relations work in the public, nonprofit, and corporate sectors. She most recently served as Vice President and General Manager of Chevron's Government Affairs team, where she developed a strategic plan that positioned Chevron as a leading player in Washington policy circles. Lisa played a key role in Chevron's acquisition of Unocal, secured passage of major trade agreements, and helped create broader recognition of the key role of energy to the United States.  Lisa served on Chevron's management committee and was an officer of Chevron USA.
Prior to joining Chevron, she served as Senior Vice President, International Public Policy in Time Warner's Global Policy Group; Vice President for Commercial Airplane Operations and International Trade Policy at The Boeing Company; Deputy Assistant Secretary for Import Administration; the private sector Council on Competitiveness; and worked in various roles at the Office of the US Trade Representative. She began her career as a legislative assistant for Congressman Silvio O. Conte (R-MA).
Lisa holds a master's degree in foreign service from Georgetown University's School of Foreign Service. She serves on the Madison Council of the Library of Congress, the Board of Directors of the International Student House, the Advisory Board of Georgetown University's MSFS Program, and is a Georgetown Regent and a member of the Council on Foreign Relations. 
Lisa is married to James Gale. They have two sons, Jamie Gale and Will Gale.