Team and History
In May 2013, President Clayton Spencer convened a working group of Bates faculty, staff and students to "develop a conceptual case for 'purposeful work' as a core concern of the liberal arts and to create a plan for a specific set of steps we will take as a college to translate that commitment into action."
The Purposeful Work Working Group met bi-monthly through May 2014, culminating in the release of their Purposeful Work Final Report.
Download Final Report (PDF)
Over the next two years, the Bates College Purposeful Work Design Team focused on program design, evaluation and implementation of the working group's recommendations. The Design Team is supported by a Purposeful Work Advisory Board, a group of faculty, staff and students who meet on a monthly basis.
Purposeful Work Team Members
Christina Estabrook, Interim Director of Purposeful Work; Director of Special Projects, President's Office
cestabro@bates.edu
207-786-6347
Marianne Nolan Cowan '92, Associate Director of Program Design, Purposeful Work
mcowan@bates.edu
207-786-6128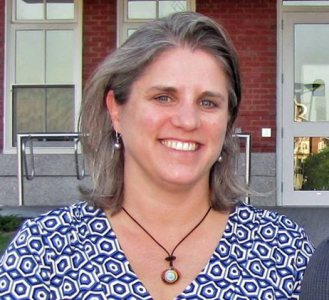 Marianne has been building bridges between Bates people since she came back to campus in 2000 to work as a young alumna. After 14 years fostering Bates alumni and parent relationships through volunteer programs, events and fundraising, she is thrilled to be connecting many of the same loyal Batesies to new opportunities to enhance the curriculum and co-curriculum through the Purposeful Work initiative's Practitioner-Taught Short Term courses, Infusion Project, speaker events, and more. A French major at Bates, Marianne also holds a Master's degree in French language and literature from The University at Buffalo.
Amy Wooldridge, Associate Director of Purposeful Work
awooldri@bates.edu
207-786-6478
Before joining Purposeful Work and Bates in May of 2017, Amy's career path led her to enriching
opportunities in international education, student affairs and refugee resettlement work. She has a MA from Lesley University in Intercultural Relations and a BA in Literature from the University of North Texas. While a Texas native, she has lived in New England for 14 years and enjoys travel, culture, cooking and music. She is delighted to have joined the Bates community and is enjoying the role of Associate Director of Purposeful Work, where she manages the summer Purposeful Work Internship Program as well as the on-campus Student Employment Development and Reflection Program at Bates.
Rebecca Fraser-Thill, Director of Faculty Engagement and Outreach
rfrasert@bates.edu
207-786-8218
Rebecca has been interested in purposeful work ever since she received her BA from Drew University and had no clue what to do next. She spent her twenties earning a Masters in Developmental Psychology from Cornell University and teaching in the Psychology Department at Bates, but there remained a lingering question of "what am I supposed to be doing with my life?" She gradually realized that asking that question through research and supporting others as they develop their own identities is what charges her up. She is thrilled to now be the Director of Program Design for Purposeful Work, in addition to remaining an active member of the Psychology Department. Rebecca has shared her thoughts about meaningful work in a variety of outlets, including The Huffington Post, HuffPostLive, LifeAfterCollege.org, and the Stacking Benjamins podcast, in addition to on her own website, Working Self.
Purposeful Work Working Group Members (convened May 2013-May 2014)
Co-Chairs:  Darby Ray, Michael Sargent
Lead Staff:  Christina Estabrook
Faculty:  Rebecca Corrie, Rebecca Fraser-Thill, Rebecca Herzig (Spring, Summer 2013), Emily Kane, Nathan Lundblad (Summer, Fall 2013), Robert Strong, Paula Jean Schlax, Mara Tieken, Thomas Tracy, Crystal Williams
Staff:  Ellen Alcorn, Jeremy Cluchey, Marianne Cowan, Colleen Coxe, Kent Fischer, David McDonough, Kevin McHugh, Christina Patrick, Carl Steidel, Megan Taft
Students:  Tenzin Namdol '15, Caroline Richards '14
Purposeful Work Advisory Board Members (convened September 2014-present)
Faculty: Ryan Bavis, Rebecca Fraser-Thill, Margaret Imber, Emily Kane, Michael Murray, Darby Ray, Tom Tracy
Staff:  Ellen Alcorn, Marianne Cowan, Julisa De Los Santos, David McDonough, Josh McIntosh, Christina Patrick, Kelsy Ross
Students:  Maya Cates-Carney '16, Kate Moody '17