Registration for Winter 2023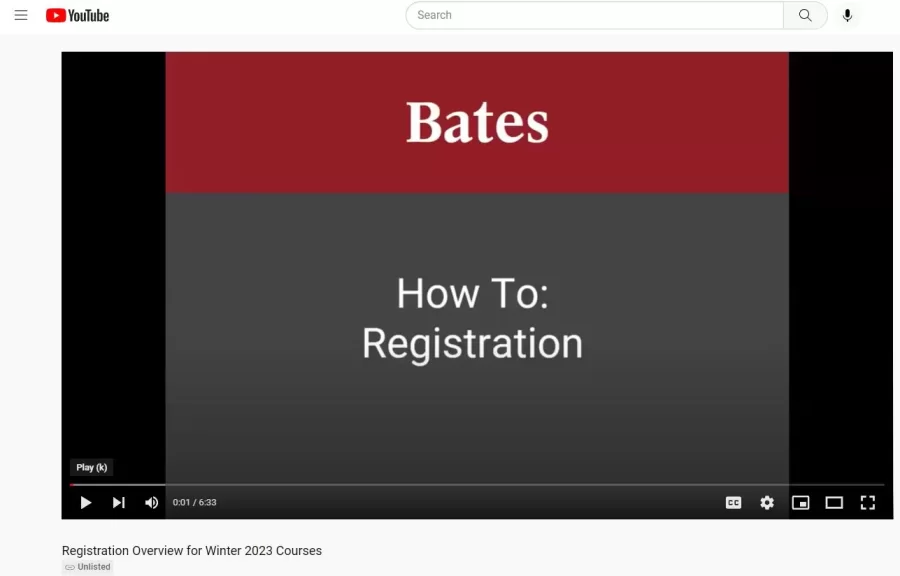 The Winter 2023 registration period runs from Saturday, November 5 until Friday, November 11 at 4:00pm. If you don't register for anything prior to the system closing on Friday the 11th, you will not be able to register until add/drop opens in December. Registration next week is not first-come, first-served, so you can make your selections at any point during the week. Your registration is not final at this point – if a course you've registered for is oversubscribed you may not ultimately gain access to the course. Optimization for oversubscribed courses will be run on Monday, November 14 and the results will be released on or around Tuesday, November 15, at which point students will be notified via their Bates email to view their schedules.
The timeline for Winter 2023 registration is:
Saturday, November 5 – the Course Schedule is available for viewing – Students should make arrangements with their advisor to meet and have their advising hold lifted.
Friday, November 11 at 4:00pm – Registration closes
Monday – Tuesday, November 14 -15 – Optimization is run
Tuesday, November 15 – Once students are notified that their winter 2023 schedules are available for viewing, they may begin petitioning for any courses they are Eligible to Petition for (EP course status)
Friday, November 18 at 11:59pm – Petitions are due to faculty.
Wednesday, November 30 at 4:00pm – Accepted petitions are due from faculty to the registrar's office.
Monday, December 5 at 7:00am – Add/drop opens, and you can add courses on a space-available basis. You can also add up to 5.5 credits at this time.
Wednesday, January 25 at 11:59pm – Last day to add a Winter 2023 course or to elect pass/fail grading
Friday, March 10 at 11:59pm – Last day to drop a Winter 2023 course or elect letter grading
The new Student Advising Portal (which contains a ton of great information on a variety of topics) offers a How-To-Register video that covers the registration process (also found above). We urge you to watch that video for an overview of the various steps involved, a reference on how to read the schedule, and an overview of the timeline. The portal also has a link to a Google calendar of important dates and deadlines for students, which you can add to your personal Google calendar for reference. The registration dates are covered in this calendar.
FAQ
Can I really register anytime during registration week?
Yes, it doesn't matter if you register on the first day or the final day. For Winter 2023 registration you just need to be registered for up to 4.5 credits by Friday, November 11 at 4:00pm ET.
Can I join a waitlist if I don't get in?
The Optimization process doesn't include waitlists. Students are automatically put on an "Eligible to Petition" list and may submit a petition through the end of the petition submission period.
What if I have a hold?
Students are encouraged to check the "Holds" page in Garnet Gateway and contact the appropriate office to resolve the issue preventing registration as soon as possible. All students will have a registration advising hold, and your advisor can lift this hold when you meet with them prior to registering. Another common hold that would prevent registration is a Financial hold from the Student Financial Services office if there is a balance on your account.
I got into a course but not the section I asked for. Why?
Optimization will attempt to get as many students into as many courses as possible. Sometimes the way to do this is to register a student for an alternate section of a course they selected. Additionally, faculty have requested that Optimization attempt to balance sections of multiple section courses to the extent possible.
Do I have to petition for a course I didn't get?
You have the option to petition but you do not have to submit a petition for a course. You can simply wait and add a different course during Add/Drop.
I got a registration error. How do I fix it?
If you get a registration error, such as a prerequisite error, the registration attempt is dropped. The only way to successfully register for the course is to resolve the error or to obtain the appropriate override from the instructor. You can see a chart of errors and the overrides needed on the Registrar's office website.