Reunion Programs for Families
Reunion includes a number of family-friendly programs. These events are designed for families to participate together, and children cannot attend without a parent or guardian present. As Reunion approaches, check the schedule for more information about what is being planned for this year.
Please note that minors visiting campus should be supervised at all times by an accompanying adult. The College will not be offering a Reunion childcare program.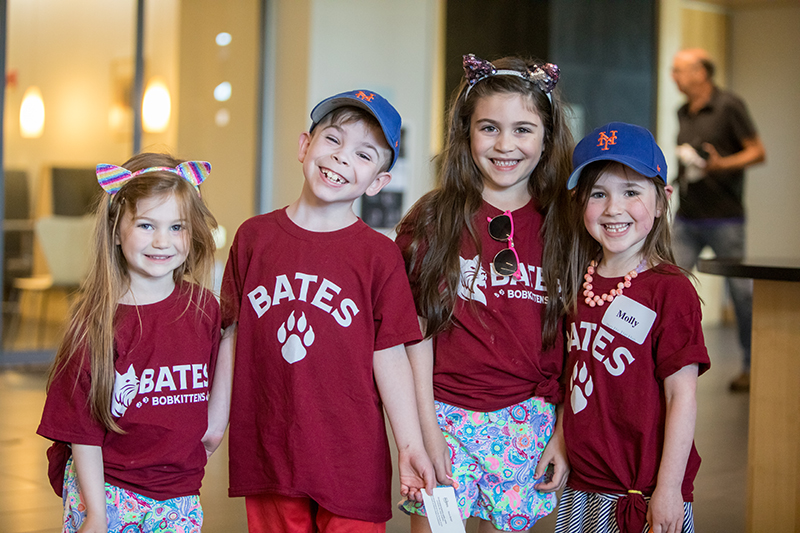 Vaccination & Health Protocols
Families and children are welcome at Bates Reunion Weekend. As we are still navigating the challenges associated with college operations during the COVID-19 pandemic, we want to be mindful of the well-being of all guests, including those with health risk considerations and those who are not eligible to be vaccinated. Therefore, the following protocols are in place for all alumni who bring children and families with them to Reunion:
Children under age 5 who are not yet eligible to be vaccinated are welcome to attend Reunion. Most family-centric events will take place in outdoor spaces with a limited number of indoor events available. These indoor options include Friday dinner, Saturday breakfast, and Sunday brunch. When dining indoors unvaccinated children must dine in designated family locations and remain masked until seated and eating. A parent must accompany children at all times.
Unvaccinated children ages 2 years and older must be masked whenever they are in an indoor space. Vaccinated guests are not required to wear masks indoors. Masks are not required outdoors for any Reunion guest.
Given the congregate housing conditions, unvaccinated guests, including children, may not enter residence halls.
Campus accommodations are not available to Reunion guests who are unvaccinated. Alumni who are bringing unvaccinated children to Reunion and who request overnight accommodations will be housed in area hotels. Shuttles will be available between the hotels and campus. Unvaccinated children must be masked at all times when riding the shuttles.
Requests for medical exemptions can be made following a designated procedure, which can be found in the Reunion FAQ.
Please note that all of these policies are subject to change as a result of public health conditions that may exist in June.
Family-Friendly Programs
Reunion 2022 includes a number of family-friendly programs, designed for families to participate together.
Friday, June 10
3–5pm
Lawn Games
Outside Commons
9:30pm
Fireworks
Florence J. Keigwin Amphitheater on Lake Andrews
---
Saturday, June 11
8:30–9:15am
Memorial 5k Run/Walk
Lace up your sneakers and complete a 5k in remembrance of beloved Bates community members.
Meet outside Commons
10:45am
Alumni Parade
Show your class spirit in the Alumni Parade! Bring your families to march and dance through a crowd of cheering Bates alumni and friends.
Historic Quad to Alumni Walk
12–4pm
Bobcat Adventures
Music, face-painting, balloon animals, gym time, games, free swim, and an appearance by the Bates Bobcat!
Ladd Library Quad, 280 College Street Tent, and Tarbell Pool
1–3pm
Animal Experience with the Center for Wildlife
Join our guests from the Center for Wildlife for a kid-friendly afternoon with ambassador animals, crafts, face painting, and balloons.
280 College Street Tent
2:15–2:45pm
Children's Story Time and Drawing Demonstration with Matt Tavares '97
Join author-illustrator Matt Tavares '97 for a story reading and drawing demonstration with ample time for questions! This program is aimed for children, but all are welcome to join. Sponsored by the class of 1997.
Muskie Archives
2–4pm
Lawn Games
Outside Commons
6:30–9pm
Pizza and Movies for Teens and Kids
Grab a slice and settle in to watch Encanto and Sing 2.
280 College Street Tent
We look forward to seeing you and your families at Reunion!