Lewiston-Auburn Shuttle (Bobcat Express L/A)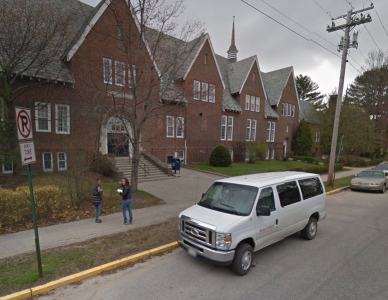 The schedule below is for the free Lewiston-Auburn Shuttle, which departs from 56 Campus Ave, next to Chase Hall, Friday through Sunday. The shuttle runs to Auburn locations at the beginning of each hour, and runs to Lewiston locations on the half hour. Please be sure to check out the times and destinations.  If you have questions or concerns, contact campuslife@bates.edu.
As a special service upon request, the Shuttle driver will take students to and from Central Maine Medical Center, B Street Health Center, Spare Time Bowling, the Rollerdrome, and Thorncrag Bird Sanctuary. The driver will only go to these locations if requested, so if you are headed there be sure to let the driver know.
Central Maine Medical Center (CMMC) is a partner of Bates College. If you schedule an appointment ahead of time, you can utilize the shuttle for a ride. However, if you have a serious injury or emergency that requires immediate transportation, call security at (207) 786-6111. Find out more information about CMMC by visiting their website, or Bates Health Services at http://www.bates.edu/health-services/accessing-services/
Regular Schedule 
Thursday 6:00pm-2:00am
Friday 6:00pm-2:00am
Saturday 6:00pm-2:00am
Sunday 10:00pm – 6:00pm
Auburn Destinations
Walmart – In addition to one of the largest Wal-Marts in the state you can easily walk to Burger King or Lowe's.
Kohl's/Starbucks – Kohl's is a great place to get clothes, pots and pans, bedding and more, and Starbucks is nice place to get a caffeinated beverage and some quiet time away from campus.
Auburn Mall/Goodwill/Panera/Shaws – The Mall has several stores – Pac Sun, JC Penney, Game Stop, Olympia Sport, Papa Gino's, and a few others.
Flagship Cinema*/Jasmine Cafe/TJ Maxx – In addition to those listed you will find Bed Bath and Beyond, the Dollar Tree, Craft Mania, and several other stores.
Lewiston Destinations
Lewiston Mall/Sea40 – Sea40 is a great Japanese restaurant featuring Hibachi grills and freshly made Sushi.  The mall is pretty quiet, but there is a music store and Bull Moose Records.
Lisbon Street – This is one of the great new additions to the shuttle route.  The shuttle will pass along the route the Public Theatre, where Bates students get half price tickets with their IDs, as well as many great restaurants: Forage, Fuel, Mother India, Orchid and of course, Davincis.