Adobe Sign Paper Time Sheet
For Supervisors:
When the students you supervise fail to fill out and submit their Garnet Gateway time sheet at the end of a pay period, you must submit an electronic paper time sheet for them using our Adobe Sign Paper Time Sheet. Before you fill out the Adobe Sign Paper Time Sheet on your student's behalf, your student needs to send you this information:
The Reason Why They Need a Paper Time Sheet: forgot to fill out time sheet, doesn't have a time sheet on Garnet Gateway, etc.
Their Legal First and Last Name: Jane Doe
Their Bates Student ID #: 000000000
Their Position #: S9857C
Their Position Title: SEO Coordinator
The Dates and Hours They Worked: 4/11/20 2 hours; 4/12/20 2 hours
Students can find their position number and job title listed on their Garnet Gateway time sheets.
Supervisors also need to know the start and end date of the pay period their student is submitting hours for. Please see the Payroll Calendar for the start and end dates of each pay period.
Here is a visual of the Adobe Sign Paper Time Sheet. This is where you will be entering the student's full legal name, their Bates ID number, their position number, their position title, the start and end date of the pay period they are submitting hours for, the dates and hours they worked, and the reason why they need a paper time sheet. On the Adobe Sign form, all you will need to do is click on a section to fill it out: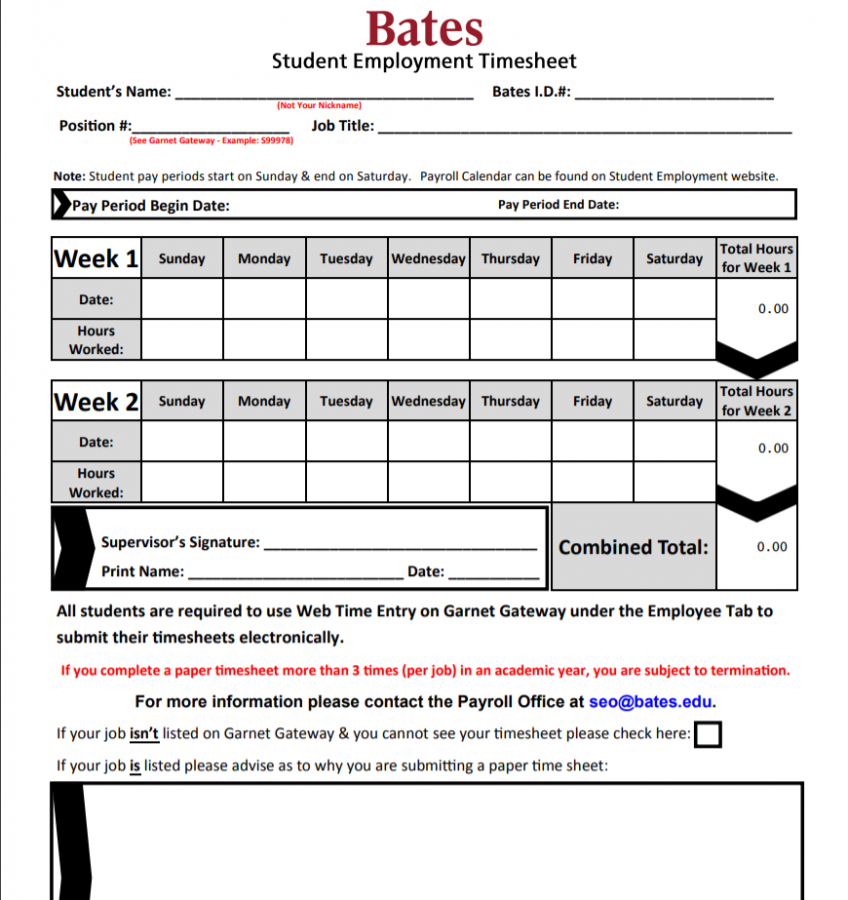 Note: If students forget to submit their electronic time sheet three times, they are subject to termination of employment
For Students:
When you fail to fill out and submit your Garnet Gateway time sheet at the end of a pay period, your supervisor must submit an electronic paper time sheet for you. For your supervisor to be able to fill out the Adobe Sign Paper Time Sheet on your behalf, you must email them the following information:
The Reason Why You Need a Paper Time Sheet: forgot to fill out time sheet, don't have a time sheet on Garnet Gateway, etc.
Your Legal First and Last Name: Jane Doe
Your Bates Student ID #: 000000000
Your Position #: S9857C
Your Position Title: SEO Coordinator
The Dates and Hours You Worked: 4/11/20 (2 hours); 4/12/20 (2 hours)
If you do not know your position number or position title, you can find the information on your Garnet Gateway time sheet. In the example below, the student's position title is underlined in red and their position number is circled in blue:

Note: If students forget to submit their electronic time sheet three times, they are subject to termination of employment