Class Agent Guide
Thank You for Volunteering as a Class Agent!
Thank you so much for your work on behalf of Bates as a Class Agent. Over the last two years, we have had a record number of alumni participate as Class Agents for Bates. This extraordinary volunteer effort has helped Bates achieve record-breaking alumni participation and contributions to the Bates Fund. We are so grateful for your commitment to your alma mater.
We hope this guide is a helpful resource throughout the year. Please contact us with questions. You may also download a printable PDF of this guide.
See who's volunteering for your class!
The Bates Fund Team
batesfund@bates.edu | 888-522-8371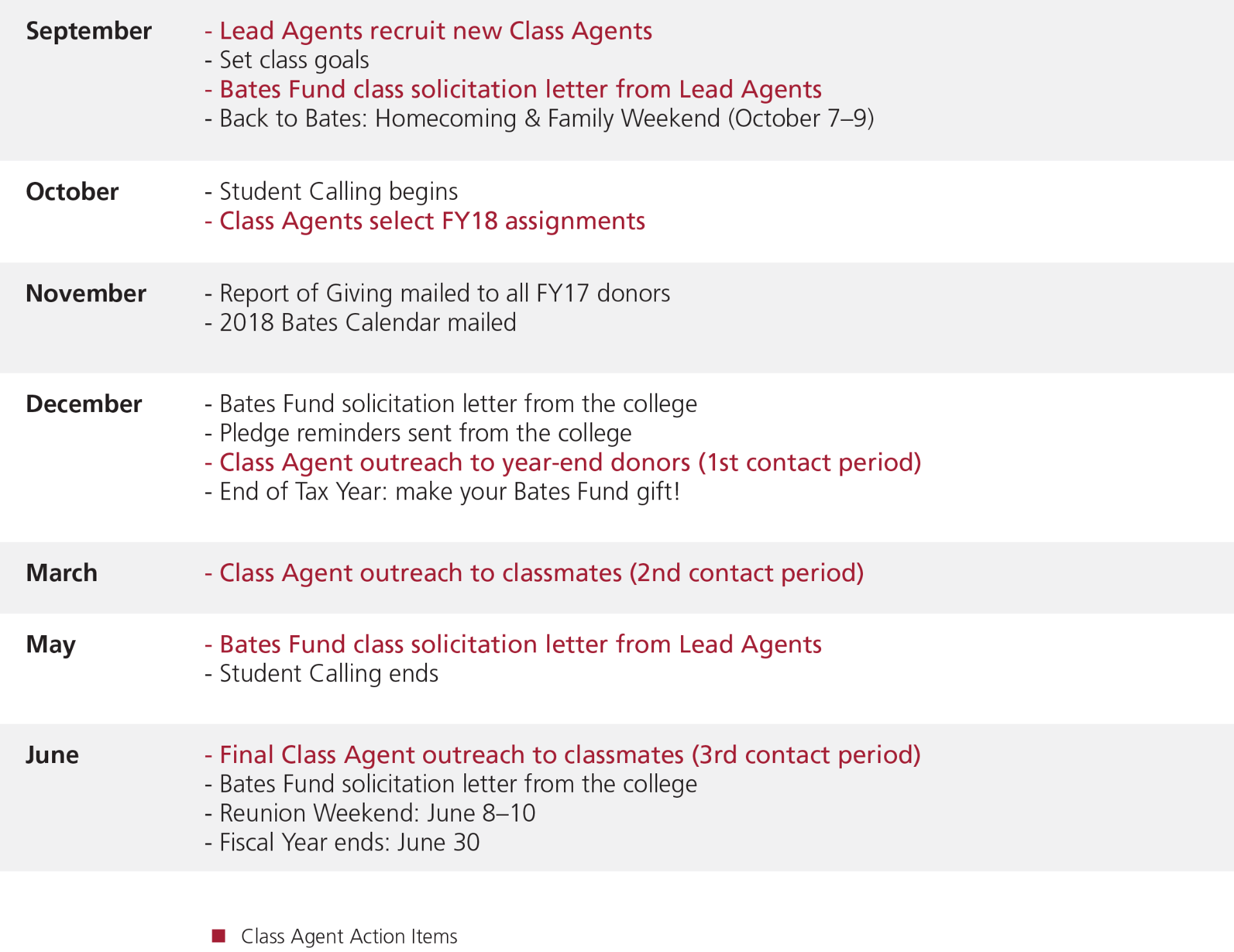 Class Agent Responsibilities
Lead

by example: Make your gift to Bates by December 31.

Contact

10–20 classmates about making their gift to Bates.

Share

news from campus and speak with classmates about the importance of giving to Bates.

Encourage

classmates to return to campus for Back to Bates (September 22–24) or attend Bates events in their area! Visit bates.edu/alumni/events for more information.

Thank

those who make a gift with a personal thank-you.
Making the Ask
As you prepare to make your class, you may wish to review our list of calling tips and email template.
1. Prepare
Make your own gift to the Bates Fund. You'll feel more comfortable asking your classmates to join you in supporting Bates when you have already made the commitment yourself. Please make your gift by December 31.
Review your assignments' contact information and giving histories. Have they given consistently? Did they increase their gift last year? Information on your assignments will be provided by your staff liaison and/or found in the Online Tool.
Stay informed. The more you know about what's happening on campus, the easier the conversation will be. The Bates News site is constantly updated with current stories about students, faculty, and college initiatives.
2. Make the contact
Identify yourself. Make it clear that you are a fellow classmate working as a volunteer.
Find common ground. What did your classmates cherish most about their Bates experience?
Make the ask. Ask your classmates to join you in making a gift to Bates. If they are unsure about giving, reiterate that their gift, whatever the size, truly matters to Bates.
3. Follow up
Say thank you. You will receive a notification when your assignments make a gift to Bates. Please personally thank those who make a gift as soon as possible.
Update information. Share updated contact information with your staff liaison or enter it into the Online Tool.
There are many ways to give to Bates. The three most widely used methods are:
Online at bates.edu/give
Phone at 888-522-8371
Check made payable to "The Bates Fund." Mail to: Bates College, 2 Andrews Road, Lewiston, ME 04240.
Bates Beacons Monthly Giving
The Bates Beacons perpetual giving program allows you to divide your gift to Bates into manageable increments through convenient automatic deductions from your credit card or checking account.
Garnet Circle
The Garnet Circle honors loyal alumni, parents, and friends who have contributed to Bates for five or more consecutive years, as well as young alumni who have given continuously since graduation.
Mount David Society
The Mount David Society recognizes Bates Fund donors who put the college first in their annual philanthropy with gifts of $2,500 or more (or $100 for 5th Reunion alumni or $500 for 10th Reunion alumni).
Phillips Society
The Phillips Society celebrates those in the Bates community that have honored the college in their estate plans.