Bates announces updated total of $336 million for Bates Campaign
The Bates Campaign has reached a new total of $336 million in pledges and gifts, reported Vice President for College Advancement Sarah R. Pearson '75 to the Bates College Board of Trustees during the board's recently concluded spring meeting on campus.
The campaign, which was announced publicly five years ago with the largest dollar goal in college history — $300 million — concludes on June 30, 2022. The most recent dollar update, announced in November, was $282 million.
"This is a tremendous moment of pride for Bates and for our entire community," said Bates President Clayton Spencer. "Five years ago, we invited the Bates community to embrace the college's aspirations and hopes as their own. And they have."
"The message from our community of donors is crystal clear. In return, I extend our deep appreciation and gratitude."
She added, "Each and every gift from Bates alumni, parents, friends, faculty, staff, and students has helped to strengthen the college. Today, Bates is better resourced and equipped, on all fronts, to deliver a transformational educational experience and to widen the door of opportunity for talented students of any means. While the results of the campaign are not yet completely in, the message from our community of donors is crystal clear. In return, I extend our deep appreciation and gratitude."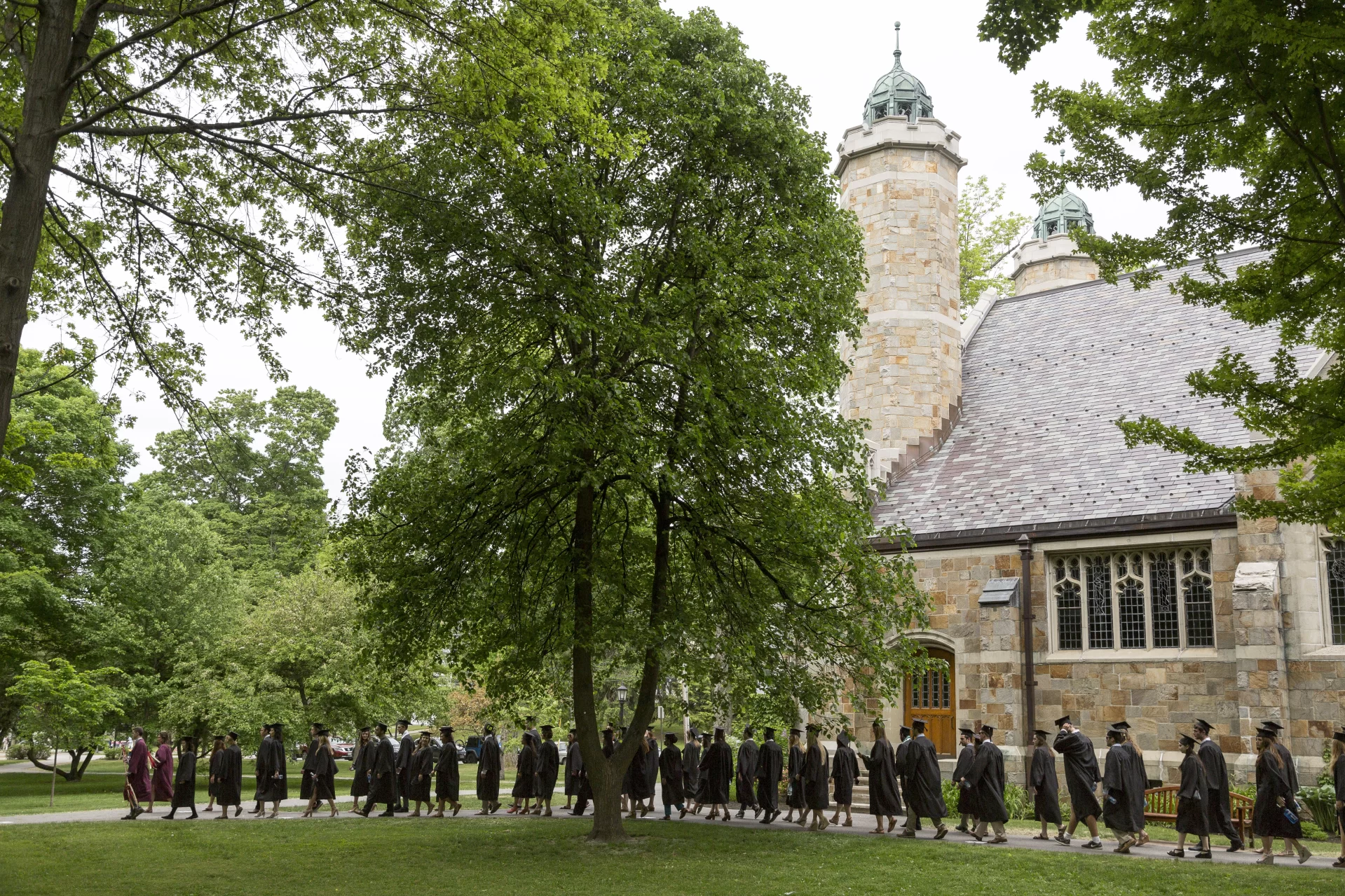 "To everyone who has contributed, in any way, to the continued success of the Bates Campaign: thank you for your resolve, devotion, and generosity," said Vice President for College Advancement Sarah Pearson '75. "With six weeks still remaining until the campaign's conclusion, I am confident that the Bates community will continue to go above and beyond."
She added, "I also wish to extend gratitude and appreciation to Bates faculty, staff, and students who have provided their time and talent to communicate to our prospective donors why Bates continues to be an amazing and invaluable place. Success feels wonderful; success achieved within the community we love is simply inspirational."
Campaign Priorities
During the campaign, the college's philanthropic needs were framed around four priorities: Driving Academic Excellence, including an equity-driven drive to improve STEM facilities and education; Investing in Opportunity, including strengthened support for need-based financial aid; Catalyzing Student Success, including leadership and student programs and Purposeful Work; and Building Financial Sustainability, including all annual gifts by alumni and parents to the Bates Fund.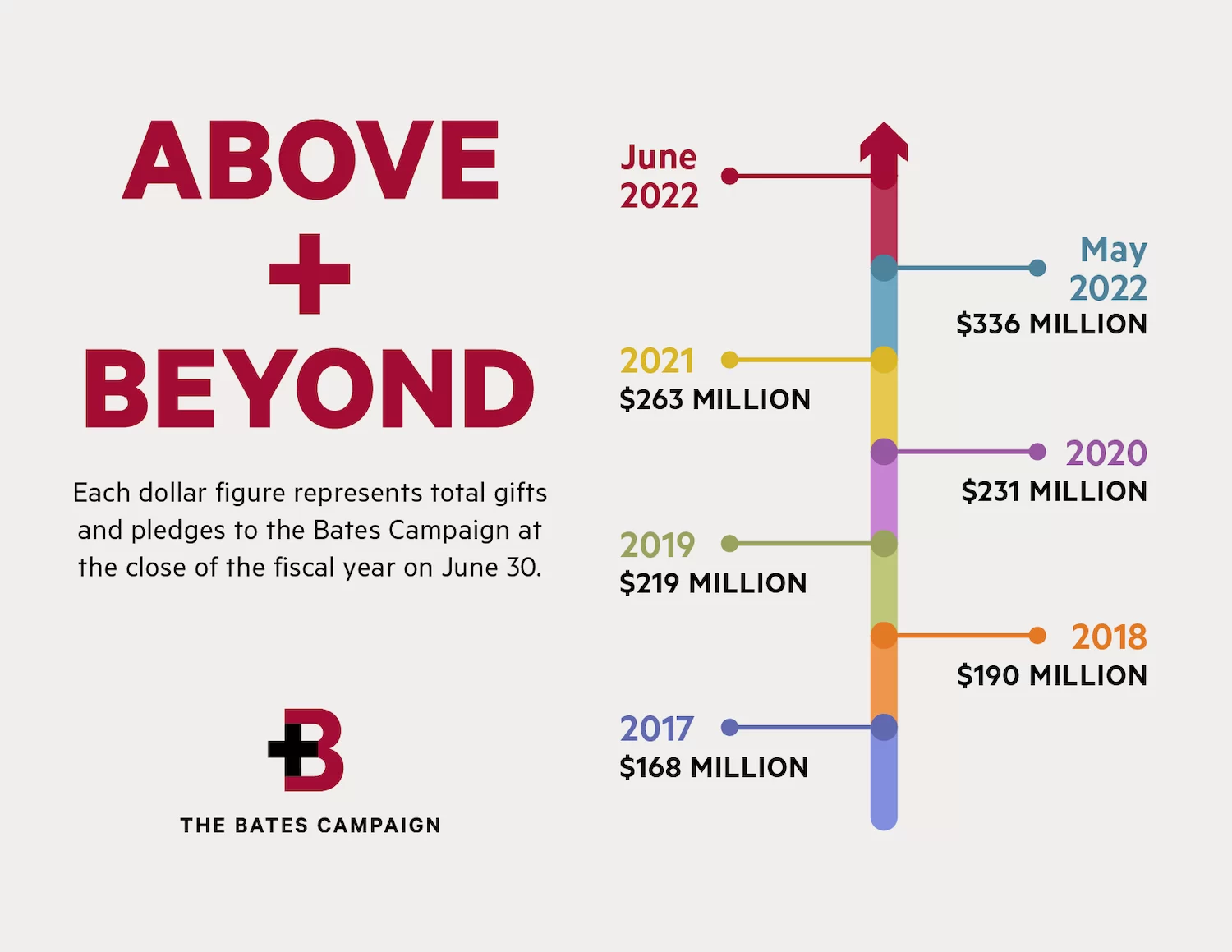 The college has seen the following gifts and achievements during the Bates Campaign:
$131 million in gifts for need-based financial aid, including endowment, highlighted by a recent challenge grant of $50 million to fuel an unprecedented $100 million expansion for students from America's lowest-income families.
Funding of seven new endowed professorships.
$6 million to support Purposeful Work internships.
$10 million to initiate the college's Digital and Computational Studies program.
The funding and opening of the new Bonney Science Center, part of a $75 million college investment to drive the evolution of science education at Bates and part of a multifaceted effort to optimize STEM teaching and research at the college.
New records for total annual giving in four of the five years of the public phase of the campaign, including an all-time record $34.20 million in gifts in fiscal 2021.
Gifts and pledges from more than 19,000 Bates donors.
$1 million growth — 15 percent in the annual Bates Fund, from $6.5 million to $7.5 million.
$138 million for the college's permanent endowment.

The Campaign Co-Chairs
The campaign's three co-chairs are Michael Bonney '80, Geraldine FitzGerald '75, and John Gillespie '80. Each offered thoughts about the trajectory of the Bates Campaign.
Bonney recalled how, five years ago, "we publicly announced the Bates Campaign with great conviction, firm in our shared belief that Bates and Bates graduates can help meet the challenges facing our nation and world. Through the generosity of our community, we have renewed hope and belief that Bates and Bates people are, and always will be, contributors of solutions. We know that our college is capable of going above and beyond."
He added, "Through the campaign, Bates is now more able than ever to pursue innovation, to support our talented faculty, to provide greater access and support for students, and to teach them the habits of mind that are apropos for the world into which they are going to graduate and the challenges that we face."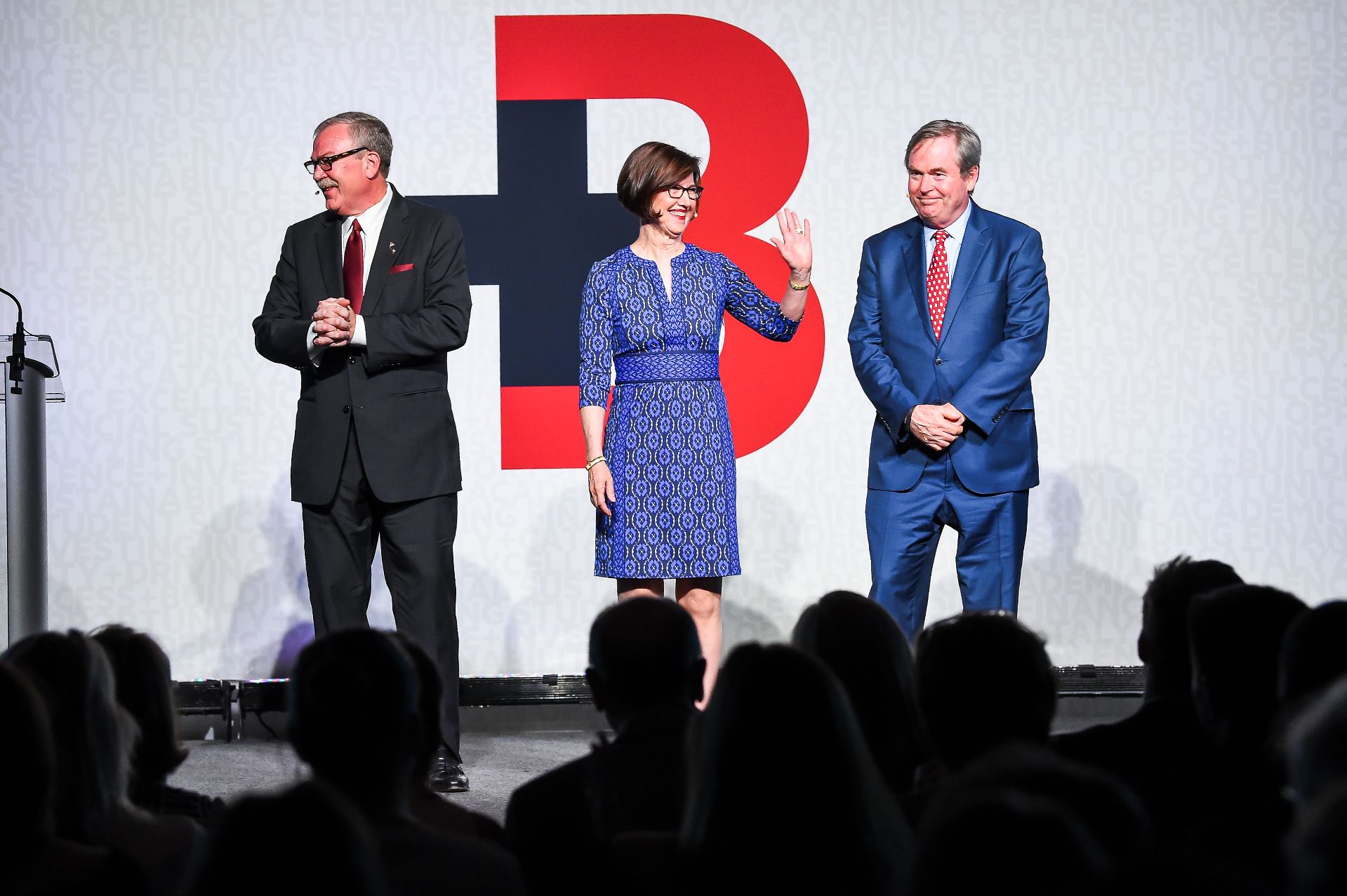 FitzGerald noted how, as an alumna approaching her 50th Reunion, "I should not be surprised that, once again, our community has powerfully come together during the Bates Campaign. It is not surprising, but as always, simply amazing. When we kicked off the campaign five years ago, I knew that there was work ahead. But I also knew that as Bates alumni, we would find joy in our striving together — because we believe in Bates."
Gillespie succeeded Bonney as chair of the Bates Board of Trustees in 2019. He said, "At its core, the Bates Campaign has been a call to action. As we said together, the time is now. The Bates community heeded the call, and took action. The community has gone above and beyond that call to action — coming together to contribute $336 million to benefit Bates."
He added, "My experience on the board, and now as its chair, has created a proximate awareness that a successful Bates Campaign depended in large part on significantly increasing the college's endowment. Through the campaign, $137 million has been added to the endowment during the campaign — with time remaining in our effort. Success is at hand."
Young Alumni Engagement
Seeking to more effectively engage all members of the college community during the campaign, Bates joined a coalition of leading liberal arts colleges in 2019 on a national project to learn more about rates of giving among younger alumni. Bates trustees Emma Sprague '10 and David Longdon '14 led the work to engage fellow young alumni in the project.
For Longdon, the takeaway of working on his first campaign was that "we not only have a shared identity as Bates graduates, but also a shared commitment to providing a world class experience to future generations. Through the campaign, it's been great to see this same commitment, whether in a new class of Bates graduates through to alumni celebrating their 50th Reunion, and beyond."
"Our young alumni are and will continue to be a big part of that journey."
He added, "Equally important to the dollars contributed is the important signal of this common commitment — and the need for it to be sustained moving forward."
For Sprague, the ongoing disruption from the global pandemic and other disruptive forces facing Bates underscore how she and her fellow young alumni of the millennial generation view their philanthropic relationship with the college.
"Our young alumni see the forces of transformation that colleges are grappling with and are energized to imagine an inflection point for Bates," she said.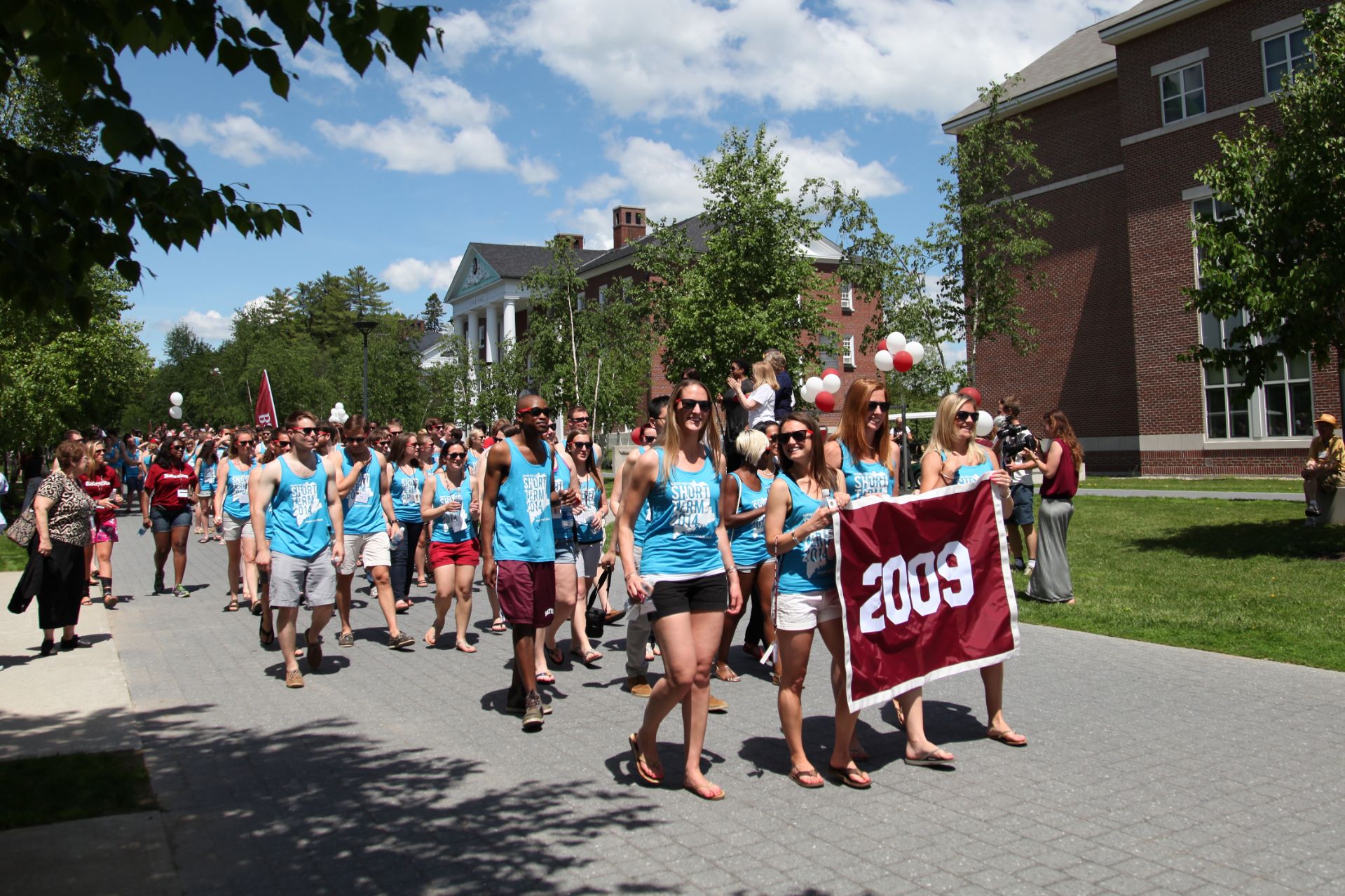 "This campaign has fundamentally shifted how we can define and create transformational Bates experiences for students to come — and our young alumni are and will continue to be a big part of that journey."
The college will present a full report of gifts to the Bates Campaign following its close on June 30, 2022, with celebrations planned for the fall. Learn about various ways to give to Bates College through the Bates Campaign.