Exceeding goal, Bates College successfully ends record-setting campaign with gifts of $345.7 million
Bates College raised a record-setting $345.7 million in gifts and pledges during its recently concluded fundraising campaign, announced President Clayton Spencer.
Publicly launched in 2017 with a goal of $300 million, the Bates Campaign closed on June 30, 2022, with gifts and pledges totaling $345,745,082.
More than 19,000 donors contributed to the effort, establishing successively higher Bates records for total annual giving in four of the five years of the campaign's public phase.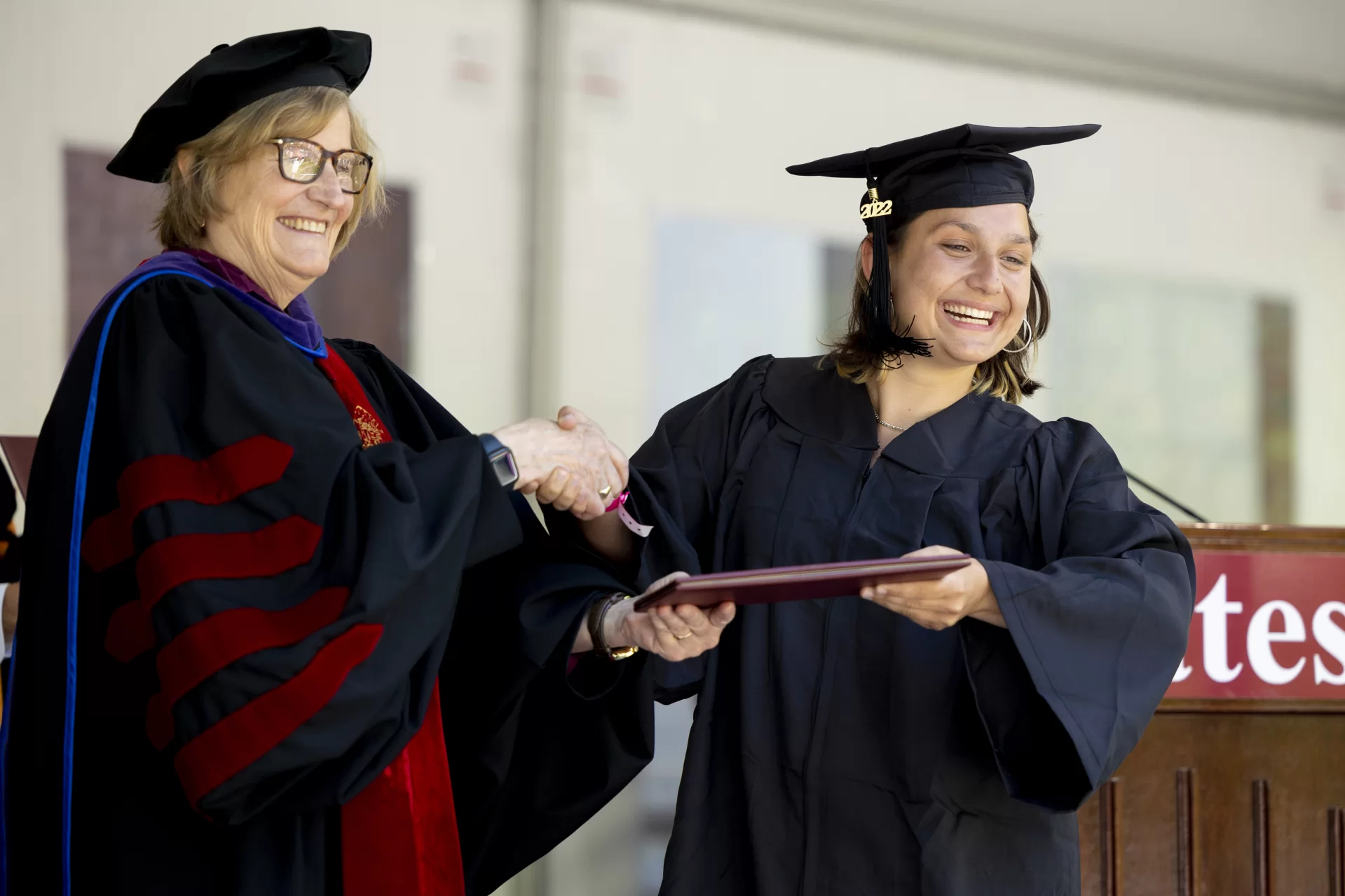 "We owe the success of the Bates Campaign to the exceptional generosity of our alumni, parents, friends, faculty, staff, and students," said Spencer. "Today, we are better resourced and equipped to broaden access to a Bates education and to offer a life-transforming experience for our students. With a new academic year before us, the 'why' of the Bates Campaign has never been more self-evident — to support the success of our talented students who will do their part to make the world a better place."
The most striking embodiment of the campaign's success was the construction of the new Bonney Science Center, a centerpiece of the college's $75 million investment to drive the evolution of science education and to transform the college's approach to STEM teaching and research.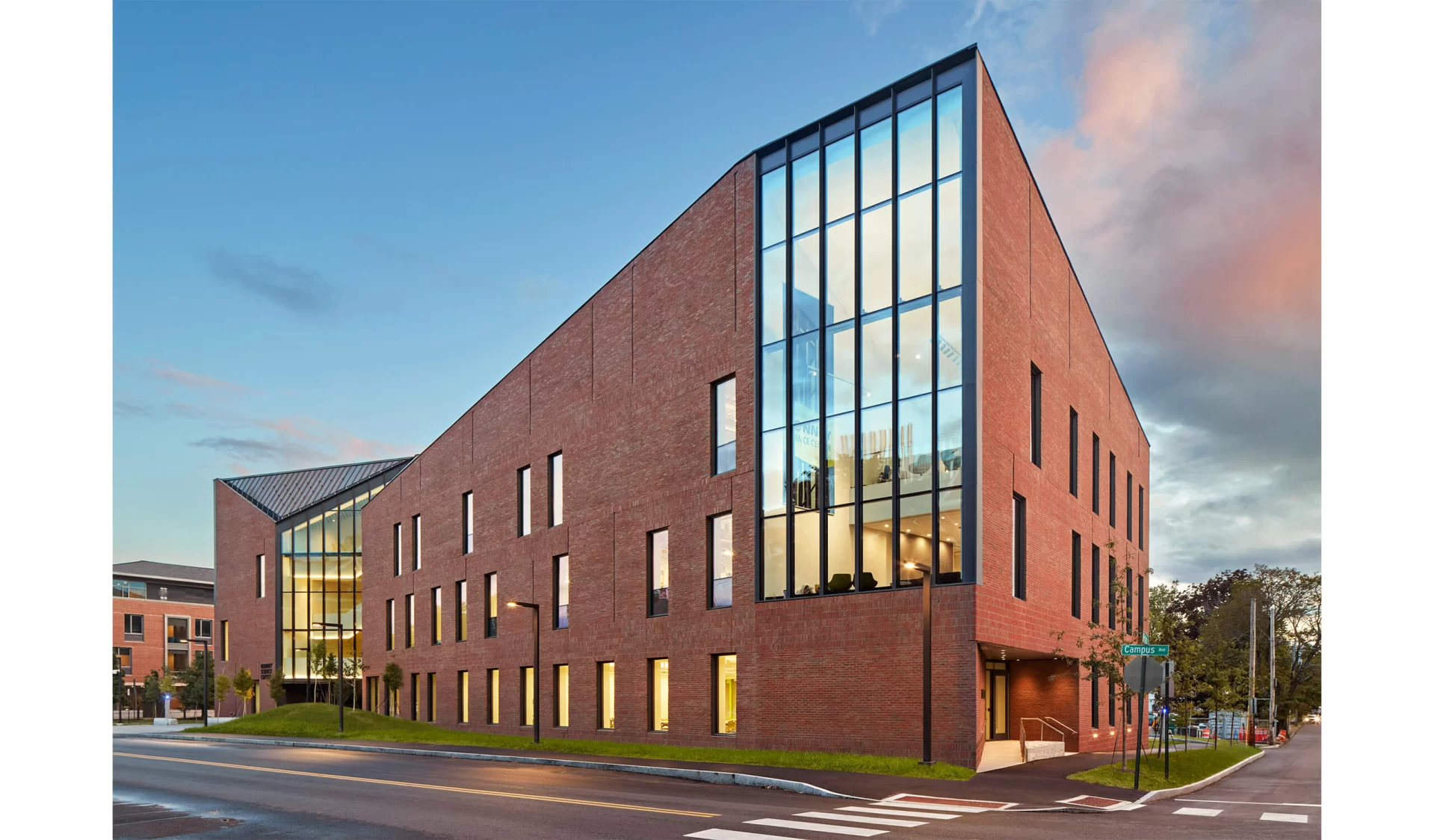 Opened in the fall of 2021, the Bonney Center was funded by a $50 million campaign gift, one of the largest monetary gifts ever to a Maine college, from the family foundation of Michael Bonney '80 and Alison Grott Bonney '80. Co-chair of the campaign and a chair of the Bates College Board of Trustees for nine years, Michael Bonney received an honorary degree from the college at this year's commencement.
"Five years ago we publicly announced the Bates Campaign with great conviction, firm in our shared belief that Bates and Bates graduates can help meet the challenges facing our nation and world," said Mike Bonney. "Through the generosity of our community, we have renewed hope and belief that Bates and Bates people are, and always will be, contributors of solutions."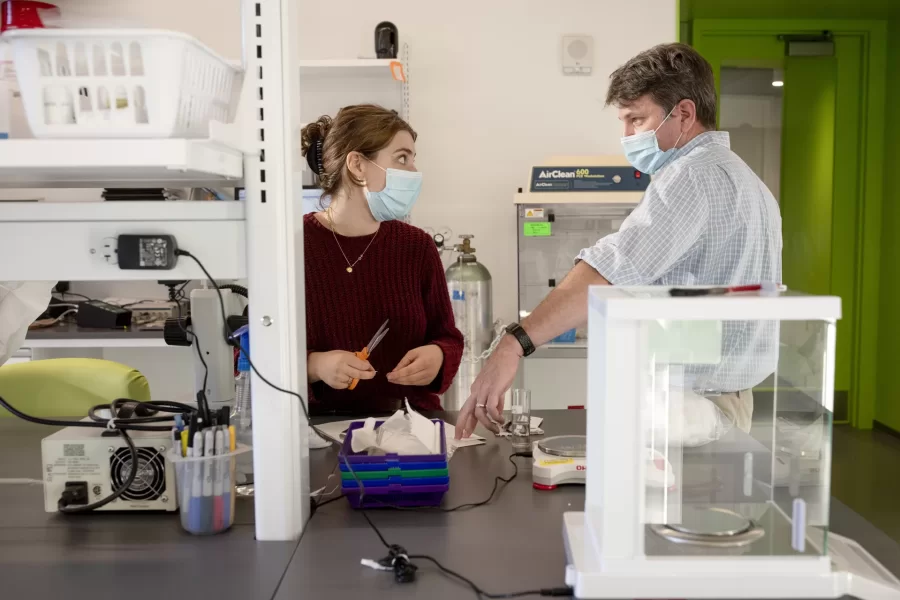 Fellow trustees Geraldine FitzGerald '75 and John Gillespie '80 joined Bonney as campaign co-chairs. "Mike, Geri, and John were superb campaign co-chairs for so many reasons," Spencer said. "But I will emphasize two in particular — authenticity and ambition. Their love for Bates and their devotion to making us the best version of who we can be is genuine and compelling. When they talk about Bates, what they say is meaningful because it is ambitious, and it is real and true."
FitzGerald noted how, as an alumna approaching her 50th Reunion, "it is not surprising, but as always, simply amazing how our community has once again powerfully come together during the Bates Campaign. When we kicked off the campaign five years ago, I knew that there was work ahead. But I also knew that as Bates alumni, we would find joy in our striving together — because we believe in Bates."
A member of the Board of Trustees since 2003, Gillespie succeeded Bonney as board chair in 2019. "My experience on the board, and now as its chair, has created a keen awareness that a successful Bates Campaign depended in large part on significantly increasing the college's permanent investments," he said. Including gifts to professorships, scholarship funds, and other new endowed funds, $138 million has been added to the college's permanent endowment."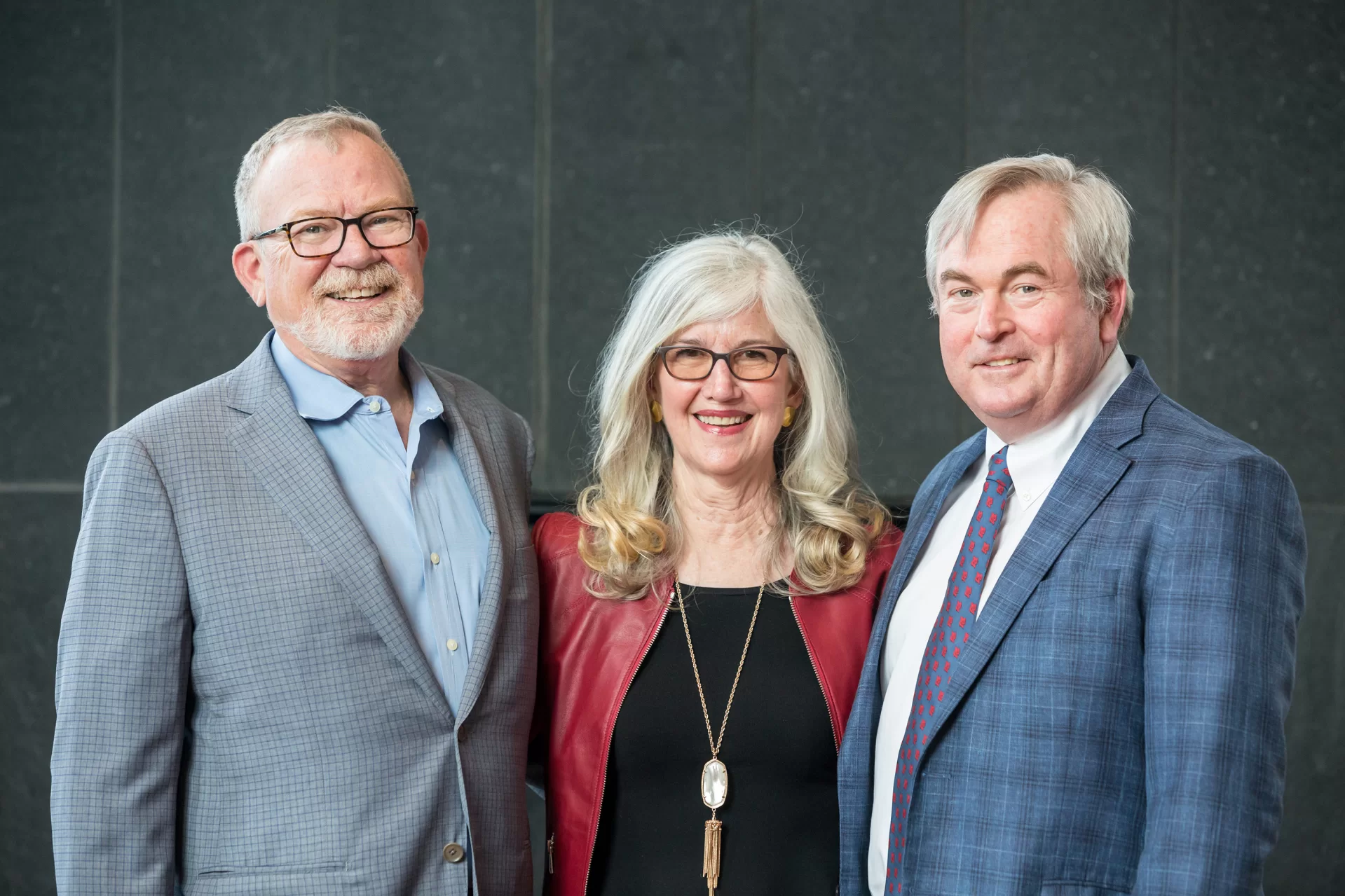 The Bates Campaign was shaped by a college-wide institutional planning process in 2016, which produced a framework of priorities to guide Bates' institutional growth. The campaign's resulting four priorities emphasized academics, facilities, financial aid, student programs, and endowment, raising the following amounts.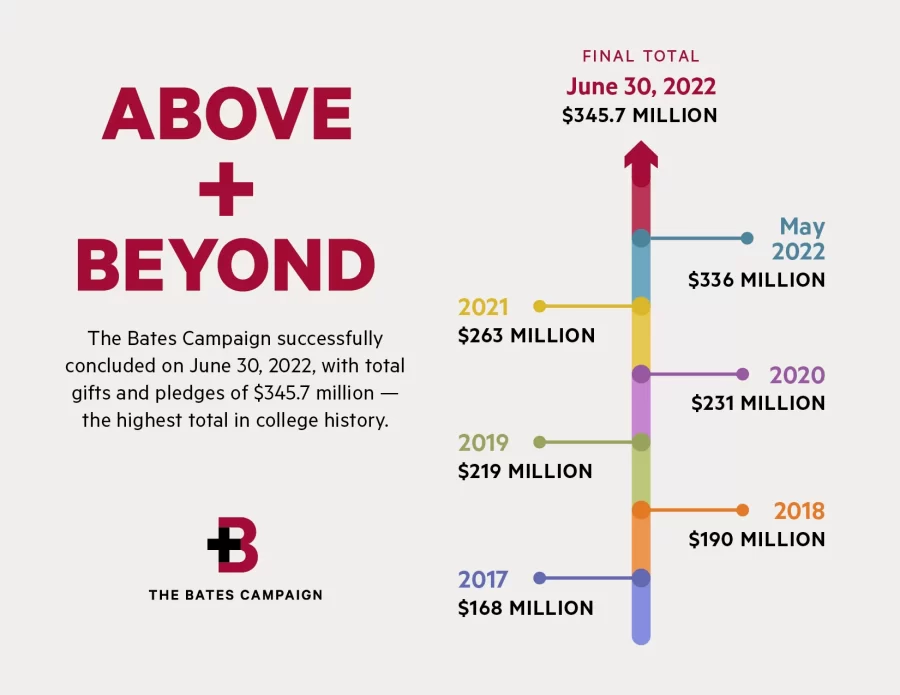 Raised: $90,284,189.20
Donor gifts funded the college's equity-driven plan to create an integrated system of science facilities. In addition to the opening of Bonney Science Center, a second component of the college's STEM investment is a complete renovation of Dana Hall. A former chemistry building, Dana Hall reopens this academic year as the home of introductory education in biology and chemistry, also offering state-of-the-art general classrooms for use by all academic departments.
Donors also gave: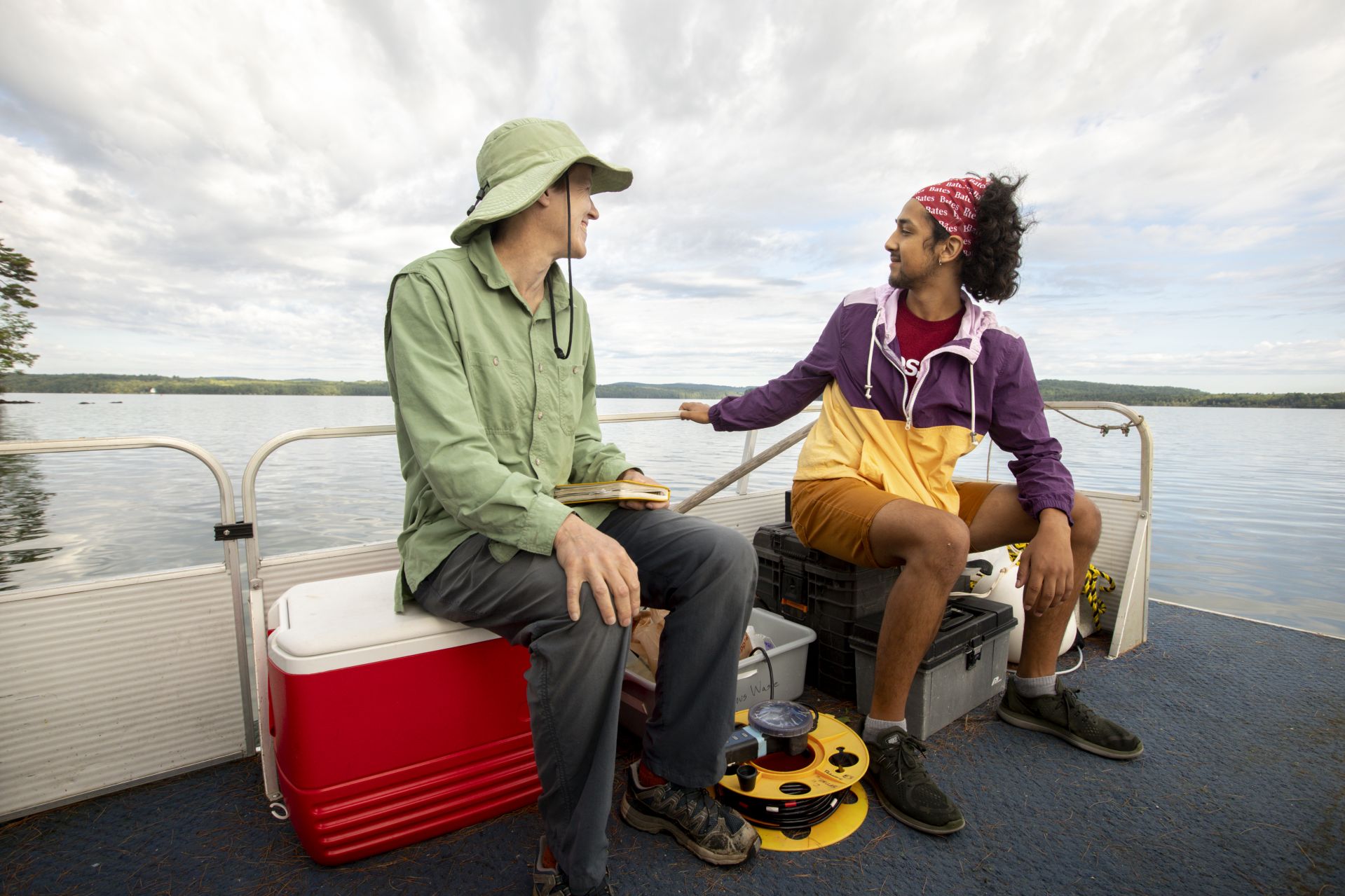 ---
Raised: $135,220,123.06
Donor gifts strengthened support for need-based financial aid, providing the opportunity for talented students to attend Bates regardless of their families' financial circumstances.
Gifts and pledges to this priority included a recent challenge grant of $50 million to fuel a $100 million expansion of financial aid to students from America's lowest-income families.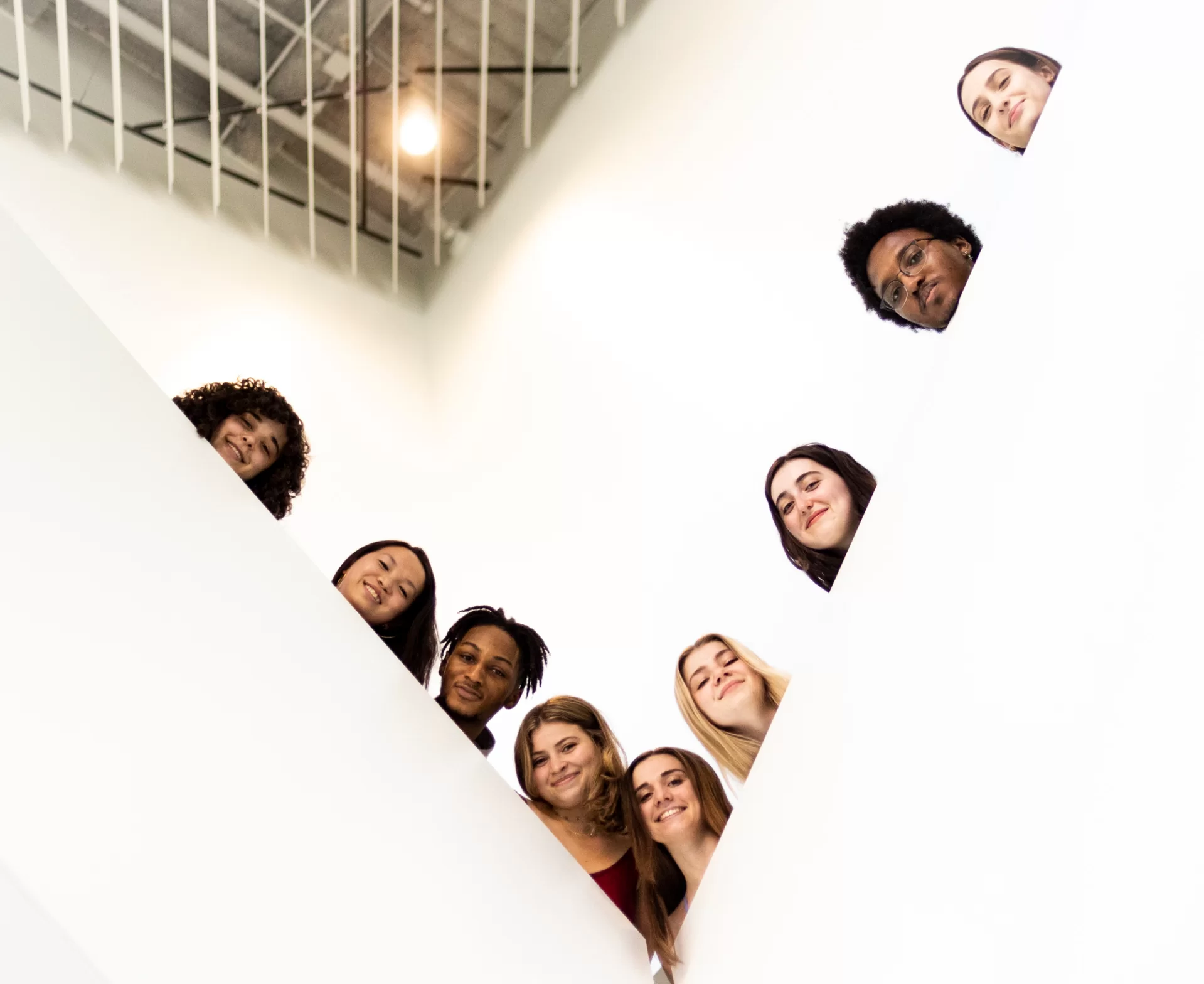 ---
Raised: $20,936,970.31
Donor gifts funded student leadership programs, the Bates Center for Purposeful Work, and an array of programs known as the Inclusive Bates Experience to better support the differentiated needs of students who come to Bates from a wider variety of backgrounds than ever before.
Donors gave:
$4.7 million to support the Inclusive Bates Experience, including the college's Bobcat First program for first-generation college students
$10.6 million to support Purposeful Work, including more than $4 million to expand the number of paid Purposeful Work internships.
$4 million to support athletics, including funding of the Traquina Boathouse on the Androscoggin River for the championship Bates rowing program.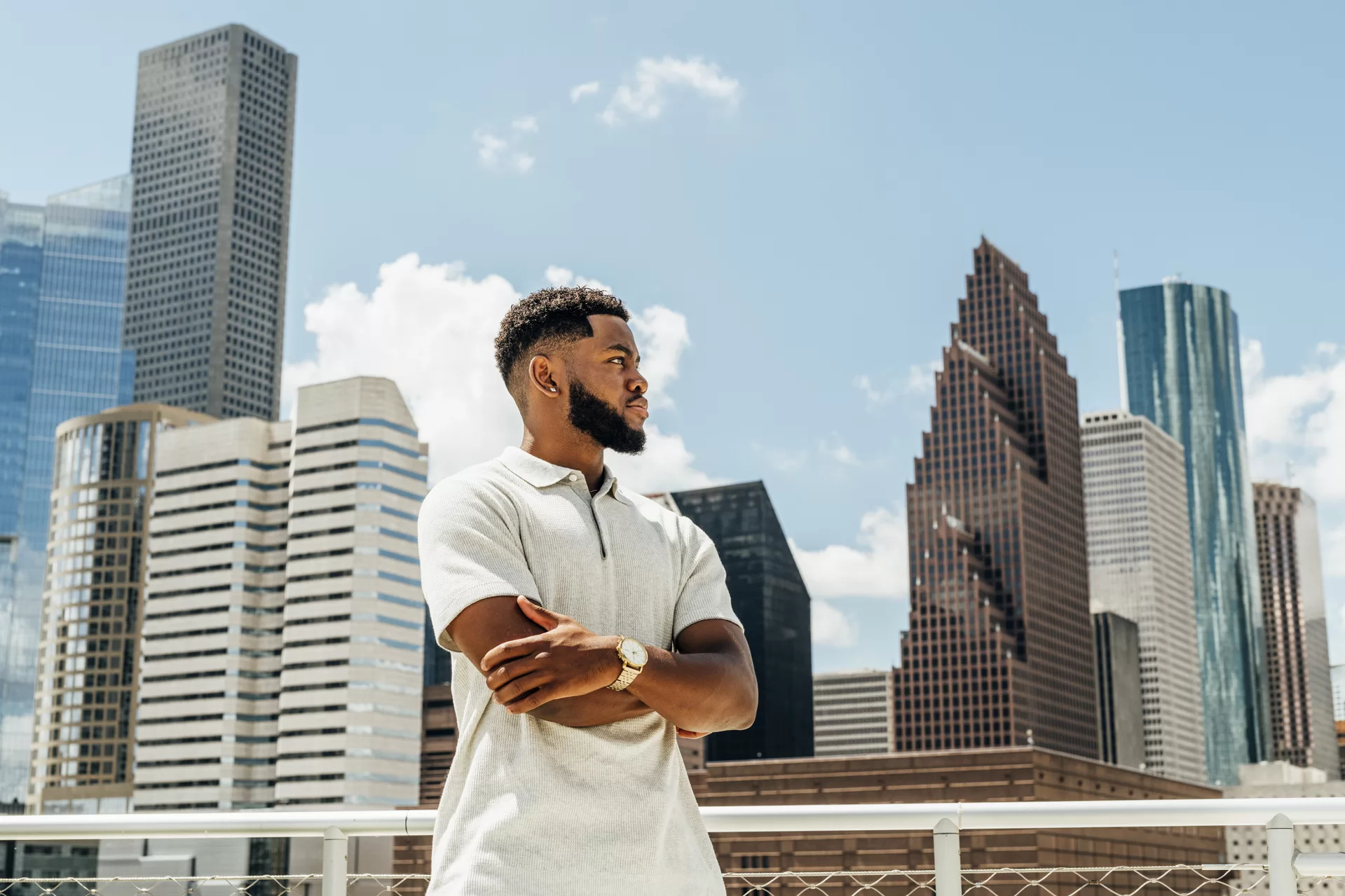 ---
Raised: $84,460,164.81
Donor gifts increased the college's unrestricted endowment funds and provided key support to the college through the Bates Fund.
Donors gave $14 million in new unrestricted endowment, and increased their giving to the Bates Fund by $1 million annually, from $6.5 million per year to $7.5 million.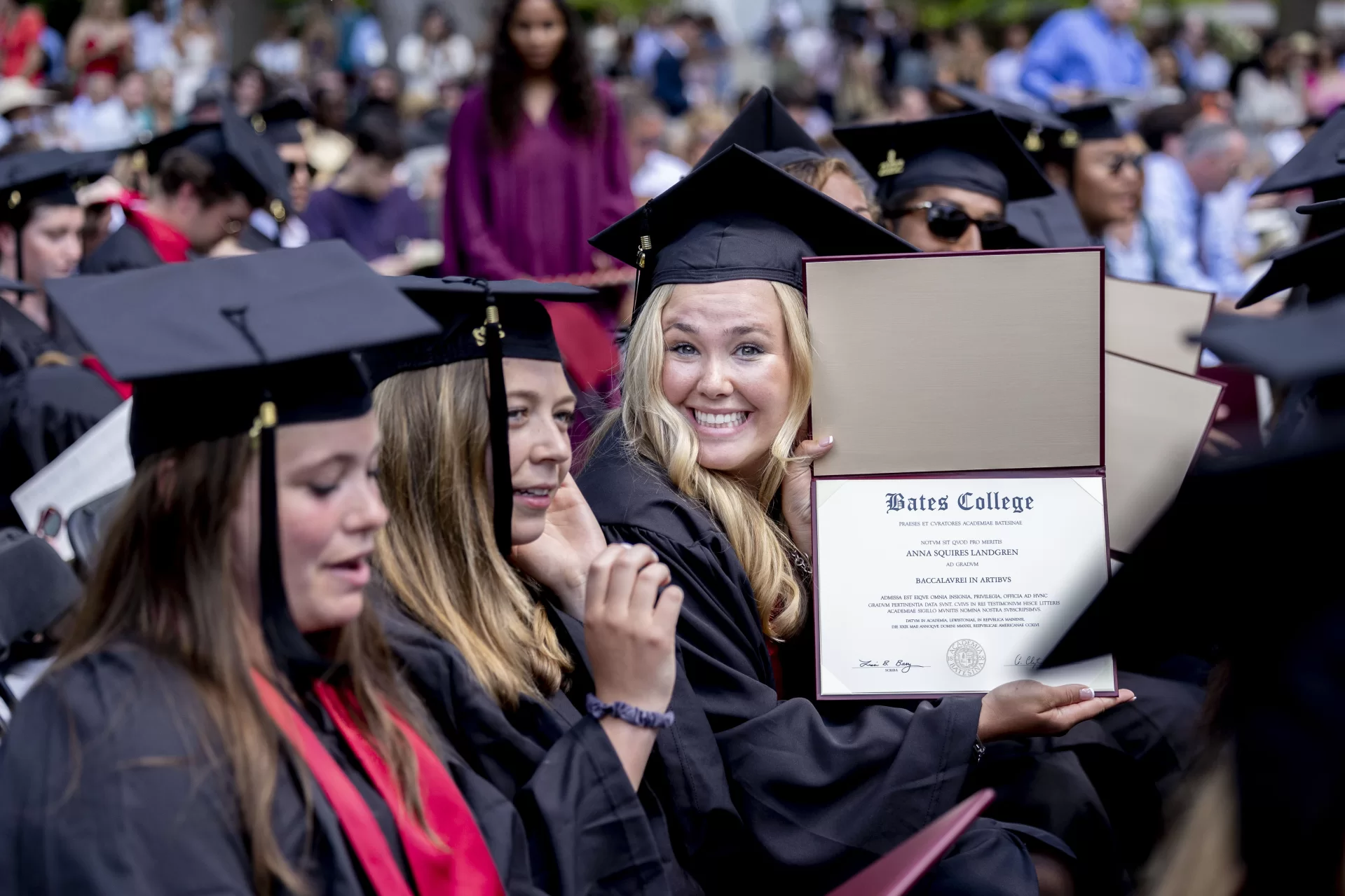 ---
Additional Gifts
Raised: $14,843,634.22
Donors gave an additional $14.8 million in gifts and pledges beyond the four specific priorities of the Bates Campaign.
---
"Through their generosity and support, the Bates community has generated valuable momentum for the college — a feeling of progress made, and of optimism for our future," said Vice President for College Advancement Eric Foushée. A member of the Bates advancement team since 2014, Foushée recently succeeded Sarah R. Pearson '75, who retired June 30 following a decade of service as vice president.
"Sarah was the architect of the Bates Campaign." added Foushée. "Her strategic vision and expertise in structuring a fundraising effort of this scope and duration ensured the success of the campaign even in the face of a global pandemic. I am honored to continue to champion the mission of Bates and build on our success.
"I also want to thank the members of the Bates advancement team and colleagues across the campus who took up the work with great passion and diligence to present Bates in the best and most authentic way to our donors and to ensure that their experiences were as positive, personal, and excellent as possible."