Bringing Bates To you
Meet us here, wherever you are.
Welcome
Dear Bates Class of 2024,
As you know, Bates suspended our Admitted Student Receptions on campus this spring, which leaves you in an unprecedented position of being admitted to Bates yet unable to celebrate in ordinary ways, with us.
We got to know all of you through your stellar applications for admission, and although we had hoped to see you on campus much sooner than August, we remain convinced that you'll be an excellent addition to the Bates community – and that Bates is an excellent place for you to learn.
We know you have a big decision in front of you, and you'll be making that decision during uncertain times. As such, we are developing opportunities to recreate the connections and excitement you would have experienced at our Admitted Student Receptions, virtually. Please check back here often, and stay tuned through your email and via the Bates Class of 2024 Facebook page for emerging updates. In the meantime, here are a few things we think will offer you insight to the Bates community we hope you will call home in a few short months.
Thank you for your flexibility given these unique circumstances. Know how proud we are of you and how eager we are to welcome you to Bates as a member of the Class of 2024. Again, congratulations!
Please contact us with questions. We're here for you.
All my best,

Leigh A. Weisenburger
Dean of Admission and Financial Aid

From Our President
To welcome the families of #Bates2024 and to address questions regarding the college's planning regarding COVID-19, President Clayton Spencer joined Dean of Admission and Financial Aid, Leigh Weisenburger for a live Q&A session which was broadcast in real time to the #Bates2024 family Facebook group on April 22, 2020. Watch the recording below!
How to Use This Page
You have a big decision ahead of you. And while we are unable to invite you to visit campus right now, we know there is much you still need and want to know about Bates. We're working hard to bring as much information as possible online so you and your family can have everything you need as you decide if you'll call Bates home this fall. Check back often. We're creating new content regularly to help answer your questions and opportunities to connect you with the Bates community and your future classmates.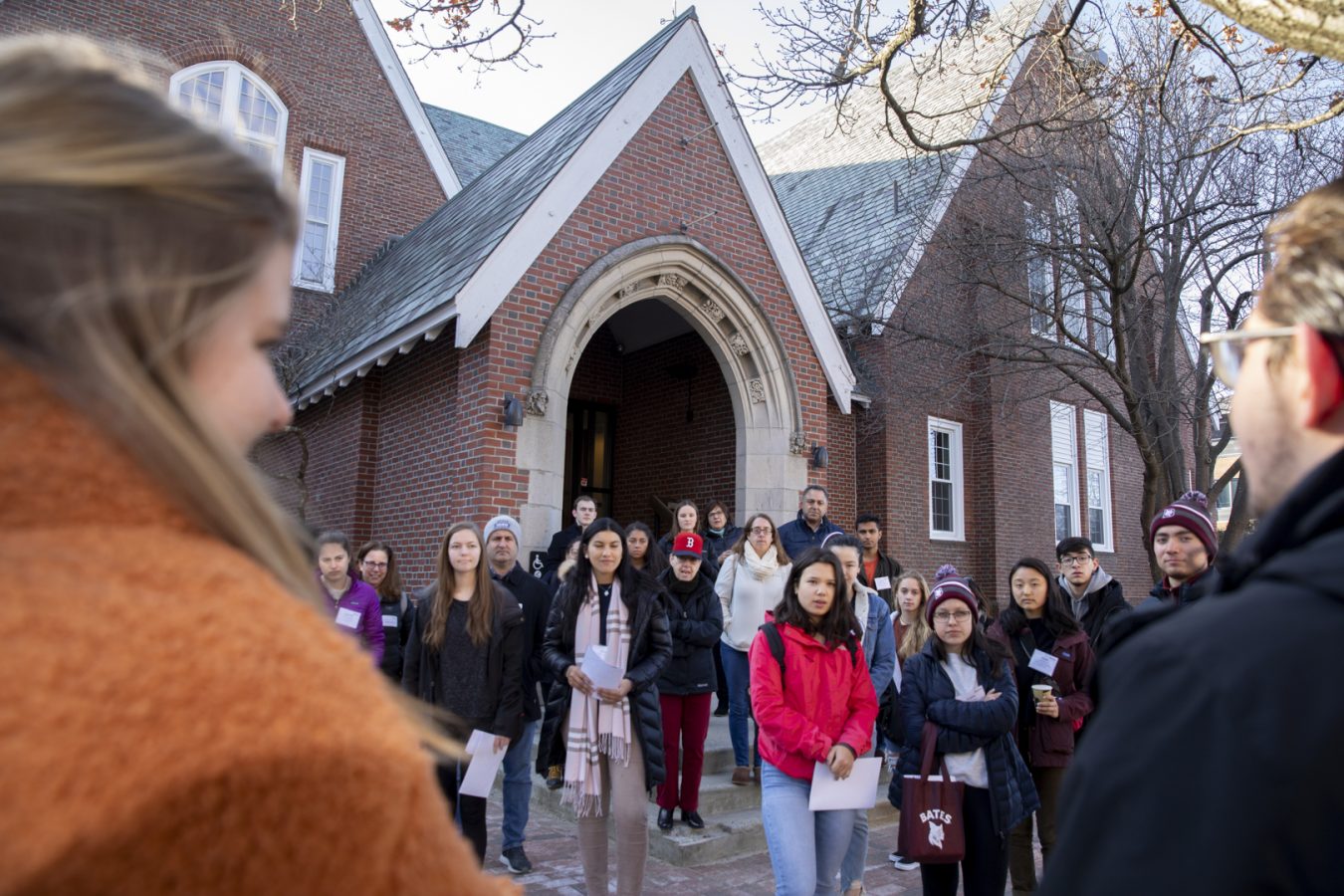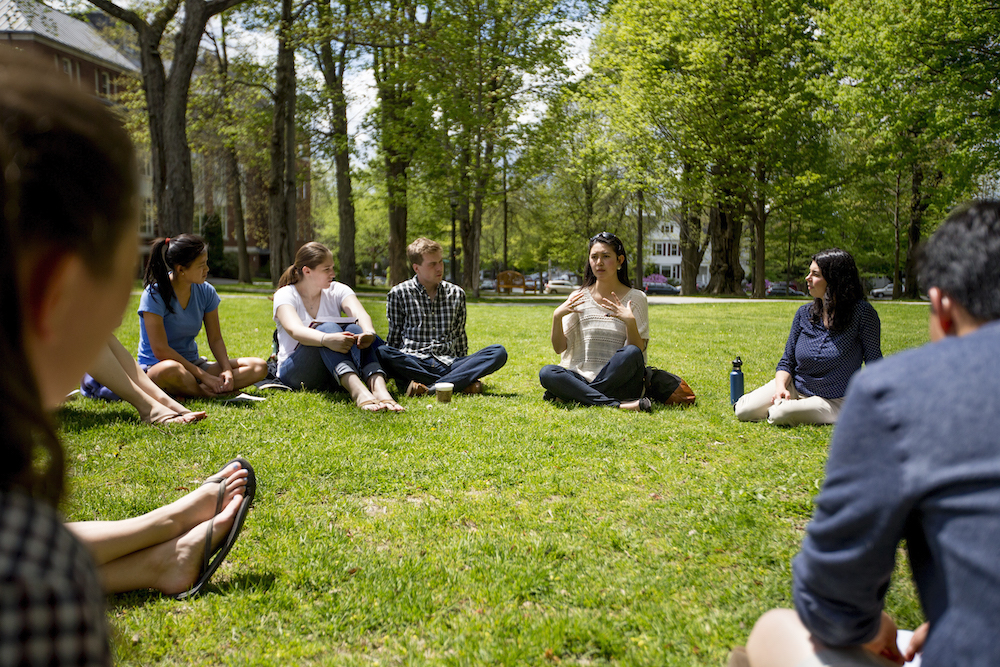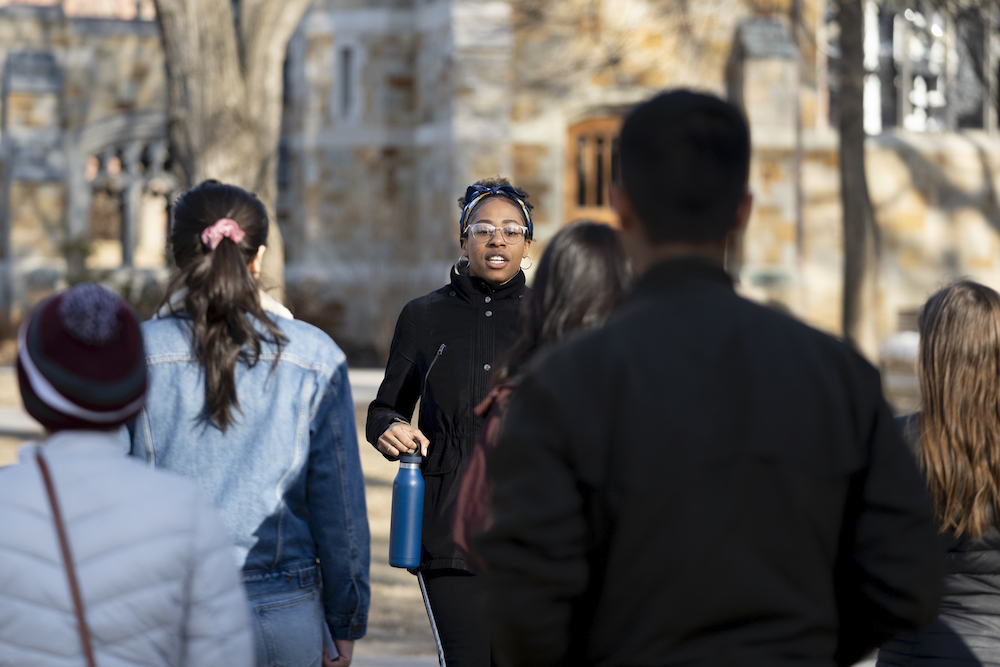 Academics
Bates students tend to be up for just about anything. It's a good thing we have about three dozen majors and two dozen minors.
Some are liberal-arts classics (history, mathematics, philosophy). Some are STEM-focused (neuroscience, engineering, geology). Many draw from more than one discipline (American cultural studies, environmental studies, biochemistry, gender & sexuality studies). And some won't exist until you invent them — by designing your own major with the help of a faculty mentor.
Life on Campus
You'll have many chances to dive into the unexpected at Bates.
Learn to surf with the Outing Club or perform a spoken-word piece at the weekly Village Club Series showcase. Test your technical skills with the High-Altitude Ballooning Club. Or your sense of rhythm with the Bollywood Dance Team. Find your zen through Yoga Kula and practice mindful meditation with the Multifaith Chaplaincy.
With nearly 100 student-run clubs, you're sure to find something of interest. What you won't find are fraternities or sororities. We've never had them. Never will.
Virtual Campus Tour
We think visiting campus is a great way to get to know Bates, but we recognize that not everyone can visit — so we're bringing a little bit of Bates to you!
Virtual Tour
Where You'll Live
With a combined population of about 60,000, Lewiston and its twin city of Auburn offer the best of both worlds: A safe, close-knit community and a vibrant downtown.
Inside former factories that once powered the industrial revolution, you'll find startups and brewpubs. Lisbon Street, Lewiston's downtown shopping district, has cafes, bike shops, and galleries, all within minutes of campus.
While many families who live here have French Canadian roots, more than 34 languages are spoken in the halls of Lewiston High School. Lewiston enjoys a growing community from Somalia, Togo, and other African nations, as well as many other new Americans.
For arts lovers, L/A offers a professional theater company, a film festival, museums, and an underground music scene.
Outdoor lovers will fully appreciate that L/A is nestled in the Androscoggin River valley with easy access to the lakes, mountains, and the ocean that Maine is known for. Bates even has its very own conservation area on the coast, just a short drive from campus.
In other words, you could find many ways to get involved and make a difference here — and L/A could make a difference for you.
Why does Bates Love Lewiston?
For Your Family
After four years of exploration, intellectual discovery, and practical experience, Bates students have a strong sense of who they are. They're confident about where they want to go, what they want to be, and how they will contribute to their communities.
For some, that means going straight into a new job in finance, education, or government. For others, it's entrepreneurship, graduate study, professional degrees, or fellowships abroad.
Whatever they choose to pursue, our graduates' self-confidence has been forged through a very Bates approach to life — one in which you learn to adapt by:
Developing a theory
Creating a prototype
Collaborating with others
Testing it out
Reflecting on the results
Trying Again
Making it Better*
This way of thinking means that there are no mistakes or dead ends. Each experience propels you into what's next — allowing you to create a new way forward, without boundaries or limits.
*Then starting over again with the next challenge.
Hear from a former Bates student
Purposeful Work
When you understand what drives you to learn, grow, and thrive, you'll have a more satisfying relationship with work throughout your life. That's the idea behind Purposeful Work at Bates.
Most colleges offer career counseling and help with job applications. Our Center for Purposeful Work goes way beyond jobs or careers. We focus on the whole person — your beliefs, your strengths, your interests — and infuse concepts of meaningful work into all aspects of your time at Bates.
With each new Purposeful Work experience, you'll consider whether a given role feels right for you, and why. By the time you graduate, you'll have a clear idea of the values you want reflected in your life after college. And you'll have a professional network and the practical experience to help you make it happen.
Next Steps
You'll find Bates alumni across the world and around the corner. They're building a new learning community in Vietnam, running an organic blueberry farm in Maine, serving in Congress, launching tech startups in New York, and representing their home countries in the Olympic Games.
2019 Outcomes:
99% of new graduates are settled in a job, graduate school, fellowship, internship, or other opportunity within six months of graduation.
100% of Class of 2019 graduates who applied were accepted to law school.
83% of students and alumni who worked with the Medical Studies Committee were accepted to medical school.
100% were accepted to dental school.
21 earned prestigious Fulbright fellowships. Bates has been a top producer of Fulbright awards for a decade, including No. 1 rankings in 2017-18 and 2019-20.
Puddle Jumpers
Are you brave enough to make the leap? You have an opportunity each January to join your classmates in Bates' own version of a polar plunge.
Connect With Us
Connect with us anywhere, any time!
To your right, you will find a multitude of ways to connect with our students and staff.
Below, you will find the the schedule for our AMA (Ask Me Anything!) series hosted on the Bates Class of 2024 Facebook Group. Past AMAs are easily accessible in the AMA tag.
AMA (Ask Me Anything!) Schedule:
March 25, 3:00pm
Purposeful Work:
Hoi Ning Ngai (Associate Director)
Rachel Forcillo '18 (Coordinator of Operations & Outreach
April 3, 3:00pm
Office of Campus Life:
Jen Haugen (Coordinator of Campus Life Programming)
April 9, 8:00pm
Student Panel:
Belle Bernhoeft '22
Jonathan Farrell '20
Annie Lindholm '20
Philip Wu '20
April 14, 5:00pm
Noelle Chaddock (VP of Equity & Inclusion)
April 15, 8:00pm
Adriana Salerno (Department Chair and Associate Professor of Mathematics)
April 16, 8:00pm
Eden Osucha (Department Chair and Associate Professor of English)
April 17, 5:00pm
Emily Kane (Professor of Sociology and Gender & Sexuality Studies)
April 20, 8:00pm
Multifaith Chaplaincy:
Brittany Longsdorf (Multifaith Chaplain)
Raymond Clothier (Associate Multifaith Chaplain)
April 22, 8:00pm
Larissa Williams (Associate Professor of Biology)
April 24, 5:00pm
Timothy Dugan (Assistant Professor of Theater)
April 27, 5:00pm
Raj Saha (Interdisciplinary Lecturer in Environmental Geophysics)
April 29, 8:00pm
Student Panel 2:
Erick Gredonia '21
Elysia Garza '22
Ashka Jhaveri '22
Aidan Temperino '21
Please note that all events are in Eastern Time.
Opening Doors
"Nothing opens doors and prepares us for success in life and work like the Bates liberal arts experience."