Bringing Bates To you
Meet us here, wherever you are.
How to Use This Page
You have an exciting year ahead of you. And while we would love nothing more than to welcome you to campus, we are unable to host guests as we work to ensure a safe on-campus spring semester for our students and community*. We know there is much you still need and want to know about Bates, and we're working hard to bring as much information as possible online to you and your family. Check back often. We're creating new content regularly to help answer your questions and create opportunities to connect you with the Bates community and your future classmates.
*See our Frequently Asked Questions page for more information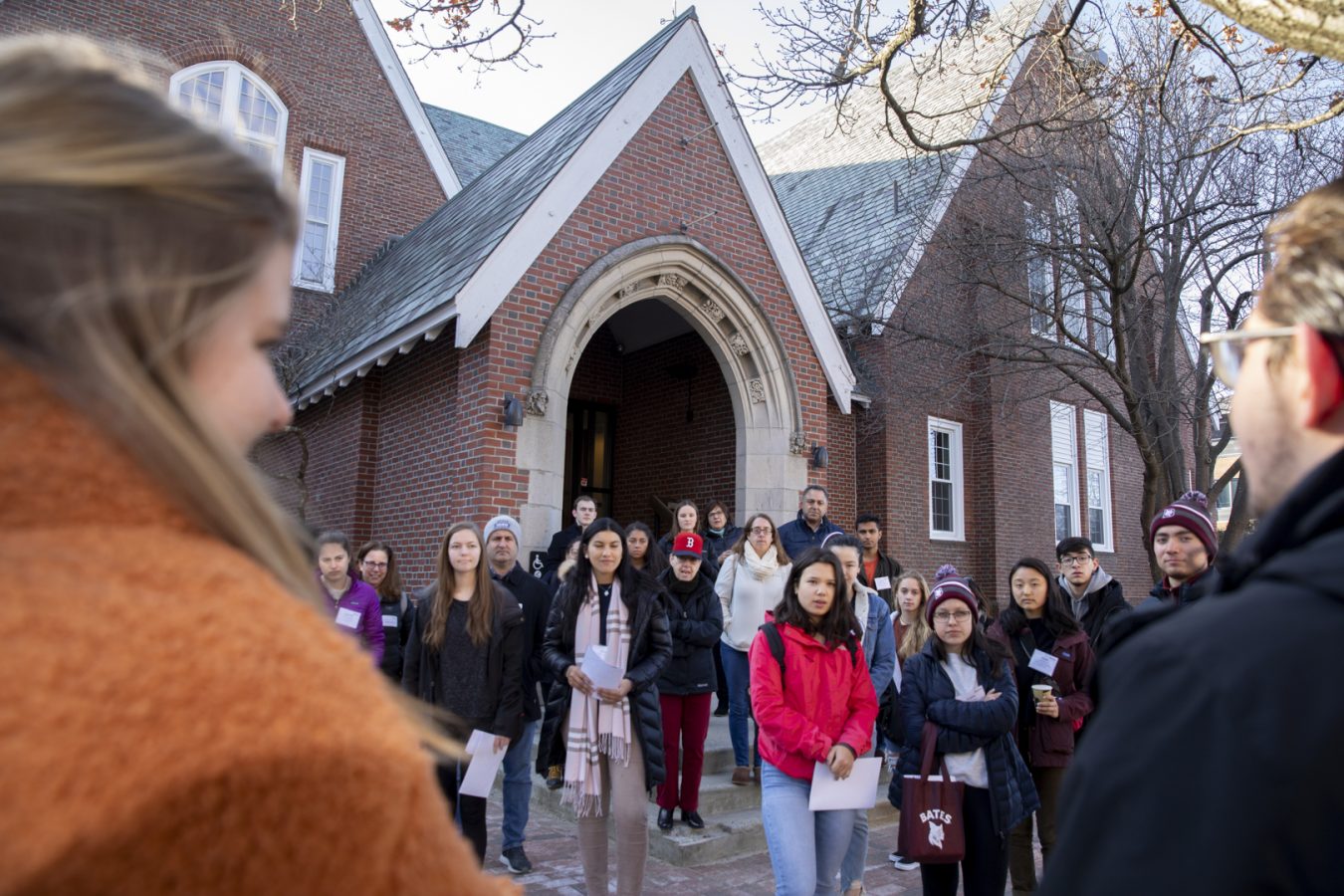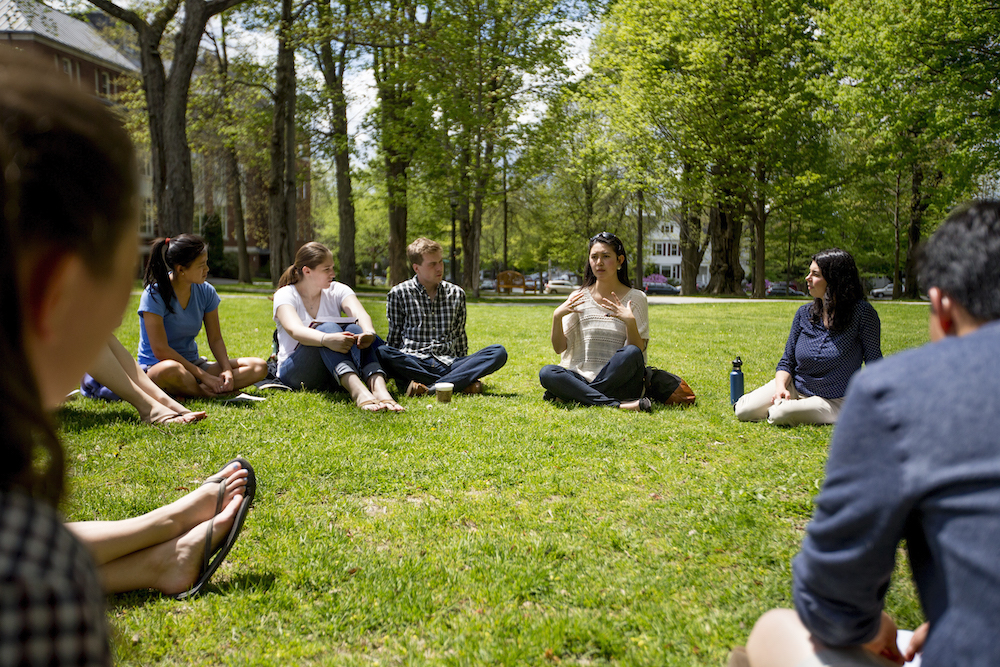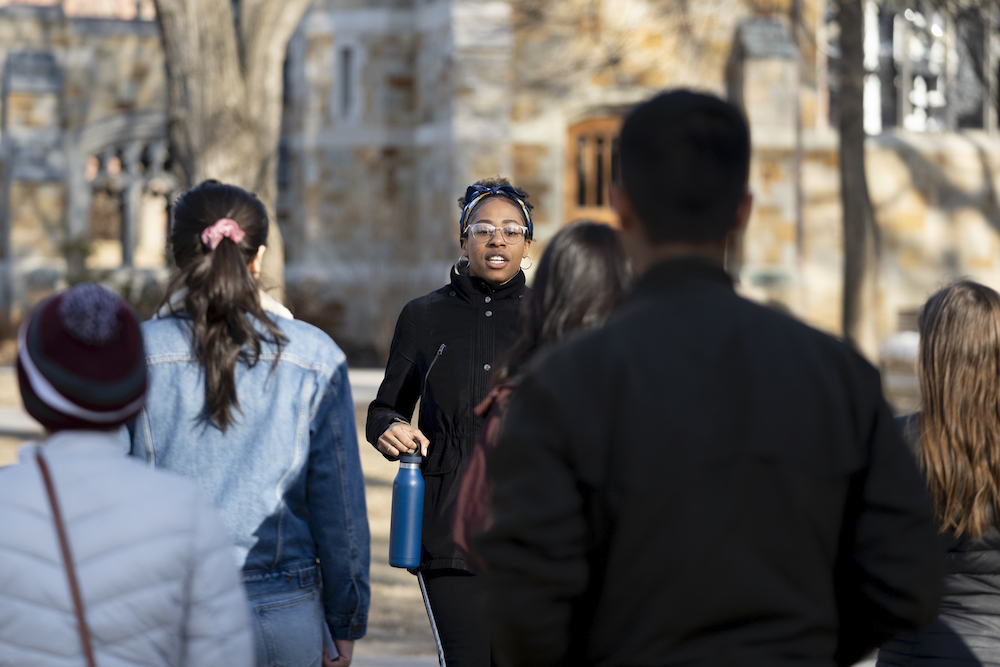 Summer Updates
This summer you will begin to receive key information from your deans and staff in Student Affairs regarding your Bates email, housing, course placement and registration, and much more. We know you are eager to embark on this next step of your Bates journey, and we appreciate your patience in the coming months. Below you will find a rough timeline for summer communications:
May: Garnet Gateway account authorization, Bates email
June: ID photo, AESOP Orientation trip application, immunization and health insurance information
July: First Year Seminar information and registration, housing and roommate selection
August: academic advisor outreach and course selection, mailbox information, campus safety and contact information, academic schedules
In the meantime, we encourage you to explore the Orientation page and the 2021-2022 Residential Calendar for a preview of what is to come!
The Den
To help you get to know what makes Bates special and a great fit for you, we've set up a community of current students, faculty, staff, and alumni that are waiting to connect and chat with YOU! It's all part of our brand new admitted student platform, The Den.
The Den is easy to use and will serve as your one stop shop for all things Bates:
See and register for exclusive admitted student events
Search for and chat with other admitted students
Search for and chat with current students, faculty, and staff
Join groups based on your academic and extra curricular interests
Dive deeper into the Bates experience with pre-Orientation resources
An invitation to The Den has been sent to all admitted students, and a link is accessible on your Application Status Page.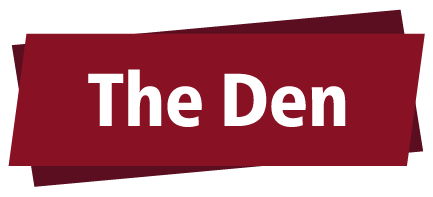 Connect With Us
Connect with us anywhere, any time!
Bates has a history of trying to do right by the community. This year our faculty, staff, students, and current families have made sacrifices so that students could have a safe in-person learning experience. It hasn't been easy, but it has been working. We are so proud of what we have accomplished. With the finish line of Commencement in sight, we have made the difficult decision to continue to keep campus closed to all visitors until the school year has ended. We know how much an in-person campus visit can mean when deciding on a college, and we are sorry not to be able to offer in-person experiences this year. However, we hope that this decision gives you a sense of how we try to live our values. When you are a part of the Bates community, we will do everything in our power to make sure you will have the best possible experience. We are grateful for your understanding, and we look forward to connecting with you!
To your right, you will find a multitude of ways to connect with our students and staff, as well as the Bates Class of 2025 Facebook group.
Recordings of past events will be posted to our Class of 2025 Events YouTube playlist.
Information on events for all virtual visitors, including information sessions, campus tours, and student-led Bobcat Chats, can be found on our main Visit page.
Admitted Student Event Schedule:
| | |
| --- | --- |
| Sunday, March 21, 7:00pm | Welcome from College President A. Clayton Spencer |
| Thursday, March 25, 7:00pm | Advice from Bates Graduates |
| Monday, March 29, 7:00pm | Ho(ME) Bound: Excitement and Fears about Coming to Bates |
| Tuesday, March 30, 7:00pm | Student Experience: On and Off Campus |
| Thursday, April 1, 7:00pm | Finding Purpose: What can you do with a Bates degree? |
| Monday, April 5, 7:00pm | Bates Club Showcase |
| Tuesday, April 6, 7:00pm | Ask Me Anything: Bates Faculty |
| Wednesday, April 7, 8:00am | Bobcat Chat: The International Student Experience |
| Thursday, April 8, 7:00pm | Equity, Access, and Social Justice at Bates |
| Monday, April 12, 7:00pm | Bobcat Nation: Bates Athletics |
| Tuesday, April 13, 7:00pm | Academic Spotlight: The Natural Sciences & Mathematics |
| Thursday, April 15, 7:00pm | Sustainability, Community Engaged Learning, and Global Education |
| Monday April 19, 7:00pm | Bates Club Showcase |
| Tuesday, April 20, 7:00pm | Academic Spotlight: The Arts & Foreign Languages |
| Thursday, April 22, 7:00pm | Bobcat Support Network |
| Monday, April 26, 7:00pm | Bobcat Chat: But, why Bates? |
| Tuesday, April 27, 7:00pm | Academic Spotlight: The Social Sciences & Humanities |
| Thursday, April 29, 7:00pm | Ask Me Anything: Bates Admission Leaders |
Please note that all times are in Eastern Time (ET)
For FAMILIES
Over the next few weeks we look forward to getting to know you and your student, and answering your questions.
For the next five weeks, faculty, staff, and students will be hosting nearly 30 events covering a range of topics. Your student can register for events on The Den, our network exclusively for admitted students to connect with Bates faculty, staff, students, and alumni. A list of parent/guardian specific events and registration is below. You may register to join by clicking "Register here". You may also be interested in joining the Bates Class of 2025 Families Facebook group; event recordings will be posted here!
Sunday, March 21, 7:00pm
Welcome to the Class of 2025! with College President Clayton Spencer
Join us on Zoom
Wednesday, March 31, 8:00pm
Bates Parent Panel
Sunday, April 11, 7:00pm
Ask Me Anything with Bates College Leadership
Wednesday, April 14, 8:00pm
Ask Me Anything with Bates Admission & Financial Aid
Please note that all times are in Eastern Daylight Time (EDT)
Opening Doors
"Nothing opens doors and prepares us for success in life and work like the Bates liberal arts experience."
Academics
Bates students tend to be up for just about anything. It's a good thing we have about three dozen majors and two dozen minors.
Some are liberal-arts classics (history, mathematics, philosophy). Some are STEM-focused (neuroscience, engineering, geology). Many draw from more than one discipline (American cultural studies, environmental studies, biochemistry, gender & sexuality studies). And some won't exist until you invent them — by designing your own major with the help of a faculty mentor.
Life on Campus
You'll have many chances to dive into the unexpected at Bates.
Learn to surf with the Outing Club or perform a spoken-word piece at the weekly Village Club Series showcase. Test your technical skills with the High-Altitude Ballooning Club. Or your sense of rhythm with the Bollywood Dance Team. Find your zen through Yoga Kula and practice mindful meditation with the Multifaith Chaplaincy.
With nearly 100 student-run clubs, you're sure to find something of interest. What you won't find are fraternities or sororities. We've never had them. Never will.
Virtual Campus Tour
We think visiting campus is a great way to get to know Bates, but we recognize that not everyone can visit — so we're bringing a little bit of Bates to you!
Virtual Tour
Where You'll Live
With a combined population of about 60,000, Lewiston and its twin city of Auburn offer the best of both worlds: A safe, close-knit community and a vibrant downtown.
Inside former factories that once powered the industrial revolution, you'll find startups and brewpubs. Lisbon Street, Lewiston's downtown shopping district, has cafes, bike shops, and galleries, all within minutes of campus.
While many families who live here have French Canadian roots, more than 34 languages are spoken in the halls of Lewiston High School. Lewiston enjoys a growing community from Somalia, Togo, and other African nations, as well as many other new Americans.
For arts lovers, L/A offers a professional theater company, a film festival, museums, and an underground music scene.
Outdoor lovers will fully appreciate that L/A is nestled in the Androscoggin River valley with easy access to the lakes, mountains, and the ocean that Maine is known for. Bates even has its very own conservation area on the coast, just a short drive from campus.
In other words, you could find many ways to get involved and make a difference here — and L/A could make a difference for you.
Why does Bates Love Lewiston?
Purposeful Work
When you understand what drives you to learn, grow, and thrive, you'll have a more satisfying relationship with work throughout your life. That's the idea behind Purposeful Work at Bates.
Most colleges offer career counseling and help with job applications. Our Center for Purposeful Work goes way beyond jobs or careers. We focus on the whole person — your beliefs, your strengths, your interests — and infuse concepts of meaningful work into all aspects of your time at Bates.
With each new Purposeful Work experience, you'll consider whether a given role feels right for you, and why. By the time you graduate, you'll have a clear idea of the values you want reflected in your life after college. And you'll have a professional network and the practical experience to help you make it happen.
Next Steps
You'll find Bates alumni across the world and around the corner. They're building a new learning community in Vietnam, running an organic egg farm Vermont, serving in Congress, launching tech startups in New York, and inventing new molecules with pharmaceutical promise.
2019 Outcomes:
99% of new graduates are settled in a job, graduate school, fellowship, internship, or other opportunity within six months of graduation.
100% of Class of 2019 graduates who applied were accepted to law school.
83% of students and alumni who worked with the Medical Studies Committee were accepted to medical school.
100% were accepted to dental school.
21 earned prestigious Fulbright fellowships. Bates has been a top producer of Fulbright awards for a decade, including No. 1 rankings in 2017-18 and 2019-20.
Puddle Jumpers
Are you brave enough to make the leap? You have an opportunity each January to join your classmates in Bates' own version of a polar plunge.