About
March 21, 2022 Update: Please be aware that the road over the Sprague Marsh occasionally floods during high tides. Typically, the road is flooded on tides that are 9.5′ and higher and the road is impassable approximately an hour before and after the time of high tide. Plan your trip accordingly.
In March and April, the road will flood on the following dates:
March 27 – high tide is 7:40 am
March 28 – high tide is 8:45 am
March 29 – high tide is 9:45 am
March 30 – high tide is 10:39 am
March 31 – high tide is 11:29 am
April 1 – high tide is 12:14 pm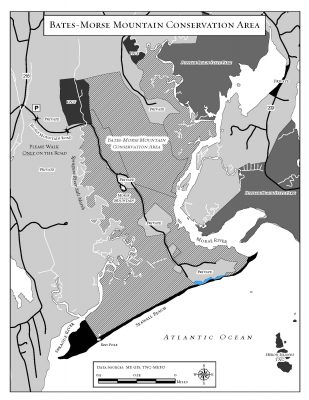 The Bates-Morse Mountain Conservation Area comprises some 600 acres of permanently protected salt marshes and coastal uplands, extending from the Sprague River to the Morse River and to the upland edge of Seawall Beach. It is private property owned by the Bates-Morse Mountain Conservation Area Corporation, a non-profit corporation with members from the St. John Family (which originally conserved the area), Bates College, and the general public. The Nature Conservancy holds conservation easements on the property. Bates College manages the area for research and educational purposes.
Seawall Beach and a portion of the Sprague River back dune area are the property of the Small Point Association, whose mission is to preserve the wild, unspoiled character of the beach, its ecology, and its endangered species habitat.
Click here for a PDF version of the map.
Conservation and Preservation
Bates College and the Small Point Association cooperate with The Nature Conservancy and Maine Audubon to preserve the natural communities within the area. These include the nesting sites of the endangered piping plover and the least tern as well as numerous rare and fragile plants, mosses, and lichens.
Education and Research
Each year, over 1,000 students from regional grade schools and colleges utilize Bates-Morse Mountain for environmental studies, leadership development, athletics, and school picnics. In addition, Bates College and affiliated institutions conduct ongoing environmental research throughout the area.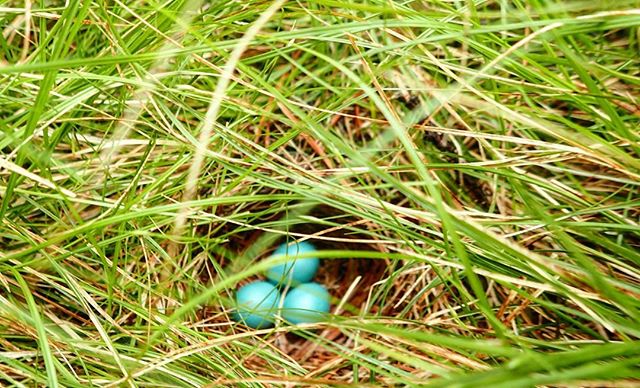 Public Use
Bates-Morse Mountain Conservation Area is a popular site for hiking and beach-going. During the 8- month gate-keeping season, nearly 20,000 people hike to Seawall Beach. The area is open all year, from dawn until dusk. Visitors must park in the designated parking lot and enter on foot only. Dogs are not allowed in any season. Click here for more information about visiting BMMCA.