Pin Oak
Quercus palustris | Family: Fagaceae
Submission: Alison Ricciardi '17
Leaves – deciduous and deeply lobed with broad "u-shaped" sinuses and axillary tufts below.
Buds – 1/8″, acute, and glabrous.
Fruit – 1/2″ long; often striate nut; thin saucer-like cap with appressed scales.
Bark – smooth for many years and eventually develops low, scaly ridges.
Natural History:
Pin oak (Quercus palustris) is an important tree for both humans and wildlife. It is part of the beech family, Fagaceae, and is in the red oak subgenera, Erythrobalanus. At maturity, the tree can reach 60 to 70 feet in height and a spread of 25 to 40 feet. To easily identify pin oak, first look from a distance for its distinctive pyramidal shape and branching pattern that is visible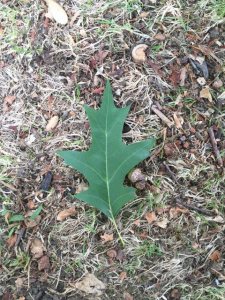 during any season-upper branches grow upward, middle branches grow horizontally out to the sides, and lower branches grow downwards. Upon closer inspection, the deciduous leaves are deeply lobed with broad "u-shaped" sinuses and axillary tufts of pubescence below. They are a glossy dark green in spring and summer and turn different shades of scarlet and bronze in autumn.
Pin oak can tolerate wet conditions and intermittent flooding during its dormant season. This tolerance for wet conditions gives the tree its scientific name "palustris," Latin for swampy or marshy, and additional common names including swamp oak, water oak, and swamp Spanish oak. The common name "pin oak" refers to the short persistent branchlets that look like pins.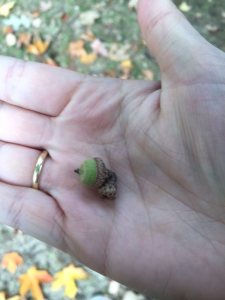 Pin oak is a shade-intolerant tree, preferring full sunlight. As pin oak progresses through the seasons, it flowers in the spring around the same time as the leaves appear. The acorns mature and are dispersed from September to early December. The acorns are an important food source for wildlife, including white-tailed deer, squirrels, wild turkeys, smaller rodents and a variety of songbirds. During their fall migration, mallards and wood ducks rely heavily upon the acorns of pin oak as a vital food source.
In A Countryman's Woods, nature writer Hal Borland wrote, "the pin oak pleases me for reasons I cannot wholly explain." With its large symmetrical crown, spreading canopy that creates areas of dense shade, fast growth rates, and tolerance of many soil, weather, and pollution conditions, the pin oak is a common ornamental, especially on Bates campus. Other human uses of pin oak parallel that of red oak, and is often marketed as "red oak". Like red oak, pin oak has strong wood, but small knots detract from its quality for furniture making and woodworking.
References:
Brockman, C.F. Trees of North America: A Guide to Field Identification. Revised Edition. Western Pub. Co., Inc. 280pp.
Elias, T.S. 1980. The Complete Trees of North America Field Guide and Natural History. Van Nostrand Reinhold Co., N.Y. 948pp.
Harlow, W.M., Harrar, E.S., Hardin, J.W. and White, F.M. 1991. Textbook of Dendrology. McGraw-Hill Inc., N.Y. 501pp.
McQuilkin, RA. Pin Oak- Quercus palustris. Burns, Russell M., and Barbara H. Honkala, tech. coords. 1990. Silvics of North America: Vol. 2 Hardwoods. Agriculture Handbook 654. U.S. Department of Agriculture, Forest Service, Washington, DC. [accessed 2015 Nov 1]. http://www.na.fs.fed.us/spfo/pubs/silvics_manual/volume_2/quercus/palustris.htm.
Petrides, G.A. 1972, A Field Guide to Trees and Shrubs. 2nd edition. Houghton Mifflin Co., Boston. 428pp.
Pin oak: Quercus palustris. c2005. Arbor Day Foundation; [accessed 2015 Nov 1]. http://www.arborday.org/trees/treeguide/TreeDetail.cfm?ItemID=879.
Preston, R.J., Jr. 1989. North American Trees. 4th edition. Iowa State Univ. Press. Ames. 407pp.
Shane, J. 2004. Dendrology Handbook, University of Vermont, Unpublished.