A Message from President Clayton Spencer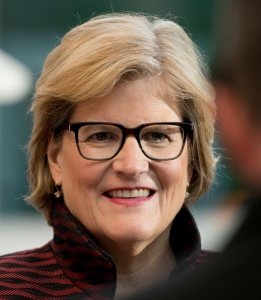 Since our founding in 1855, Bates has welcomed talented men and women from all backgrounds. We challenge ourselves as a liberal arts college to wrestle actively and joyously with the world as we encounter it, and invite our students to grapple with fundamental principles even as they hone their individuality and seek to make sense of themselves in the world.
All Bates students write senior theses or develop capstone projects, working intensively with a faculty member one-on-one over a period of months, or longer. A third of our students work in the local community through their courses or the Harward Center for Community Partnerships. Our General Education Concentrations embrace problem-oriented and interdisciplinary approaches, and more than 60 percent of our students spend some portion of their undergraduate time abroad.
The most complete kind of human learning takes place in community. With the solidarity of companionship and the challenge of truth, we produce graduates with ethical awareness and a commitment to serving purposes larger than themselves. This website should help you learn more about Bates, but if you can, we would love to welcome you in person to our campus in Lewiston, Maine.
A. Clayton Spencer
President, Bates College