Welcome, Parents and Families!
Visit the college's Fall 2020 site for regular updates about the college's response to Covid-19.
The resources below will help you and your student navigate their arrival to Bates, access key college resources, get involved with the college, and remind your student where to go for answers.
Have a question that isn't answered here? Contact us at parents@bates.edu.
---
Please note: To support the college's efforts to keep our campus healthy and safe, our team is currently working remotely. Our working hours are still 8am to 4:30pm Eastern. Any emails received will be responded to within one business day. We are also happy to meet with you—whether via Zoom or over the phone —within those times. Our toll-free line (1-888-522-8371) is monitored regularly.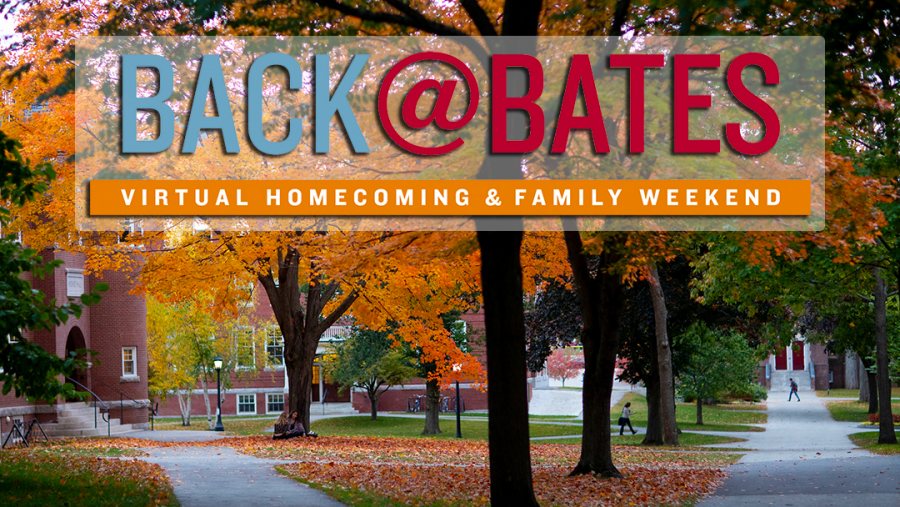 While we are unable to welcome families on campus this year, we do want you Back@Bates. This year, we're taking our family weekend virtual — learn more!
Helping your student prepare for November break
The last day of classes is Tuesday, Nov. 24. All students are required to depart campus by 5pm on Wednesday, Nov. 25.
If, after consulting with their professors about attendance requirements, your student wishes to depart campus early, they must notify Student Affairs at studentaffairs@bates.edu and the Bates Testing Center at testingcenter@bates.edu.
All students – regardless of their date of departure – must pack their rooms prior to leaving campus. Post & Print has information about how and what to pack, as well as resources for students who may wish to explore local storage options.
Please note that per Maine CDC guidelines, students who are in quarantine or isolation as break approaches must remain at Bates and will therefore experience disruptions to their travel plans.
Campus Life has information about travel options for those students who need to get to Portland or Boston transportation hubs.
As part of ongoing efforts to limit congestion in college buildings, family members who pick up their students by car are not permitted to enter residence halls or other buildings. Family members must also observe all State of Maine travel requirements as well as campus health protocols regarding face coverings and physical distancing.
College restroom facilities in Chase Hall, Gomes Chapel, and the Ronj will be available to family members on the following days/times: Tuesday, Nov. 24 from 8:30am-5pm and Wednesday, Nov. 25 from 8:30am-5pm. 
Health Services, health protocols, and student support
COVID testing and drop-off protocols
Dining, Housing, and Campus Life
Academics for new and returning students
Is your student unsure about returning to Bates?
Some students and families may still be considering whether or not returning to campus is the right decision. Students have a number of resources available to help make this decision:
Student Support Advisors (SSA): Every student at Bates has a SSA who provides personal support and supplemental academic advising. Sophomores, juniors, and seniors can find their SSA in their Success Network on the BatesReach website. Incoming students will be assigned a SSA by Friday, July 31.
Academic Advisors: For first-year students and sophomores who have not yet declared your major, your FYS instructor is your academic advisor. For students who have declared a major, your major advisor is your academic advisor. For students who do not have an academic advisor, the Dean of Faculty's Office will assign someone who will contact you to discuss any questions you might have.
Director of Student Support Lisa Hardej coordinates all leaves of absence for students who have already matriculated. She can advise sophomores, juniors, and seniors who may be considering a leave of absence for the semester or the year.
Director of Admission Darryl Uy coordinates all gap year and semester deferral requests for incoming first-year students. He can advise incoming students who may be considering a gap year or semester deferral.
Staying in touch with Bates
Student Financial Services
The SFS team is a helpful resource for inquiries related to tuition and to your student's financial aid award.