Bates Field Hockey — Fall 2021 Newsletter
Senior Spotlight: Bridget Thompson (Thom)
This preseason, we had the opportunity to sit down with Thom and talk about her time here at Bates and what her plans are post Graduation.
Question: What have been your fondest memories at Bates?
The field hockey team in general and especially camping as a team in 2019. There was this crazy ropes course and then we camped there too. It was a great time for team bonding. I really liked spending time at the campsite- I didn't really grow up camping but waking up the next day to most beautiful Fall day was pretty awesome. We went for a jog by the river and then we got pumpkin pancakes at Thompson's Diner! The trip with the team was fun with everyone not in a strictly "field hockey" format.
Another great memory at Bates was my birthday 2 years ago. I was busy all day and then we hosted an event for Special Olympics in the evening. The Navigators came to support men's soccer team and then they went out on the field at halftime to play. I didn't tell anyone it was my birthday (the event was for them, not me) but somehow they found out and they started singing to me on the field and then the stands started singing too. That is such a great memory to have moving forward from Bates!
Question: How has being a Bobcat impacted your time in college?
When you only have a certain amount of time to complete things, it's important to stay on task. Time management has been huge to be successful in both academics and on the field. You need to stay on schedule and using your time when you need to.
It's also influenced my time here because there's something so special about continuing to play after high school. You get to come together with your teammates and play the sport you love and it is just special. Being a Bobcat has definitely pushed me to be the best version of myself.
Question: Do you have any plans post-graduation?
I can't believe I'm saying this but I have a job already lined up! I will be working at a law firm in Washington, DC for 2 years while working on applications for law school and studying for the LSAT. I am not sure what area of law I want to practice but I know definitely not corporate or family law.
Question: What are you going to miss most about being a Bobcat or college in general?
I'm going to miss getting to interact with so many different people. Once you are in the workforce, it's like you get in your little bubble and aren't exposed to other people and their values. It's harder to replicate meeting new people when you are in the real world.
Question: Any advice for underclassmen?
Have fun! Have fun playing the sport- COVID showed it can be taken away so quickly. Be present and don't stress too much about it. Being anxious takes away the fun so just remember to enjoy it because it goes by so fast.
We are so excited for Thom and for her future! It's is going to be an exciting year for all seniors and we wish them all the best in their endeavors!
---
Time to introduce our newest Bobcats!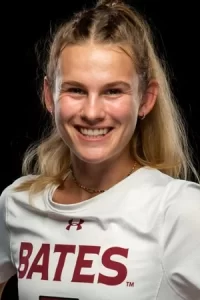 Kerrigan Anuszewski is from Winthrop, ME.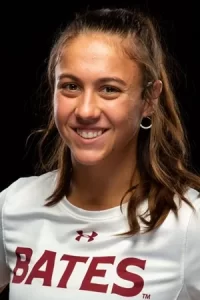 Maria Femia is Forward from Canton, MA.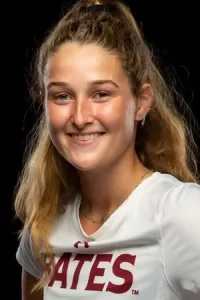 Jessie Bard is a M/F from Larchmont, NY.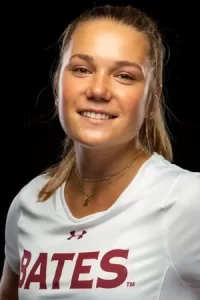 Anna Lindeis is a Midfielder from New Canaan, CT.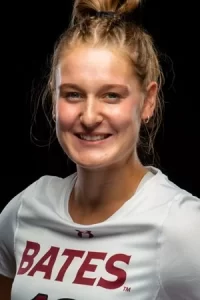 Anna Cote is Midfielder from Auburn, ME!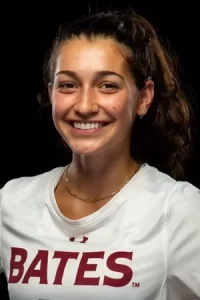 Amanda Zerbib is a Defender/ Midfielder from Larchmont, NY.
---
Alumni Update
We were able to catch-up with alumni, Emma Patterson '19, this Fall and learn about what she has been doing post-Bates. Currently, Emma is a Clinical Research Coordinator in the Emergency Department at Boston Children's Hospital where she has been involved in 18 different research studies. She is also pursuing a Master of Science in Biomedical Sciences at Tufts University and will be applying to medical schools and continue on to pursue a career as an OB/GYN. Emma has been very involved with Tufts and the local community outside the classroom. She was elected her class's Student Wellness Representative, she is a volunteer at the Tufts Sharewood Free Clinic and she is also a volunteer with the OneLove Foundation. Outside of school and work, Emma is able to frequently meet up with former Bobcats, Adah Lindquist and Taylor Lough at an amazing dairy-free ice cream parlor, Fomu!
When asked what she misses most about Bates, she said "There is so much that I miss about Bates and the Bates Field hockey team. If I had to say just one thing, I think it would be all the team events such as the long bus rides, team dinners, and team bonding trips. The field hockey team was such an important part of my Bates experience. It was a place where I learned how to communicate, the importance of working as a team, and to have the grit and determination to help build an amazing athletic program". Luckily, Emma is still able to meet-up in Boston with other former Bobcats to play field hockey and reminisce about their years at Bates!
Leave a Reply