Pre-season Men's Hockey Newsletter 2021: 10/20/21
Happy Fall Alumni 'Cats! We are sending this newsletter to update you on the new executive team, coaching staff, the status of Underhill, expectations for the season, and the schedule.

Essentially, it's been two years since the hockey team announced an executive team (thank you, Covid). We have an extremely strong, passionate group of seniors this year that are really excited to get this season rolling and lead the pack. Our leadership includes:
Jarod Castro: President and Captain.
Owen Bailey: Vice President and Assistant Captain.
Sam Gutch: Treasurer and Assistant Captain.
Adam Slocum & JD Glenn: Co-Community Liaisons.
Thomas Luiselli: Assistant Captain.
The executive team does represent the team and our class, but there are roughly a dozen seniors on the team eager to get back on the ice. For us, our last "real" season was our sophomore year, which is crazy to imagine since it was two years ago. Words can't express how much we missed the exciting Friday night home games, locker room environment, social gatherings on the weekend, and more. So, we are going to make sure this season is as fun as it can be.
Coaching Staff:
Sadly, yet importantly, the returners feel that new players and families should be aware of the reason behind the coaching staff changes for this year. Coach Aaron D. Rand, one of the most genuine and loving human beings, passed away at the age of 51 on March 5th, 2021. The loss of Coach Rand left a void in all our lives, as he would have loved to continue being a member of our community and lead the team this season and into the future. However, Jarod Castro, along with Ceci Gichner (captain of the Women's Hockey team), has been in talks with a new coach, Jon Blanchard, who used to play at Wesleyan, and who is eager to lead our team. Jarod recently updated the team saying that he gladly accepted the role and will meet the team the last week of October.
Status of Underhill Ice Rink:
Unfortunately, for the first semester, we will not be able to practice or play at Underhill due to the rink operating for continued Covid-19 testing for students and staff. To say the least, this is not what we were really hoping would happen, but on the bright side, a newly renovated nearby rink called The Colisée will be our home rink this year. We have used the Colisée in previous years for practices and games, so it is a good alternative.

News about whether or not Underhill will be available for the second semester is scarce and is dependent on COVID protocols, but we are making sure that Bates understands that we would love to have Underhill for the winter! In fact, there was an article written by The Bates Student that covers our concerns about the rink and if it is being used appropriately this year. You can find the link to the article here.
Game and Practice schedule at the Colisee:
Here is the game and practice schedules (though they are subject to change):
Practice Schedule 1: (starting the week of 10/24/21)
| | |
| --- | --- |
| Sunday | 8:40 – 9:40 PM |
| Monday | 7:50 – 8:50 PM |
| Tuesday | OFF |
| Wednesday | 6:00 – 7:00 AM |
| Thursday | 9:30 – 10:30 PM |
| Friday *OPTIONAL* | 6:00 – 7:00 AM |
| Saturday | GAME/OFF |
Practice Schedule 2: (starting the week of 10/17/21)
| | |
| --- | --- |
| Sunday | 9:50 – 10:50 PM |
| Monday | 8:20 – 9:20 PM |
| Tuesday | OFF |
| Wednesday | 9:00 – 10:00 PM |
| Thursday | 9:30 – 10:30 PM |
| Friday *OPTIONAL* | 6:00 – 7:00 AM |
| Saturday | GAME/OFF |
Game Schedule: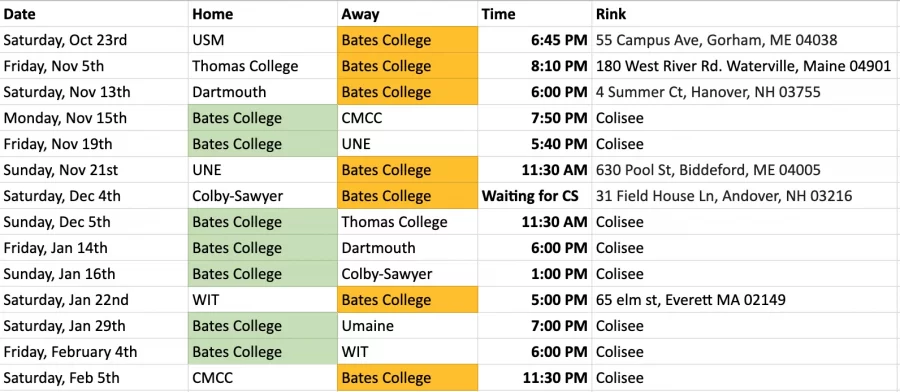 Essentially, our practice schedule alternates with the Women's Hockey team. Please note that we will be sharing the ice with the Women's team on Thursdays, and Fridays are optional for whoever wants to show up and just skate around (coaches will not be attending). If game or practice times change during the season, or the Women's team needs to send updates, they will be posted in GroupMe.

Closing Remarks:
Overall, the other returners and I are beyond excited to get this season going. Some of my best memories are from the hockey team, and I cannot wait to make more memories during my last season at Bates!
If you have any questions or concerns, please feel free to reach out to me (sgutch2@bates.edu), our President Jarod Castro (jcastro2@bates.edu), or our Vice President Owen Bailey (obailey@bates.edu).
Happy Fall!
Best,

Sam Gutch #29
Leave a Reply