A New Digital Collection at the Muskie Archives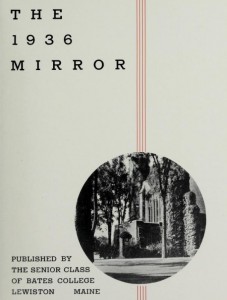 The Edmund S. Muskie Archives and Special Collections Library is pleased to announce that it has recently digitized and made available online the archive's entire collection of the Bates College yearbook, The Mirror, dating from 1900 to 2012.
This exciting project was made possible through the LYRASIS Digitization Collaborative – a Sloan Foundation grant-subsidized program that has made digitization easy and affordable for libraries and cultural institutions across the country.
Through the Collaborative's partnership with the Internet Archive, all items were scanned from cover- to-cover and in full color.  You can choose from a variety of formats, page through a book choosing the "read online" option, download the PDF or search the full text version.
To view the collections, simply visit http://archive.org/details/batescollege.  If you have any questions about this project and the works that have been digitized, please contact the the Archives via email at muskie@bates.edu or phone 207-786-6354.