Options for accessing Ebook Central ebook content
Nearly all of the ~100,000 electronic books available via the Ebook Central Academic Collection can be accessed in any of four ways:
1. Access directly from your browser.
After identifying an Ebook Central book from either a library catalog search or a search of the Ebook Central site itself, you can simply select the link to the book of interest to open it for viewing in your web browser.
With browser navigation, you can advance a page at a time, skip to a desired page or navigate through the book using the table of contents.
2. Print or download a specific chapter or page range.
Select the link for the Ebook Central book in the library catalog.
From the e-book details page, select the "Read Online" button on the left of the screen.
Select the "Chapter Download" button from the menu banner at the top of the screen and indicate the chapter or page range you'd like to print.

The number of chapters or pages available per download per session is indicated on the details page for the book.
3.  Download the entire book to a desktop/laptop or personal device.
Note: A personal Ebook Central account and Adobe Digital Editions (ADE) account registration are required.
Also Note: This WILL NOT WORK with general access campus workstations.
Select the link for the Ebook Central book in the library catalog.
Select the "Full Download" button.  Follow the onscreen prompts for logging in to your Ebook Central account, installing Adobe Digital Editions (if necessary) and downloading the book to your computer.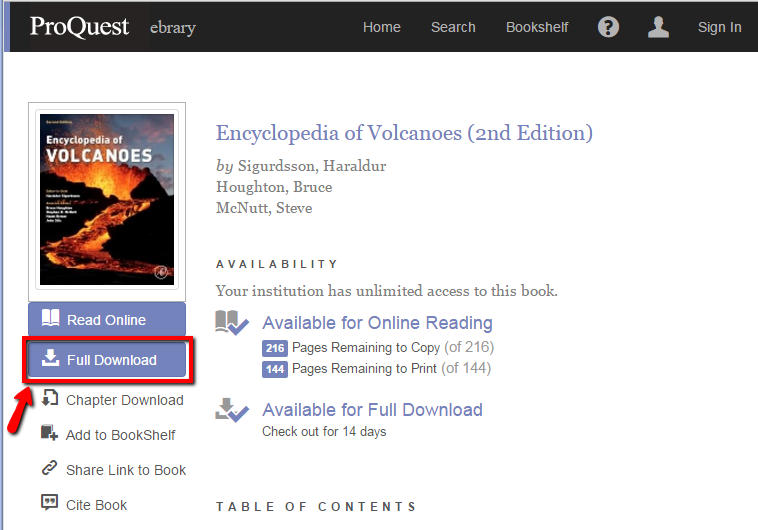 If you are not already logged in to the Ebook Central site, you will be prompted to do so now.
Follow the onscreen instructions for selecting your device type (i.e. laptop/desktop, iOS device, Android device, other), installing Adobe Digital Editions (if not already installed), and downloading your e-book selection.