A New Group is Here!!
There's a new batch of students coming into the lab!
As Jake, Michelle, and Nancy get ready for graduation, they're spending their last few weeks in the lab training the new research team. I'm excited to introduce Maddie McLean, Derek Theriault, Quang Nguyen, and myself- Alex Ulin. We will be working in the Williams lab from now through June and during the 2016-17 school year. There's a lot to learn! We've been spending the last couple weeks doing a lot of reading up on previous Williams lab research and protocols, as well as beginning to practice some techniques in the lab. This week we got full access to the zebrafish colony and we will probably try breeding the fish and collecting their embryos on our own soon.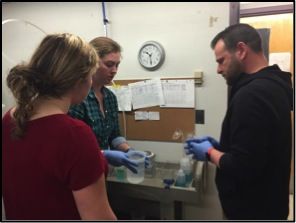 Maddie and Derek have been learning the ins-and-outs of confocal microscopy from Michelle. They will be continuing her research on the inner ear of developing zebrafish embryos. All I can say is mounting those tiny embryos for imaging does not look easy. Good luck Maddie and Derek!
Quang is working over the internet with Briony Lago and Andrew McArthur from McMaster University to analyze some huge gene expression data sets. Hopefully he'll find some interesting patterns and generate some new questions for the lab!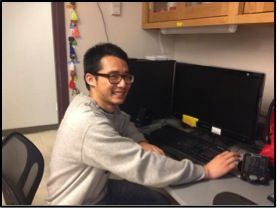 I am working with Jake to learn the ChIP (Chromatin Immunoprecipitation) and potentially improve on it. ChIP is used to explore the interactions between proteins and DNA by precipitating DNA-protein complexes of interest out of solution using an antibody and then identifying the presence of the gene by qPCR. Unfortunately, recent data has had more "noise" in it than we would like because fragments of DNA and protein, which are not of interest, have also precipitated out of solution. To prevent this, we are working on new techniques to pre-clear these extra complexes from the sample and pre-block our antibody-bead complexes from associating with them. Hopefully we'll have the protocol perfected soon and ready for more use!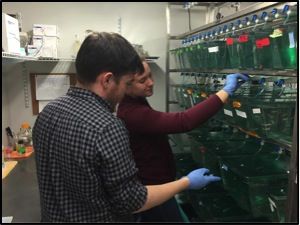 Jake's Birthday was also this week! Here he is with his giant ice cream cake!! Happy 22nd Jake!