Class Notes

Class Notes are compiled from reports by class secretaries or from newspapers, press releases, or letters to the Alumni Office or magazine.To submit class notes, write to your class secretary (listed at the head of your class notes) or to Editor, Bates: The Alumni Magazine, 141 Nichols Street, Lewiston, Maine 04240. Send changes of address to: Alumni Office, Bates College, 2 Andrews Road, Lewiston, Maine 04240.
You may also e-mail your information to Bates: The Alumni Magazine, at magazine@bates.edu.
Alumni Profiles
Talking 'Bout Bates Generations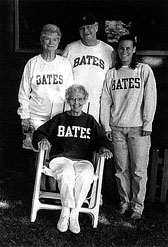 Bates blood runs deep in the Clark family and spans the twentieth century. Seated above is Beatrice Wright Clark '26 of Portland. Standing, from left, are daughter-in-law Margery Schumacher Clark '52, son Charles Clark '51 (they live in Durham, New Hampshire), joined by their granddaughter Jennifer Winslow of the Class of 2000. Beatrice's husband was the late Clarence Clark '25 and her sister was the late Elizabeth Write Colby '30.