Joe Miller '88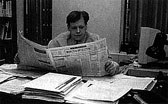 Freewheelin' Joe Miller '88
For Joe Miller '88, balm for an intense though gratifying job in corporate public relations comes in the form of his subterranean identity: He's a Deadhead.As a vice president for New York City-based Ruder-Finn, the nation's fourth-largest independent public relations concern, Miller and ten other executives work in a self-contained unit for just one client, Citibank. Yet amidst the ranks of Madison Avenue image makers, business journalists, and Wall Street bankers, Miller finds many colleagues with whom he shares a profound love of the Grateful Dead. He's not surprised. "It's a relief from the high pressure," he said of the countless number of Dead concerts he has attended. "I'm a little more freewheeling at shows, although I don't put my hair in dreadlocks," he said.
Since the death on August 9, 1995, of Grateful Dead founder Jerry Garcia ("Fifteen to twenty friends from Bates called to console me. It was quite an emotional month," said Miller) things have changed. "I'm trying to find a new band to occupy my time. I'm a big fan of the Allman Brothers. But realistically, it's never going to be the same," he said, adding a lament familiar to Deadheads: "I'll never find a band to replace the Dead."
Fortunately, Miller has survived the grieving process. "I love New York. It's exciting," he said. Aside from the fact that Manhattan "is a great place for small, independent bands," this lover of music also adores his job. He specializes in media relations for the global financial side of the Citibank account. "Writing is my favorite part of the job," said the former English major, who composes speeches and byline articles for clients and pitches stories by phone to publications. To stay abreast of trends, Miller reads forty magazines a month, including Harper's, Esquire, Business Week and The New Yorker. "It's a key part of the job."
Although he never considered public relations as a career during his Bates years, "a liberal-arts education helped me to think about things in a larger context. I have to think about my client in such a context." Anyone who pitches a story to a publication, said Miller, "isn't going to get anywhere" without considering how the larger picture "builds toward the feature story."
Growing quickly in his toughly competitive field, Miller was often mistaken for a college student when he arrived at Ruder-Finn as a vice president less than a year ago. "People kept asking me if I was an executive trainee or an intern," he said. But Miller's credentials were well-established before arriving at Ruder-Finn, first as an account executive for Howard Rubenstein Associates and then as a vice president for Lee Laino Associates.
Aside from reading and writing, Miller maintains daily contact with his clients. "I work better when there's a lot going on. I get bored very easily and work better under deadline," he said. "I feed on it."
By Phyllis Graber Jensen