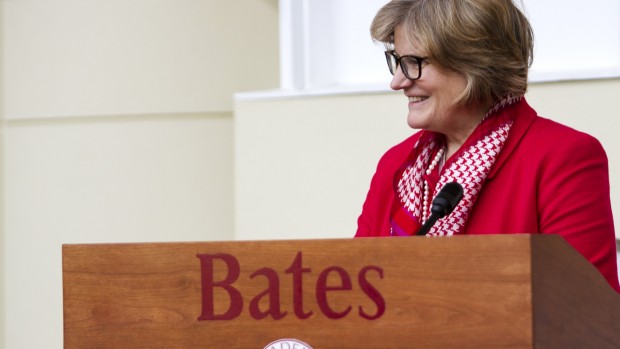 "We have ambitious goals for Bates, and I am inspired by this outpouring of support from the college community," said President Clayton Spencer.
Published on
Description

---

September 8, 1999
12:00 am

Rap artist Wyclef Jean, whose recordings with the Fugees include the multi-platinum CD "The Score," will perform with the Refugee All Stars at Bates College at 8 p.m. Friday, Sept. 24, in the Clifton Daggett Gray Athletic Building. Tickets are $22 and may be purchased through Bull Moose Music stores starting Thursday, Sept. 9. Tickets are also available at Bates College in Chase Hall Thursday, Sept. 9 from 7 a.m. to 7 p.m. weekdays until the concert. Call 207-795-7496 for more information.

September 2, 1999
12:00 am

Pianist Frank Glazer, artist in residence and lecturer in music since 1980, will perform a concert of works by Handel, Scarlatti, Beethoven, Chopin and Brahms at 8 p.m. Friday, Sept. 17, in the Olin Arts Center Concert Hall.

September 2, 1999
12:00 am

The Bates College Noonday Concert series opens its fall 1999 season with a selection of programs in September. The free concerts, open to the public, will be held Tuesdays from 12:30 to 1 p.m. at the college's Olin Arts Center Concert Hall, located on Russell Street in Lewiston.

September 1, 1999
12:00 am

Contradance band Catharsis will perform at Bates College (Friday) Sept. 10 at 8:30 p.m. in Chase Hall Lounge. Sponsored by the Bates Freewill Folk Society, the contradance will be called by John McIntyre. Soft- soled shoes are recommended, but not required. The public is invited to attend free of charge.