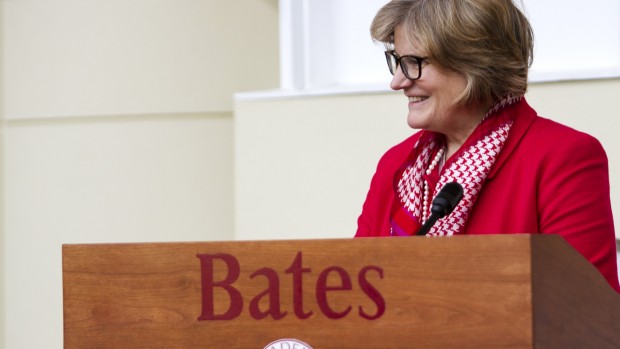 "We have ambitious goals for Bates, and I am inspired by this outpouring of support from the college community," said President Clayton Spencer.
Published on
Description

---

January 13, 1999
10:05 am

Bates College has awarded more than $20,000 to the Auburn Land Lab, Lewiston High School, Lewiston's McMahon and Longley elementary schools as well as Morse High School and Bath Middle School through the Bates College Science Education Outreach Grant program. The awards are sponsored by Bates and funded by major grants to the college from the Howard Hughes Medical Institute, the nation's largest private funder of research and education in science and health.

October 29, 1998
3:24 pm

Ira Harkavy, associate vice president and director for the Center for Community Partnerships at the University of Pennsylvania, will discuss "Participatory Action Research and Service Learning" at 7 p.m. Thursday, Nov. 12, in the Benjamin Mays Center.

May 26, 1998
1:30 pm

Georgia Nell Nigro, associate professor of psychology at Bates College, has been named one of two 1998 recipients of the Maine Campus Compact (MCC) Faculty Service-Learning Award, one of the most prestigious awards for community service in the state of Maine.

September 9, 1997
2:42 pm

Julie Groom-Thompson, executive director of the Maine Mid Coast Chapter of the American Red Cross, and David Kuhns, a physician's assistant who has treated land-mine victims in Afghanistan as a member of Doctors Without Borders, will give a presentation on land-mine eradication at 7 p.m., Sept. 22, in the Edmund S. Muskie Archives, 70 Campus Ave. The public is invited and admission is free.

June 5, 1997
11:22 am

The Alumni Distinguished Service Award will be given to Lewiston resident Jane Ault Lindholm, Bates class of '37, as the college holds its 129th annual reunion from June 6 through June 8.

May 1, 1997
11:52 am

Stanton Wortham, assistant professor of education at Bates College, has been honored with the Maine Campus Compact's Faculty Service-Learning Award. Wortham was recognized for designing several innovative service-learning projects, including a program in which Latino Bates students tutor and mentor Latino schoolchildren in S.A.D. 52 (Turner, Maine) schools.

August 2, 1996
10:38 am

Brandi Richards '98 of Kingfield is one of 20 Maine residents named to receive a $2,500 scholarship from a fund created by former U.S. Sen. George J. Mitchell.

July 15, 1996
10:54 am

Richard C. Williamson, Bates professor of French, was selected to participate in the annual reading and scoring of the College Board's Advanced Placement (AP) Examinations in French.

March 25, 1996
10:24 am

1936: Graduates from Bates, cum laude and Phi Beta Kappa, with degree in history and government. Enters Cornell Law School, graduating in 1939.

March 12, 1996
11:23 am

Madeline Kunin, deputy secretary of the United States Department of Education, will give a talk at Bates College on (Thursday) March 7 at 7:30 p.m. in Room 204 of Carnegie Science Hall. The public is invited to attend free of charge.