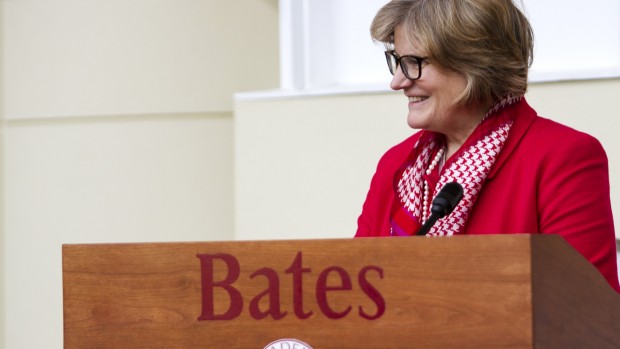 "We have ambitious goals for Bates, and I am inspired by this outpouring of support from the college community," said President Clayton Spencer.
Published on
Description

---

June 5, 2013
11:12 am

Happy summer from Bates! Here's a listing of public events at the college from June 15 through Aug. 15, 2013.

May 31, 2013
1:18 pm

Bates' popular "Clean Sweep" sale returns for the 13th year on Saturday, June 15.

May 30, 2013
3:30 pm

News outlets in Maine and a number of other states presented coverage of this year's event.

May 26, 2013
3:23 pm

"Many of the so-called experts have been wrong and now need to be second-guessed," the co-founder and chairman of organic yogurt maker Stonyfield Farm told the Bates Class of 2013. "And that's actually your job."

May 26, 2013
1:00 pm

The graduates' level of community engagement and real world applied learning, said Gary Hirshberg, "will be as critical a contributor to your futures as any academic achievement."

May 26, 2013
1:00 pm

The following are the honorary degree citations and conferrals for William Cronon, Elaine Tuttle Hansen, Gary Hirshberg and Vivian Pinn,…

May 24, 2013
10:17 am

For those who like statistics, here's how this year's graduates stack up.

April 30, 2013
2:00 pm

The event offers all area college students an opportunity to get better acquainted with dining, entertainment and shopping options in Lewiston and Auburn.

April 23, 2013
3:00 pm

The honorary degree candidates "show us how the values that define the Bates experience can shape, and take shape in, the world," said President Spencer.

April 10, 2013
3:31 pm

Hello from Bates! Here's a listing of public events at the college April 22-May 31.