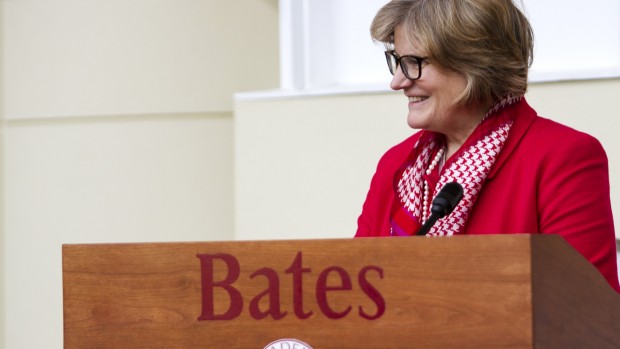 "We have ambitious goals for Bates, and I am inspired by this outpouring of support from the college community," said President Clayton Spencer.
Published on
Description

---

December 6, 2004
3:41 pm

For the second consecutive year, the Brooks Quimby Debate Council hosted an all-day forensics tournament Saturday, Dec. 4, for approximately 260 Maine high school students. A scheduled tournament for the 2004-05 season of the Maine Forensics Association, the judged competition featured events in speech, Lincoln-Douglas debate and Student Congress. The MFA promotes the development of articulate leadership among secondary students throughout the state.

November 30, 2004
12:15 pm

Hillel Newman, the Israeli consul to New England in Boston, will offer a lecture titled "Prospects for Peace in the Middle East: After Arafat" at 4 p.m. Wednesday, Dec. 8, in Chase Hall Lounge, Bates College, Campus Avenue. Sponsored by the Harward Center for Community Partnerships, the event is free and open to the public. For more information, please call 207-786-6195.

November 19, 2004
12:23 pm

The college has received an award for its adoption of a policy that strengthens tobacco control efforts on campus.

November 15, 2004
1:03 pm

Robert Cogan and Pozzi Escot, known internationally as composers and as music theorists expert in relationships between music and such disciplines as math and physics, are spending a weeklong residency at Bates College that includes two events open to the public at no cost.

November 9, 2004
12:45 pm

The annual Writers Harvest reading at Bates College will be given by Cleopatra Mathis, professor of English at Dartmouth College and author of five collections of poetry, at 8 p.m. Wednesday, Nov. 10, in Chase Hall Lounge, Campus Ave.

November 2, 2004
12:31 pm

"Have you voted today?" asked senior Katie Franich as she greeted classmates entering Chase Hall for lunch. Franich, of Milton, Mass., was one of a group of Bates students who participated in a nonpartisan election-day canvass to encourage their peers to go to the polls and vote. She wore an oversized T-shirt that read: "Make them pay attention to us. VOTE November 2."

October 6, 2004
1:47 pm

Amandla!, a Bates College organization addressing issues of people of black heritage, has launched a fund-raising drive to assist citizens of the Caribbean islands devastated by recent hurricanes and Sudanese refugees. All proceeds will go directly to the International Red Cross Emergency Relief Fund and Doctors Without Borders. For further information, e-mail Melisa March at mmarch@bates.edu or call 207-795-5118.

October 6, 2004
1:40 pm

Safa Abu-Rabia and Hannah Safran, two feminist peace activists working in Israel, offer a pair of lectures Monday, Oct. 11, in Chase Hall, Campus Avenue, Bates College. Titled "Israeli-Palestinian Peacework: Two Women's Story," the afternoon lecture at 4:30 p.m. in Skelton Lounge is part of "Spiritual Journeys: Stories of the Soul 2004-05."

September 14, 2004
2:44 pm

For the third year, Bates College students are leading a program to match fellow students with volunteer opportunities in Lewiston, Auburn and nearby communities.

August 17, 2004
9:41 am

"Being at college, being away from home, you're set to feel you're on your own, you're adult now," says Matt Heffernan '05, of Cranston, R.I.