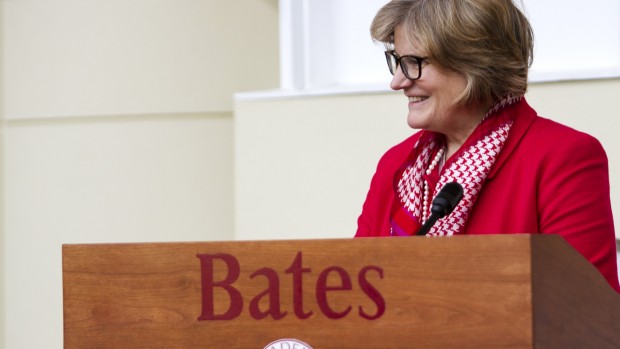 "We have ambitious goals for Bates, and I am inspired by this outpouring of support from the college community," said President Clayton Spencer.
Published on
Description

---

April 3, 2014
1:58 pm

Brian Kennedy, an economics major from Port Washington, N.Y., is one of two Bates College seniors to receive 2014 Watson Fellowships.

March 27, 2014
2:08 pm

On his centennial today, what everyone should know about Edmund Muskie '36, our iconic U.S. statesman and environmental pioneer.

March 21, 2014
8:59 am

Eusden enters the film as an expert who links the experiential with the geological.

March 13, 2014
10:55 am

He got the idea after making a major contribution to the report "Climate Change 2013: The Physical Science Basis."

January 8, 2014
12:36 pm

"These boys have made it their mission to build New England's first and largest craft hard cider company," says Forbes.

December 3, 2013
12:47 pm

A Bates-directed archeological project in the Shetland Islands has won an environmental award from the Shetland government and environmental organizations….

December 2, 2013
5:51 pm

The show follows series creator Ben Leoni '05 and fellow backcountry skiers as they head into the boondocks of the Northeast.

November 8, 2013
8:28 am

The Raye mustard business dates to 1903, when the Maine sardine business was booming along the coast.

November 7, 2013
2:54 pm

University of Maine Professor of Law David Owens and conservationist Colin Apse discuss freshwater sustainability measures, environmental law and the Penobscot River Restoration Project at Bates on Nov. 11.

November 7, 2013
11:32 am

A forum on youth homelessness in Maine and a talk by a leading climate change activist take place a day apart in presentations at Bates College.