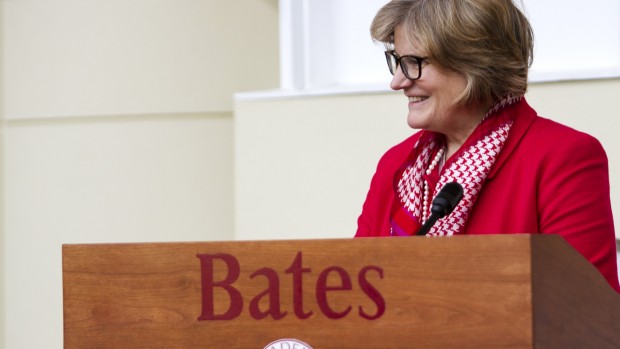 "We have ambitious goals for Bates, and I am inspired by this outpouring of support from the college community," said President Clayton Spencer.
Published on
Description

---

August 14, 2012
3:30 pm

Ray brings more than 15 years of experience as a scholar and leader who bridges thought and action.

August 3, 2012
4:16 am

David McDonough brings to Bates a strong background in working with students and with career-services technology.

July 31, 2012
11:15 am

Professor Farnsworth explored creative ways to give his geology students fieldwork experience.

July 17, 2012
2:22 pm

On July 13, Chicago's Zolla/Lieberman Gallery opened exhibitions by Bates Museum of Art Director Dan Mills and two other artists.

May 29, 2012
1:30 am

Bates President-elect Clayton Spencer today announced the appointment of Leigh A. Weisenburger, Bates' current director of admission, as the college's…

May 7, 2012
2:03 pm

"Desperate Alewives," a Maine Public Broadcasting Network documentary featuring Bates environmental economist Lynne Lewis among others, has been nominated for a New England Emmy.

May 2, 2012
2:47 pm

The major German newspaper Berlin Zeitung reviewed a gallery exhibition in Berlin by Robert Feintuch, a member of the Bates art faculty.

March 14, 2012
3:30 pm

Plastas book explores prejudice, progress in women's activism between world wars

March 9, 2012
4:42 pm

Public radio's popular interview program The Story visits pianist and Bates artist-in-residence Frank Glazer.

February 3, 2012
8:21 am

Bates professor rediscovers music by Dickens' older sister.