Archives for "BatesNews"
BatesNews is the monthly e-newsletter of the college, going to more than 4,000 subscribers.
---
Tuesday
June 17, 2014 9:00 am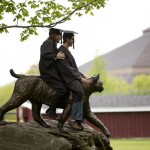 May was filled with learning, laughing and a few goodbyes. Photographs by Phyllis Graber Jensen and Sarah Crosby.
Wednesday
June 11, 2014 1:19 pm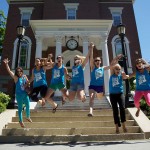 Video by Lincoln Benedict, celebrating his first Reunion officially as a member of the 5th Reunion Class of 2009, but a veteran of past Reunion multimedia coverage.
Tuesday
June 10, 2014 3:26 pm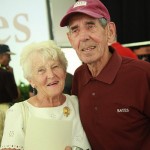 Leahey was joined by fellow award recipients Esther Rosenthal Mechler '64, Christian Rogers '04 and Katherine Papadonis Rogers '04, Elizabeth Metz McNab '64, and Victoria Wyeth '01.
Thursday
June 5, 2014 8:38 am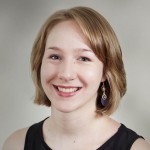 Recognized as a "top producer" of prestigious Fulbright grants, Bates again runs true to form.
Wednesday
June 4, 2014 8:00 am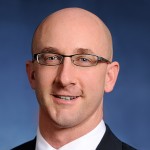 Formerly at Johns Hopkins, McIntosh is an "exceptional organizational leader whose creativity and commitment to students have made him enormously effective," says President Clayton Spencer.
Thursday
May 29, 2014 11:23 am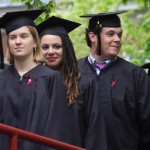 Commencement is filled with sights, sounds and emotional moments that last a lifetime.
Wednesday
May 28, 2014 5:53 pm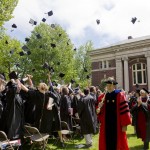 Photographs from Commencement morning show how four years culminates in a few very joyous hours on the Historic Quad.
Sunday
May 25, 2014 4:00 pm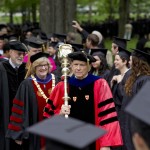 If you were born in the U.S. before 1965, author Isabel Wilkerson told the Class of 2014 at Commencement, you were not born into a democracy.
Sunday
May 25, 2014 1:38 pm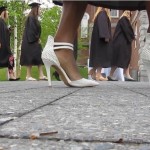 Bates seniors and professors (and the Commencement piper) explain what their choice of shoewear says about the sole of the college.
Sunday
May 25, 2014 12:33 pm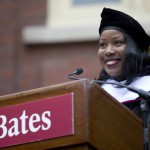 Our country is in a crisis about "what we should do about our tangled inheritance…about the sins of the past and the injustices of the present."