Stories about "Gabriel Fried"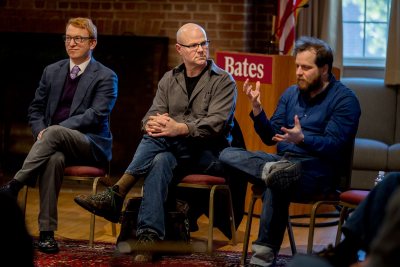 Wednesday, February 21, 2018 1:49 pm
As 'retirement urges sweet return,' Bates salutes poet Rob Farnsworth, who leaves the classroom after 26 years.
Wednesday, September 29, 2010 11:30 am
The Language Arts Live series of literary readings at Bates presents Debra Spark, author of the novels The Ghost of Bridgetown and Good for the Jews, at 7:30 p.m. Monday, Oct. 11; and one of Maine's most respected poets, Wesley McNair, at 7:30 p.m. Thursday, Oct. 28.
Thursday, September 27, 2007 2:33 pm
The English department opens its 2007-08 Visiting Writers Series with a reading by poet Gabriel Fried, Bates Class of 1996, tonight in Skelton Lounge, Chase Hall, 56 Campus Ave.