Underhill Arena
Overview
Ice rink, Davis Fitness Center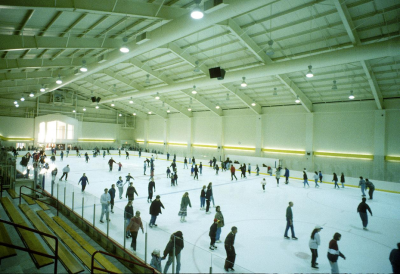 View on Map: Underhill Arena 
23,763 square foot ice rink and multipurpose space
Built in 1995
About
Underhill Arena, completed in 1995, features a 200-foot by 85-foot ice surface used for the Bates intramural and club hockey programs, skating classes, and college recreational skaters. In the off season, the surface is covered by a modular turf system for multipurpose athletic use.
During fall 2020, the arena is being used as the Bates College Testing Center for COVID-19. During this time, no other activities will be allowed in this building at any time.
Davis Fitness Center
The Davis Fitness Center is one of two dedicated fitness and strength/conditioning facilities at Bates. the other being the Bert Andrews Room in Merrill Gymnasium that houses the cardio equipment.
The Fitness Center is accessible to all Bates students, faculty, and staff and is open for almost 100 weekly hours during the academic year.
The center offers:
More than 4,700 square feet of space
Turf surface (45 x15 feet)
Adjustable benches, glute/ham machines, and 10 power racks, including two new Matrix Magnum Mega Power Racks
Gym Rax system for functional training
A variety of other strength, selectorized, and functional training equipment.