Men's Hockey Upcoming 2018-2019 Season
Looking forward to alumni events, packed game schedule, and a return to NECHA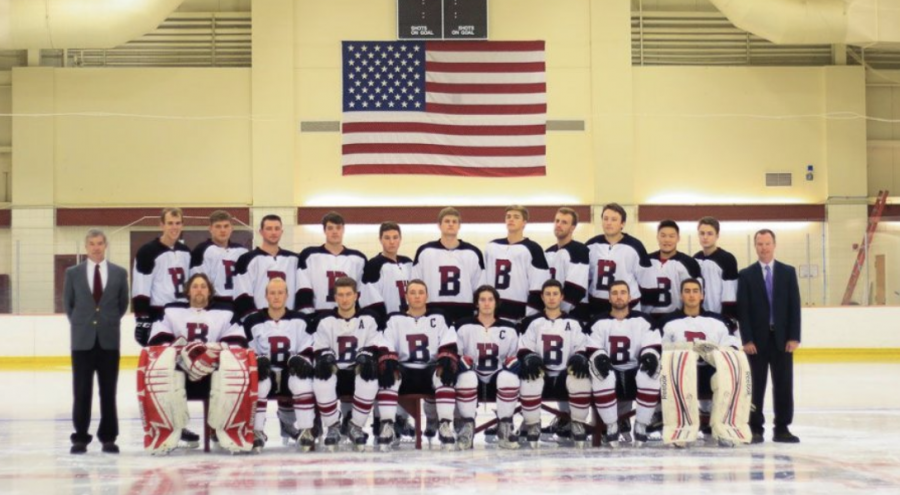 Return to NECHA
For the upcoming season, the Bates Men's Club team has high hopes of continuing both new and old traditions while continuing to grow as a program. The 2018-19 season marks a return to the Northeast Collegiate Hockey Association league, of which Bates was formerly a key member. Thanks to a trip to a recent NECHA meeting, the team is now on probationary status, with hopes to regain full membership.
This year, there are several new additions to the Club within the leadership of the program.  The new elections to the board are as follows: President of the club, Ned Moreland '19; co-vice presidents are Matt Flanagan '20 and James Hussey '20; co-treasurers are Eric Glover '20 and Ben Stratton '21; elected to the new position of community liaison is Adam Bisesi '21; and finally, elected to secretary and the new position of manager is Katherine Cody '21. The captain for the upcoming season of is President Ned Moreland '19 and the assistant captains of the program are Bob Xu '19 and Morgan Dewdney '19. The new additions of manager and community liaison promise to bring a new aspect to the program. The manager will aid in day-to-day tasks for the coach along with running the board during games and practices, and the community liaison will aid in creating community service opportunities for the team and involving the team more around campus, following a massive success with the spring Special Olympics. There is an ongoing search to find a new head coach for the program, following Michael O'Brien's departure. Team leadership has formed a committee to participate in the search process.
The team hopes to continue the tradition of a game between the women's and men's club teams, along with new traditions for the men's club. One potential opportunity that is currently in the works is to bring the team to China to play in a tournament of eight different international collegiate teams. Bob Xu '19 is working with members of the Chinese government, the National Chinese Hockey Association, and its teams to accomplish the goal of having the Bates club team represent America in this tournament. The tournament hosts a multitude of opportunities, which you can read about below in the team stories section of the newsletter.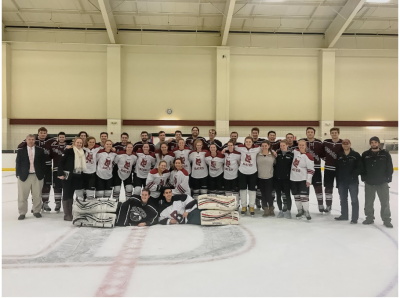 This past season, the Bobcats finished with a record of 5-9-2, which we hope to improve upon with the large class of freshman that have joined our team this year.
Alumni participation reached an all-time high this past season, with an increase in alumni gifts that allowed the team to fully reach its goals. Alumni gifts make up around 39 percentage of the team's operating budget, which allows for a larger travel budget for games, assistance in paying dues for those in need, and many other necessities. This year, the team hopes to reach a new record with a 15 percent increase in donations to help fund both the NESCAC tournament and trip to China — two valuable experiences. The team really appreciates all those who give, whether they are parents, fellow Bobcats, or friends of the program, as it continues to allow the team to grow and compete in an ever-changing NECHA league. We hope to raise an additional $10,000 to schedule games, initiate a greater game diversity out of our league, and pay for travel expenses, along with any financial assistance players may need. Gifts may be made online by  visiting bates.edu/give, designating the gift to Friends of Bates Athletics, and indicating men's hockey in the comments section of the form. 
On February 20, 2018, 19 alums and friends of the program returned to Bates' campus to once again play in Underhill Arena. Eleven different classes were represented, ranging from 1965 to 2017. Assistant Captain for the 2017-18 season David Katzman '18,  when asked about the tournament commented, "It was a fantastic experience getting to play again the some of the guys who started my Bates hockey." Following the immense success of the previous Alumni-Club game, the Club plans to schedule a game this upcoming season and is excited to welcome alumni back to Underhill. Captain of last year's team, Nick Barker '18, when asked about the potential of a game this year remarked, "The club hockey experience is clearly a major piece of the Bates experience for so many people. Seeing 20 plus alumni come back was certainly rewarding and enjoyable. I look forward to coming back in a couple of years and participating as an alum this time around."  
SCHEDULE*
Bates College Men's Ice Hockey Schedule 2018-2019
| | | |
| --- | --- | --- |
| Games | Date | Time |
| Thomas College (Away) | 11/08/18 | 8:40 PM |
| Colby Sawyer (Away) | 11/09/18 | 8:00 PM |
| WIT (Home) | 11/16/18 | 7:30 PM |
| Suffolk (Away) | 11/17/18 | 8:50 PM |
| St. Joe's (Home) | 12/01/18 | 6:30 PM |
| UNE (Home) | 12/07/18 | 6:45 PM |
| Thomas College (Home) | 01/11/19 | 7:00 PM |
| MIT (Away) | 01/19/19 | 1:00 PM |
| WIT (Away) | 01/20/19 | 5:00 PM |
| St. Joe's (Away) | 01/25/19 | 6:00 PM |
| Colby Sawyer (Home) | 01/26/19 | 6:30 PM |
| CMCC Home | 01/30/19 | 7:00 PM |
*This is subject to change based on other teams' schedules
Personal Stories from Team Members
A Freshman's First Year with Bates Club Hockey
by Ben Stratton, Defenseman, #16, Class of 2021, ed. K. Cody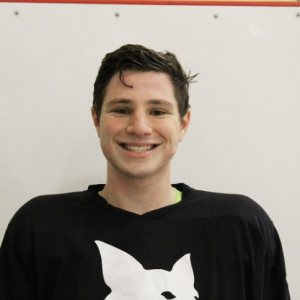 The first Bates student I ever talked to was Ned Moreland while I was at my admitted students day in April of my senior year of high school. That day Ned gave my mom and I a great tour, showing us all of campus and telling me all the reasons I should choose Bates. For me, one of those reasons was that I could keep playing hockey.
Before my admitted students day, I had never even been to Maine. I applied to Bates because of my desire for a small liberal arts school in the northeast, and a great review from a friend's older brother who graduated in 2010. Other than that, I couldn't have told you why Bates was any different than Colby, or Bowdoin, or any other NESCAC school. But what set Bates apart for me was that I would be able to play hockey in college. I knew that taking time off of academics for juniors wasn't a good financial decision for my family, so with that in mind I decided that club hockey was my best option. As soon as I reached out to the team at Bates I got a response from the captain at the time, Will Bolduc. He explained the schedule, what the team atmosphere was like, and most importantly, how much fun it would be to play here. For me, that email helped sell Bates to me as much as any Admitted Student event could. The day I got back home to Florida from my trip I signed the paperwork to officially become a Bobcat.
Arriving at Bates in the fall to start my first year of college was a nerve-racking experience, but it was made so much easier by having a group of guys I knew I would be playing with all year. I made friends with the other first-years on the team quickly, and we've been inseparable since. The upperclassmen and captains of the team were fantastic as well, they made us feel part of a community as soon as we were on campus. One upperclassman who went out of his way to help welcome me to campus was our captain Sam Levin, who took time out of his schedule to give me a tour of the rink and athletic facilities when I visited, as well supporting all the first-years in our adjustment to college, not just hockey related endeavors. Sam acted as big brother to us last year, and I can't express how much that meant to me.
Hockey season was without a doubt my favorite part of the school year. The team atmosphere was incredible, as everyone from first-years who hadn't skated in months to seniors who scored 20 goals a season, got along great. Our practices were high-tempo and fun, and games were a blast, regardless of the outcome. As the season progressed, the team not only became better, everyone became even closer friends both on and off the ice. Even while dealing with injuries and tough losses, the group remained strong and motivated to continue our season. When we had success, we celebrated together. I'll never forget the seniors giving me the puck I scored my first goal within the locker room after the game. It was little things like this that made being part of the hockey team such an incredible experience.
When I was asked to share my Bates hockey experience, I struggled to find a way to do it at first. There was so much to my freshman experience, I felt like I couldn't do the team and the season that we had justice. But looking back, the common theme that I found through the past year of being a Bobcat was love for the team. Everything else just contributes to that love. I knew right away that I made the right decision coming to Bates, and the hockey team was a huge part of that.
Reflections on Captainship
by Samuel Levin, Captain 2017-2018 season, #28, Forward, Class of 2018
Playing for and leading the men's ice hockey team was a defining feature of my time at Bates. Over the course of four seasons, I met some of my best friends and made countless memories both on and off the ice. With an ice rink on campus, we had a unique opportunity —mnot only were we able to schedule practices and home games at optimal times and draw a large, loyal, and rowdy fanbase, but we also had unlimited access to an open sheet of ice. Tell that to a hockey guy and watch his eyes light up like a Christmas tree.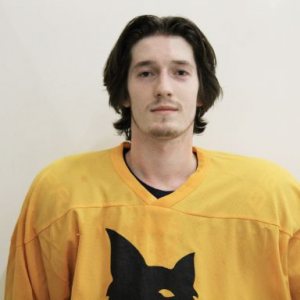 When I was told that I would be leading the team during my senior season, I was foremost excited and honored, but a good deal of pressure came with the position as well. Every day that you walk through the doors into Underhill Arena, you see the championship hardware that previous teams have earned on display there. You go through your first few years hearing the stories that the older guys have to tell about their time with the team. You come to realize the richness of the legacy that you and your teammates are inheriting.
The summer leading into my senior year, we had a tall task ahead of us. The program was in a rough spot, with several key figures having moved on over the prior couple of years, including Tom Leblond, who had coached the team for the prior two decades. Righting the ship would have been impossible without the other guys — Nick Barker, David Katzman, Andrew Cahill, Ryan Chinn, and Ned Moreland — who joined me in pouring countless hours of time on and off the ice into making possible what will remain without a doubt one of my most memorable seasons of ice hockey. The other key piece was Coach O'Brien, whose drive, zeal, and vision for the team matched our own and helped us thrive. The guys will know what I mean when I say that you'd want these guys in a foxhole with you on the front lines. Together, we seized the opportunity in front of us and made the most of it, in the end having the most successful season of our time at Bates. The season came to a fitting close with the first alumni ice hockey game that Bates had hosted in several years, with attendees from graduating classes ranging from 1965 to 2017.
Standing at the helm isn't always easy, but every ounce of sweat and blood that I poured into ice hockey at Bates was more than worth it. I learned an untold number of life lessons, the sort that you can't pick up in the classroom. More importantly, I had the chance to spend countless hours over four years doing one of the things I love most in life with an incredible group of people that I am proud to call teammates and friends. Looking back on it all — the good and the bad, the fun and the difficulty — I wouldn't trade it for anything.
Bringing Bates to China and the International Experience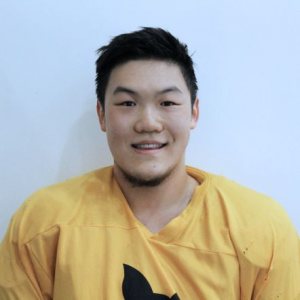 by Bob Xu, Assistant Captain for the 2018-2019 season, # season, Forward, Class of 2019 and Katherine Cody, Manager and Secretary
I started to play hockey when I was 6, and it has been a defining part of my childhood. Before I came to Bates, I was a national athlete for China's national hockey team against other countries in the U18 IIHF tournament. After I joined Bates hockey, it became a part of my life here. Since arriving at Bates, I have been a member of the Bates Men's Club Hockey team, and through this experience, I have been able to meet and become friends with many different members of the community. I believe that when it comes to club sports, Bates has the right idea—bringing together people of different skill levels and backgrounds to one program, where we are able to grow together and share our passion for the sport.
Through the Bates club team, we have been able to gain a better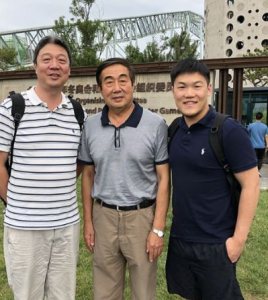 understanding of different cultures, whether it be for me the culture of America, or others on the team learning about Chinese culture.  By sharing this experience with one another, we gain the ability to accomplish mutual goals together, whether it be on the ice or off the ice. It is because of this chemistry that I spent my summer meeting with several important members of the China Central Television (CCTV), the China Global Television Network (CGTN) , the Beijing Organizing Committee for the Winter 2022 Olympics, and the Chinese Hockey Association, to bring the Bates Men's Club team to China for a friendly game and to continue this cultural exchange. Through discussions, we have been able to create a club tournament in Beijing with 8 international college teams, each representing their country. There will be 7 other teams representing China, Japan, Korea, Russia, Finland, Canada, and Kazakhstan, all of whom will be at similar to our level of play.  The Beijing Organizing Committee and all other organizations and companies looking to run this tournament see this as a way to share one another's cultures, while promoting hockey within China for the 2022 Winter Olympics in Beijing.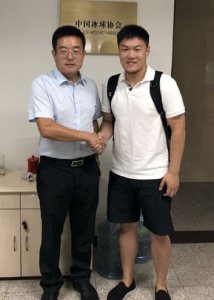 Within countries and cities hosting Olympic games, there has been a phenomenon where there is not only an economic boom but more importantly a cultural growth as visitors begin to visit the area more and experience and learn about the culture that the area has to offer. This was noticed the last time that Beijing held the summer Olympics of 2008 and is something that we hope to recreate through programs such as this hockey tournament. Bringing together teams together to compete with one passion for the sport and to share cultures is something Chinese government and investors are highly interested in. I am highly excited to see where this opportunity takes the team, and hope to be able to show them where I grew up and played.    
Looking Forward to Captainship and the Upcoming Season
by Ned Moreland, Captain for the 2018-2019 season, #18, Forward, Class of 2019, Ed. K. Cody
With any solid team comes a strong mission statement that drives success. Our mission statement reads:
"The Men's Club Ice Hockey program is committed to excellence on the ice as a component of the holistic educational mission of Bates College. We foster a healthy team environment built around the desire for constant improvement as individuals, as a collaborative unit, and as an organization representing the College. Our work as athletes develops skills that parallel intellectual growth and translate to strength of character elsewhere on campus. Each day we strive to contribute to the community bonds among students, faculty, staff, and alumni at Bates as well as in Lewiston-Auburn and the broader community of athletes worldwide."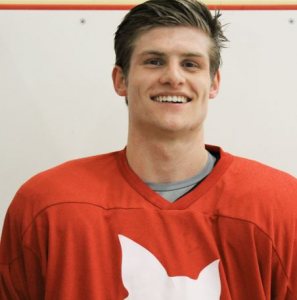 In order to fulfill our mission, the team culture will be one of camaraderie, competitive gameplay, and fun. The ability to be one of the few club teams in the United States to have its own ice hockey facility is a privilege. My hope for the season is for the team to recognize the gift we are given and fulfill its potential.
The potential for the Bates Men's Ice Hockey program is substantial. We recognize the opportunity to play hockey at an institution as academically rigorous as Bates College is a dream to prospective players entering senior year of high school. The opportunities to attract smart, diverse, and talented hockey players are plausible. Our current roster boasts players with diverse academic interests and hockey resumes. Last year, we made the ice hockey program more visible to prospective students entering the admissions process. Our previous coach and I offered eight prospective students information about the ice hockey program before the regular decision admissions process. Out of the eight prospective students, six decided to enroll at Bates and currently are currently rostered this year. Prospective hockey players that are strong applicants to the college will be vital for the program to succeed in the future. With many juniors and post-grad program available, the amount of quality players and students that will never receive NCAA opportunities at the D3 or D1 level is rising. Bates offers a unique option to these players, as we have the same facilities as many NCAA programs. Without competition from a varsity team, Bates is one of three NESCAC schools to offer a club program, but the only club team in the NESCAC to have its own practice facilities. With greater visibility from alumni engagement outside Bates, advertising, and word of mouth the Bates Men's Club Ice Hockey program plans to become reputable.
My plan to elevate the program also includes strategic fundraising and building upon goals set by the program. As I have learned throughout my short time in the club's leadership, operating an athletic team comes with a cost. The reality is the program will need greater assistance from Bates Athletics, our alumni, and supporters annually to foster a healthy program. The goal is for the program is play 20 games a year. We will not reach this goal in the 2018-19 season but hope that in the future this will come to fruition. My goal is for the club to produce fundraising efforts and engagement tactics to enhance the program.
I look forward to leading the team to a successful year. Roll 'Cats.
2018-19 Fundraising:
This year we hope to raise an additional $10,000 to schedule games, initiate a greater game diversity out of our league, and pay for travel expenses, along with any financial assistance players may need.
To help us reach our goals, please visit bates.edu/give, designate your gift to the Friends of Bates Athletics, and indicate our team in the comments section of the form. Thank you for your continued generosity and support!
3 Responses to "Men's Hockey Upcoming 2018-2019 Season"