Francesco G. Duina
Professor of Sociology
Associations
Sociology
Pettengill Hall, Room 263
European Studies
About
B.A., M.A., University of Chicago; M.A., Ph.D., Harvard University
Francesco Duina is Professor of Sociology. He joined Bates in 2000 after serving as Lecturer at Harvard from 1998-2000.
During 2013-2015, on leave from Bates, Francesco took the positions of Professor and Head of Sociology at the University of British Columbia. He was appointed Honorary Professor of Sociology from 2015-2019. Francesco was also a Visiting Professor position at the Copenhagen Business School from 2004-2018.
Francesco's work lies at the intersections of economic and political sociology, international political economy, cultural sociology, and public policy. He is especially interested in understanding how nation states persist and operate in the age of globalization. In that context, he has written on a variety of themes – such as legal and democratic self-determination, trade policy, competition, consumer policy, food policy, nationalism and identity, and populism.
Francesco has published numerous chapters and articles in political science and sociology journals. Recent work has for instance appeared in the Journal of European Public Policy, Review of International Political Economy, Review of International Studies, New Political Economy, Regulation & Governance, Social Movement Studies, and International Sociology. 
He contributes to public discussions on current political and policy issues. Recent op-eds and writings appear, for instance, in The Guardian,  San Francisco Chronicle,  Vancouver Sun, and EUobserver.
Francesco has authored six books: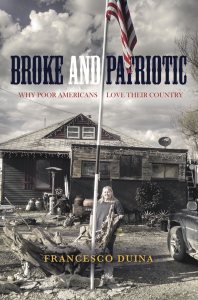 Broke and Patriotic: Why Poor Americans Love Their Country (Stanford University Press 2018). Numerous media outlets have covered the book. It was featured, for instance, on Salon.com, Minnesota Public Radio, Maine Public Radio, and i24 News TV. It won an Independent Publisher Book Award (2018) for Current Events.

The Social Construction of Free Trade: The EU, NAFTA, and Mercosur (Princeton University Press 2006). The book was translated into Chinese in 2009, and won the American Library Association Award for an Outstanding Academic Book.

 Institutions and the Economy (Polity Press 2011).

Harmonizing Europe: Nation States within the Common Market (SUNY Press 1999) .

Winning: Reflections on an American Obsession (Princeton University Press 2011). The book has attracted considerable media attention and was featured on two radio shows: WNPR Connecticut Public Radio (Where We Live) and WAMC Northeast Public Radio (Academic Minute).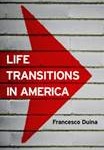 Life Transitions in America (Polity Press 2014).
Francesco is also editor of  States and Nations, Power and Civility: Hallsian Perspectives (University of Toronto Press in 2019).
Between 2010 and 2015, Francesco was a member of the Editorial Board of the Journal of European Public Policy. Between 2015 and 2018, he served as an Elected Council Member of the American Sociological Association's Section on Culture. He is currently on the Editorial Advisory Board of Economy and Society. 
Over the years, Francesco has held various consulting engagements, starting with The Monitor Group (now Monitor Deloitte) from 1996-2008.