It's a GREAT DAY to be a Bobcat! Help us reach our goal of 1,855 donors by May 13.
On Wednesday, May 13, the Bates community will come together to show our Bobcat pride and celebrate what makes Bates great. Bring the Bates community into your home during our livestream celebration, which will feature familiar campus faces as well as the Bobcat!
Whether you consider a gift to the Bates Fund or to our Friends of Bates Athletics challenge, your participation at any level will contribute to the joy, support, and connection that Great Day provides to Batesies near and far.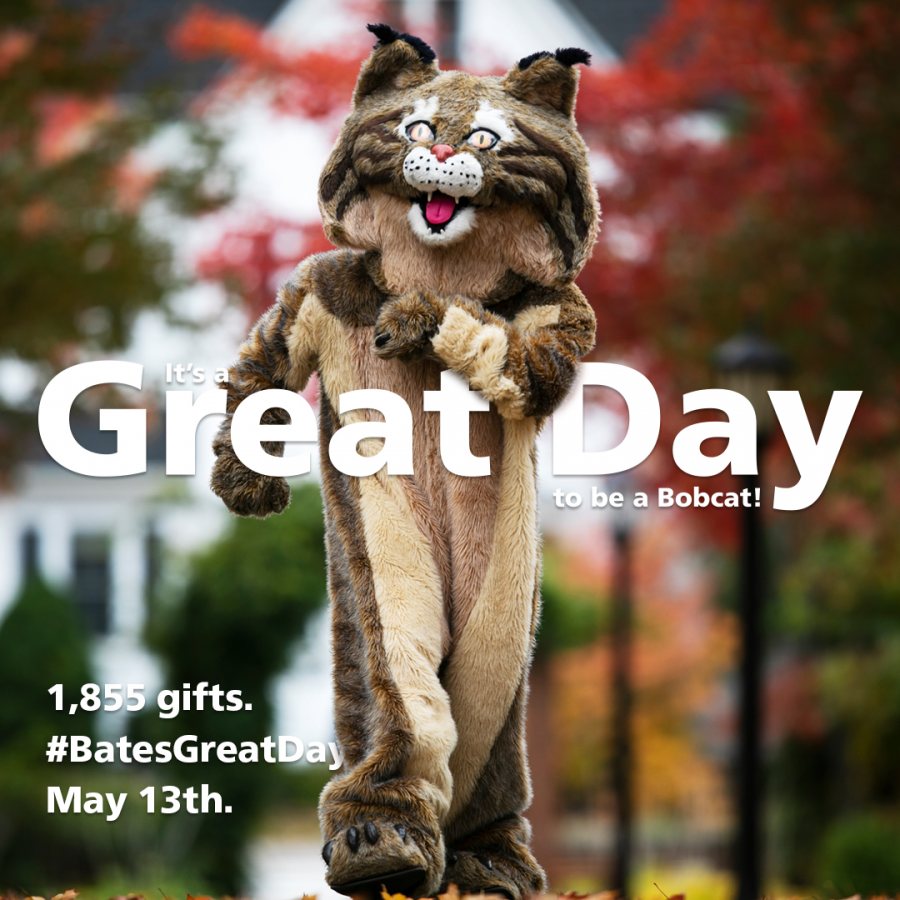 ---
12:00 p.m. EST
Clayton Spencer, President
Sarah Pearson '75, Vice President for College Advancement
12:45 p.m.
Christine Schwartz, Assistant Vice President for Dining, Conferences and Campus Events
Leigh Weisenburger, Dean of Admission and Financial Aid
1:10 p.m.
Brett Allen, Head Women's Lacrosse Coach
Rei Hergeth, Head Squash Coach
Peter Lasagna, Head Men's Lacrosse Coach
1:35 p.m.
Alison Montgomery, Head Women's Basketball Coach
Peter Steenstra, Head Rowing Coach
2:00 p.m.
McKell Barnes, Head Softball Coach
Al Fereshetian, Head Men's Cross Country and Track Coach
Malik Hall, Head Football Coach
2:25 p.m.
Sam Boss, Assistant Director, Community-Engaged Learning and Research
Rachel Forcillo '18, Coordinator of Marketing, Outreach, and Operations
Sadie James '17, Coordinator of Health Education
Darby Ray, Director of the Harward Center for Community Partnerships
2:50 p.m.
Mike Rocque, Associate Professor of Sociology
Tyler Sheikh, Head Men's Soccer Coach
Joe Vari, Head Women's Soccer Coach
3:15 p.m.
Noelle Chaddock, Vice President for Equity and Inclusion
Jon Furbush '05, Head Men's Basketball Coach
3:40 p.m.
Audrey Burns '17, Assistant Dean of Admission
Jay Burns P'17, P'19, Editorial Director and Editor, Bates Magazine
Johie Seltzer '03, Senior Associate Dean of Admission and Director of Communications and Outreach
4:05 p.m.
Christina Bell, Humanities Librarian
Jane Costlow, Clark A. Griffith Professor of Environmental Studies
Margaret Imber, Associate Dean of the Faculty, Associate Professor of Classical and Medieval Studies
Kirk Read, Professor of French and Francophone Studies
4:30 p.m.
Paul Gastonguay '89, Head Tennis Coach
Jon Martin, Head Baseball Coach
Becky Woods '89, P'20, Head Nordic Skiing Coach
4:55 p.m.
Neeshi Hullavard '22
Dani Ryder Kogut, Head Field Hockey Coach
Max Rein '20
5:20 p.m.
Peter Casares, Head Swimming and Diving Coach
Vanessa Williamson '05, Associate Head Coach of Swimming and Diving
Dean Reese, Associate Dean of Students for International Student Programs
5:45 p.m.
The Bobcat!
Henry Fall, Head Golf Coach
Micaela Holland '11, Head Alpine Ski Coach
Dean Reese, Associate Dean of Students for International Student Programs
See you on May 13th at noon EST!
---
Social Media Shareables
Right-click or tap and hold to save these images to your device. Then share them to your social media account.
---