Spectacular Scholarship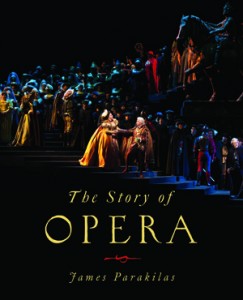 The Story of Opera by Bates Professor James Parakilas is a feast for all the senses.
Now available in the Bates library at: ML1700.P36 2013. Also available in print and e-book editions from the publisher.
A great place to start for the student or the audience member who just saw their first Metropolitan Opera Live in HD performance, the Story is a multimedia history that treats all aspects of this complex art.  Starting with a section "Experiencing Opera," previously slighted topics such as dressing for the opera, hall architecture, and finding the best seat finally receive their due.  Educational resources at the W.W.Norton site will include an instructor's guide, Norton opera "sampler" videos, as well as study materials for course use.
Even the opera aficionado will be struck by the beauty of the text. While there are fewer passages of printed music, Professor Parakilas provides a wealth of images ranging from engravings of the first operas to high definition images of some of the latest, most innovative opera sets.
The organization is equally fresh.  The Story of Opera starts by explaining the components of the opera — audience, environment, orchestra, cast, and story — and follows with a historical survey that features time-honored works such as Verdi's La Traviata, lesser known works such as Rimsky-Korsakov's The Legend of Kitezh and more recent works such as Jake Hegge's Dead Man Walking.
Ladd Library has a large and growing collection of operas and musicals on DVD and on CD that will nicely complement the reader's experience.