University Press Scholarship Online (UPSO)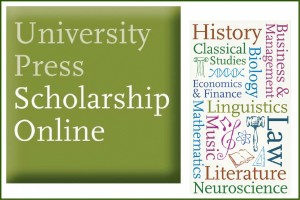 This semester the Bates community will have an expanding online research library available containing more than ten thousand scholarly monographs from the following university presses: Oxford University Press, The American University of Cairo Press, University of California Press, Edinburgh University Press, University Press of Florida, Fordham University Press, Hong Kong University Press, University Press of Kentucky, Manchester University Press and Policy Press. The content is both current and retrospective, and represents twenty-four subject areas, from Anthropology to Sociology. We are able to make this remarkable selection of books available because of participation in Oxford's Global Academic User Group Exchange.
The use of all books is unlimited and they are all cross-searchable. We hope that you will be able to use them as much as possible. Of course we would also like to hear your opinions about content and ease of use, so you may hear from us again near the end of the year to see what your experiences have been! Individual titles can be found in the catalog.
OR, you can use the following link for UPSO. 
When you are using the books, please note that the Oxford Index underbar is available. The Oxford Index is a free tool that enables searching across a broad range of Oxford's academic resources.
Frequently Asked Questions (FAQs) posted here!