Mammals of Africa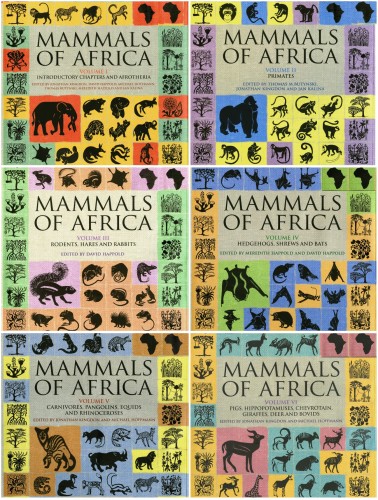 The African continent is home to more species of mammals than any other continent on Earth. With the landmark publication of "Mammals of Africa", 350 authors working with 6 editors over a period of 15 years have produced an authoritative 6 volume work describing all 1,160 currently recognized species of African mammals.
The series is introduced with eight introductory chapters that help frame what follows. Chapters describing Africa's geology and geography, biotic zones, and climatic and environmental past all provide important background for more obvious topics such as mammalian evolution, classification, and behavior and morphology. Each of these chapters is very readable and evokes the spirit of the naturalists of old.
These introductory chapters are followed by entries for members of the supercohort Afrotheria. Not sure what Afrotherians are? You're probably not alone–this classification of mammals was first proposed in 1998. While the recent history of this taxonomic classification is nicely described in Volume I, you would also be well served in speaking with Bates' own Ron Barry.
In addition to being the lecturer for Bates courses in Comparative Anatomy of Chordates, Evolutionary Biology and Mammalogy, Ron's co-authored contribution to the Afrotherian section describing the Bush Hyrax certainly qualifies him as the resident expert.
The contents for each volume is organized as follows:
Volume I: Introductory Chapters and Afrotheria
Volume II: Primates
Volume III: Rodents, Hares and Rabbits
Volume IV: Hedgehogs, Shrews and Bats
Volume V: Carnivores, Pangolins, Equids and Rhinoceroses
Volume VI: Hippopotamuses, Pigs, Deer, Giraffe and Bovids
Entries for each species include sections on taxonomy, a description of the animal, geographic variation, distribution, habitat, abundance, adaptations, foraging and food, social and reproductive behavior, predators, parasites and diseases, measurements and key references.
Generous numbers of color illustrations and pen and ink drawings are successfully used through the series to indicate key physical characteristics described in the text.