Social Explorer – a data visualization tool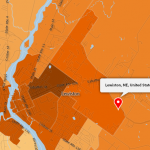 Social Explorer just relaunched their site with enhanced interactive maps and additional content such as U.S. historical census data back to 1790.
You'll want to give it a try — Social Explorer data now includes:
US Census from 1790 to 2010
All annual updates from the American Community Survey (ACS)
InfoGroup data on religious congregations for the United States
Religious Congregations and Membership Study from 1980 to 2000
Carbon Emissions data for 2002 from the Vulcan Project
Updates to ACS and Census 2010 data including urban supplement and Census Zip Codes (ZCTAs)
County-based Religion Data
 New Functionality includes:
Ability to save, share, and embed interactive maps and projects for blogs, Facebook, Twitter, and other social media. 

Ability to map all of the tracts in the US and chose what layer to map
Ability to turn map layers on and off
Improved street files
A select by radius tool
Geocoder works with fuzzy logic

Variables can be displayed through shaded area, bubbles, or dot density maps
This tutorial will help get you started!